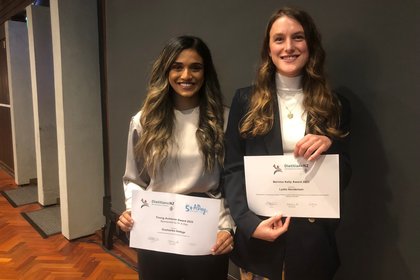 Master of Science Nutrition and Dietetics graduate Lydia Henderson was awarded the 2022 Bernice Kelly Award, while Dushanka Hettige won the Young Achiever Award.
The Bernice Kelly Award is given to the most improved full-time dietetic student, from either Massey University, University of Otago or University of Auckland. The award recognises accomplishments in academic, practical and professional practice within emerging entry-level dietitians.
Lydia, who graduated in May, says it is an honour to receive the award.
"To become a registered dietitian takes five years of study, and the master's years are particularly challenging. To have been awarded the Bernice Kelly is the icing on the cake! It has been a great opportunity to be recognised amongst my peers and as an emerging dietitian in New Zealand," Lydia says.  
Lydia was born in the United Kingdom but grew up in Leigh, north of Auckland. She completed her studies at Massey's Auckland campus, before moving back to Leigh to take up a role as a surgical dietitian at Whangarei Hospital, Te Whatu Ora Te Tai Tokerau.
"I am surrounded by a brilliant team and am really enjoying my experience as a new graduate. I hope to return to do more research in the future once I have more experience practicing as a dietitian." 
The 24-year-old also presented her master's research at the conference, which looked at the effect of aketogenic diet versus a carbohydrate-based diet on cognitive performance, mood and sleepiness during 36 hours of extended wakefulness.
"I was fortunate to have had the opportunity to work with the Royal New Zealand Air Force as part of this project and was very well supported by my supervisors Dr David Shaw and Dr Margo van den Berg," Lydia says.
The 2018 winner of the Bernice Kelly Award, Dushanka Hettige won the Young Achiever award for her work as the Clinical Coordinator for Wellington Hospital Dietitians. Dushanka, who graduated from Massey in 2018, is an Intensive Care Unit dietitian and is now also working as an Improvement and Innovation advisor at Te Whatu Ora, Capital Coast & Hutt Valley.
The Young Achiever Award recognises a dietitian who, within five years of registration, excels in an aspect of dietetic practice in New Zealand, beyond the usual requirements of their job.