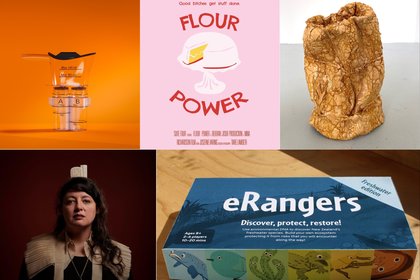 Last updated: Friday 25 November 2022
The exhibition features innovative and inspiring exhibits from students studying programmes at Toi Rauwhārangi College of Creative Arts' School of Art Whiti o Rehua, Wellington School of Design Nga Pae Mahutonga and the School of Music and Creative Media Production Te Rewa o Puanga. The exhibition has historically been the launching pad for many careers in the creative sector.
Exposure Te Kanohi Kitea showcases the work from undergraduates in design (photography, fashion, textiles, industrial, spatial and visual communication design), fine arts, creative media production and commercial music. Work by master's students in design, fine arts and creative enterprise will also be on display. For the first time this year, a Bachelor of Design with Honours (Concept Design) graduating cohort will also be showcased.
Some highlights of the exhibition include:
Flour Power - a documentary following six volunteers for the charity Good Bitches Baking, celebrating their journey and the magic of home baking
Forever whakapapa - sculptural forms drawn from the rich body of knowledge found in creation narratives which relate to kauri and experiences of ancestors where kauri was a central part of their lives
eRangers - a game designed to educate New Zealand school children about freshwater eco-systems
Full Disclosure - an independent label dedicated to providing opportunities for musicians within marginalised communities in the electronic scene
The Rogues Gallery - an assemblage of creative misfits photographed to highlight the relationship between an individual and the creative impulse they are subject to
Best of Both Worlds - an empowering fashion styling series inspired by Indian culture that challenges western media representation of South Asian fashion while promoting gender fluidity in fashion
A Pre Podium anti-doping kit - which will improve on current urine testing anti-doping equipment to accommodate a more friendly experience for both athletes and staff
Beautiful, isn't it: to craft oneself - an exploration of relationships between queer and craft, trans-ness and society, body and faulty binaries, reflected in a hand-dyed rug-tufting, weaving, knitting, embroidery and faggoting textile
Reverence - the reimagining of St Gerard's Church and Monastery in Wellington into a public bathhouse
Reverence - a concept for a game set in a dystopic future following a technological project gone wrong, from the first graduating cohort of the Bachelor of Concept Design.
Toi Rauwhārangi College of Creative Arts Pro-Vice Chancellor Professor Margaret Petty says Exposure is an annual highlight on Wellington's creative calendar.
"Exposure is a chance to showcase the exceptional work of our graduating students, who through cross-disciplinary learning with real world briefs, leave the College equipped with critical thinking, entrepreneurial attitudes and innovative problem-solving skills. Our graduates find success in New Zealand and around the world, and Exposure is a wonderful opportunity for the public to view their talent and experience our world-class facilities."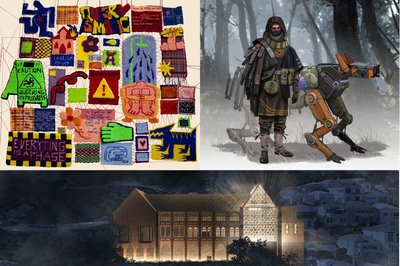 Event details
Exposure Te Kanohi Kitea. Open to the public from Saturday 12 – 25 November.
Massey University, Entrance C, 63 Wallace Street, Mt Cook, Wellington.
Open daily from 10am – 4pm.
Free entry.
Te Ara Hihiko Block 12 – Design, Master of Design
Block 2 – Fine Arts, Master of Fine Arts, Photography
Block 1 – Commercial Music and Creative Media Production, Master of Creative Enterprise
Engine Room – Master of Fine Arts.
Friday 5 November 2021
A new generation of artists, designers and other creatives' work will be on show at Massey University's annual Te Kanohi Kitea Exposure exhibition.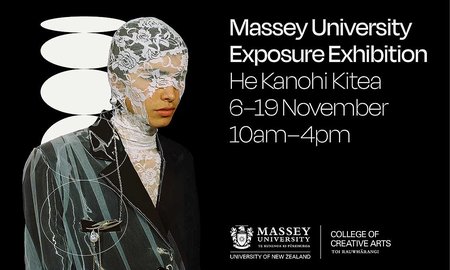 Tuesday 29 October 2019
A new generation of artists, designers and other creatives' work will be on show at Massey University's annual Exposure Te Kanohi Kitea exhibition in Wellington for a fortnight from November 2.