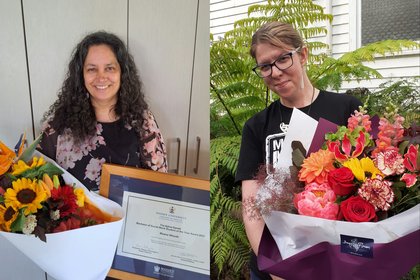 The Ephra Garrett and Merv Hancock Awards are named in honour of two social work pioneers who established Massey's social work degree – the first at a New Zealand university. Recipients are nominated by their peers and School of Social Work staff and recognised for their leadership.
Moana Woods, Te Hika o Pāpāuma, Rangitāne, Ngāti Kahungunu, was named the recipient of the Ephra Garrett Award. The award recognises significant Māori student leadership and contribution to the wellbeing of fellow students and the reputation of the Bachelor of Social Work (BSW) degree.
Moana says it was unexpected and humbling to receive this tohu, particularly as it was her peers and lecturers who deemed her worthy.
"So many of us experienced studying through an extraordinary time of lockdowns, learning new ways to connect. The connections I made, impacted or imparted learnings and for this I am ever grateful."
She says she chose to study social work after hearing Head of School of Social Work Professor Kieran O'Donoghue speak at an open day.
"Talking with Kaihautu Māori librarian Sheeanda McKeagg, she sent me the way of Te Rau Puawai, and I was lucky enough to become part of this whānau. Their support has been immense, and thanks must go to my Pou-Ā-Rongo and hero Karlie Willis."
Through her study placement, Moana gained employment as a mental health and addictions practitioner, and she also works at the Massey library afterhours.
"At times I felt like giving up as it got hard balancing everything, but I would look at my tamariki and think about the message it would send them, or I would think about my tupuna and the words they would have for me, and this gave me the motivation to continue reaching for my dream."
Moana's award citation noted that she has a cool and calm presence, not matter what is happening and helps to support fellow students through stressful situations.
Associate Head of School of Social Work Senior Lecturer Lareen Cooper says Moana supports her peers in their endeavours to learn and use te reo Māori.
"She has juggled many responsibilities in her study journey and has drawn on reciprocal, supportive relationships with others to navigate the pathway. Moana has proved herself to be a valued student in her placements, receiving very positive feedback about her fit in the teams and her empathy and engagement with people," Ms Cooper says.
Melinda Konui is the recipient of the Merv Hancock Student of the Year Award for 2022. This award recognises significant student leadership and contribution to the wellbeing of fellow students and the reputation of the BSW degree.
Melinda says receiving this award trumps any type of academic award, as being acknowledged for traits that are the foundation of her professional practice has deep meaning for her.
"Having a career where my role is to help uplift others was what drew me to social work in the first place and if our extension of help and tautoko to others does not start with our fellow students, our colleagues, then why are we even here?
"I am so proud to now be associated with Merv Hancock and his amazing mahi, paving the way for myself and others."
Melinda's award citation noted that she has demonstrated strong leadership in supporting fellow students within class hui, using her own time to organise Zoom meetings to help them with study, assignments and coursework.
Ms Cooper says Melinda has gone above and beyond in supporting her peers.
"Melinda is well respected by her peers, fondly referred to as 'camp mother', as she is always there for them. She is described by her peers as empathetic, encouraging and warm, whole-heartedly upholding social work values and being a role model. She has sustained an excellent academic record and kept a positive attitude while under pressure," Ms Cooper says.
Moana and Melinda both received a certificate, flowers and $500 scholarship.
Friday 5 November 2021
Marcalla Pearce and Sam Davis have been named as the recipients of two significant prizes for fourth-year Bachelor of Social Work students.