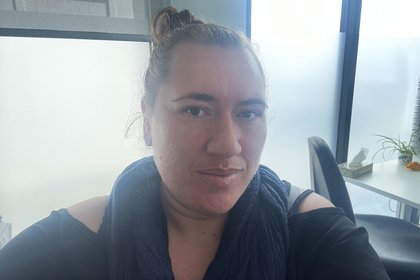 Hailing from Hokianga, Nicole has seen first-hand how restricted specialised health care services can be, especially concerning mental health, and how this impacts vulnerable communities.
"Growing up in rural Northland, you learn there are limits to what access you have to specialised services, and it's even harder for certain groups like our elderly. Seeing how this impacted my own community is what influenced me to advance my practice to help address areas of need and provide services that are currently unavailable."
With a family background in healthcare, Nicole always knew she'd find herself helping people. She received her Bachelor of Nursing from Northland Polytechnic and following graduation, started her career in general nursing at Auckland City Hospital before moving into specialised nursing working with the elderly.
After moving back to Northland, Nicole entered adult and older aged mental health care, which inspired her nurse practitioner pathway. This was strengthened when she moved to Rodney and began working in a multidisciplinary community mental health team, focusing on adults and acute services.
During this time, Nicole completed a postgraduate diploma in Cognitive Behaviour Therapy and a Master of Nursing with Massey. She says her practical and theoretical learning helped define the type of care she wanted to provide and in what areas.
"I realised I wanted to work in adult and aged mental health services, specifically with Māori clients in rural areas and providing holistic care to meet all their needs. As a nurse practitioner, I will have the autonomy to provide a comprehensive assessment alongside diagnosis and a closely monitored treatment plan that focuses on all areas that are influencing their current presentation."
Nicole says a significant way nurse practitioners can strengthen healthcare is through bringing both a nursing and medical focus, and by facilitating collaborative practices between patients, the community, and other service providers.
"My role means I can work closely with patients and their whānau to provide better education and understanding of their needs, providing opportunity for informed decision making and a collaborative approach in treatment planning. I can also liaise with community practices within primary care to coordinate and address needs, and develop treatment plans for my team, our patients, and community services to follow while providing on-going support and follow-up care.
"There's also a lot of collaboration with other nurse practitioners, as there's vast and diverse knowledge amongst us and it's so helpful to be able to tap into that to reflect on cases and discuss care."
Nicole says she feels lucky to be undertaking her nurse practitioner journey with Massey.
"My journey with Massey has been amazing. It's one of the most supportive universities I've had the pleasure of studying with. From the support services to the amazing tutors, everyone is there to support you and help you reach your goals."
Once she achieves registration as a nurse practitioner, Nicole plans to continue developing her skills and return to Hokianga as a whānau ora practitioner in mental health. She says her ultimate goals are to improve the outcomes for those within Hauora Hokianga and inspire others to join her on this path.
"At face value, this pathway can appear overwhelming, and you have to put in a lot of work, but the personal satisfaction it provides when you can provide quality care and support to those struggling completely outweighs it. The more people on this path, the more change we can make and show how valuable nurse practitioners are, what they represent within the service, and the unique skills they have, which currently isn't being recognised on a large scale."
Additional places for future nurse practitioner training
Te Whatu Ora announced this month that it will fund an additional 22 places for the Nurse Practitioner Training Pathway (NPTP) for 2023 and a further 28 for 2024. This will give a total of 100 funded nurse practitioner training places for 2024. Massey will join the existing collaborative of the University of Auckland, the University of Otago, and Victoria University of Wellington for next year's intake.
Monday 28 March 2022
The road to become a mātangi tapuhi (nurse practitioner) has been a long but exceptional one for Kate Te Pou, spanning more than two decades.
Monday 28 February 2022
Catherine Tu'akalau is Wellington's first Pacific Nurse Practitioner and one of only a handful in Aotearoa New Zealand specialising in child health.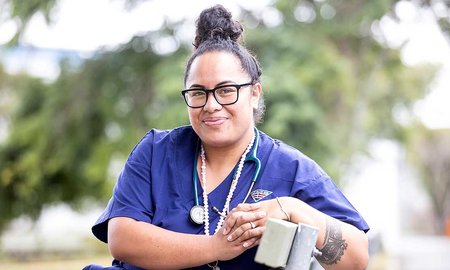 Monday 16 April 2018
New Zealand has more people living with long-term health conditions, an increasing older population and health inequalities that continue to persist. But despite the declining rural medical workforce, New Zealand has been slow to develop nurse practitioner services.