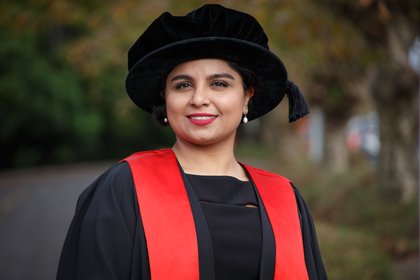 The concept of animal personality and individual variation in behavioural traits has only recently begun to attract the interest of ecology researchers due to their influence on population trends in various species. Wanting to further expand on this line of research, Dr Tavasoli investigated the breeding biology and behavioural traits and variation of a population of Turdus merula, or the common blackbird, in Aotearoa New Zealand during breeding and non-breeding seasons from 2017 to 2019.
"Blackbirds have successfully distributed around the world, so exploring the important highlights around intra-individual variation in behavioural traits and how these link to fitness consequences and their survival is significant for conservation research. This work can reveal possible explanations for correlations between behavioural traits and breeding success, which can be used to slow down extinction rates for other species."
Dr Tavasoli says while documenting bird behaviours can be challenging, she found field observations of their behaviour to be interesting.
"When I designed the experiment, I had certain expectations of how my blackbirds would react, but I learned to listen to nature and respect it. I found I really enjoyed observing and exploring why they presented certain behaviours and how the variations in their behaviours helped them to adjust to environmental challenges to survive."
Growing up in Zabol, Iran, the 36-year-old's path towards a future involving nature and science was cemented when she was very young. She says her own unique personality traits played a hand in deciding her future goals.
"I was always explorative and a bit of a risk-taker. My bold childhood behaviour began at age four when I left home to explore the city and countryside. While my family were looking for me, I was thoroughly enjoying my adventure walking far from home. My love and passion for nature meant I decided early on I wanted to be a zoologist."
Dr Tavasoli studied biology at the University of Sistan and Baluchestan and animal biosystematics at Ferdowsi University of Mashhad in Iran, completing a bachelor's degree and a master's degree by 2009. She says figuring out the unique direction and topic for her master's thesis helped her begin a new season of her life.
"I selected a brilliant topic in exploring bird song as there was no scientific expertise in bird song in my country. I began searching for recording equipment and eventually had to fashion my own with the help of a shotgun microphone, which I then set up on a heavy metal plate connected to a video camera."
During her master's research, Dr Tavasoli connected with Professor Donald Kroodsma and Greg Budney from Cornell University, who sent her the book The Singing Life of Birds, which unfortunately never arrived. After completing her studies, she began looking for a PhD position in bird research and was encouraged by Professor Kroodsma and Mr Budney to contact Professor Dianne Brunton of Te Kunenga ki Pūrehuroa Massey University.
"They helped me discover my dream of exploring nature and I had the excellent opportunity to undertake a PhD with Professor Brunton and her fantastic team. Moving to New Zealand led to another new season of my life – love, support, teamwork and independence."
In 2016, Dr Tavasoli finally had the chance to meet Mr Budney while completing the Cornell Field-based Sound Recording held in California as part of her PhD development. It was during this meeting that Dr Tavasoli was finally presented with the book she didn't receive in 2011, making the experience even more special.
Now having built a life in New Zealand with her husband Emad, Dr Tavasoli is currently working as an environmental scientist and loving every moment of it.
"Being an environmental scientist is an incredible job and reminds me how ecologists and environmental science is crucial for saving nature. I hope to use my knowledge to contribute towards protecting and saving nature in my country someday."
For current and future PhD students, Dr Tavasoli says focusing on what they can contribute is an important factor in their journey.
"Think deeply about what you want and what your responsibility is in this world. Try hard to achieve it through investigation, time management and seeking advice when needed."
Dr Tavasoli wishes to thank all those who have helped her on her own journey.
"Looking back on my research on blackbirds and my academic life, I realise individuals – both birds and humans – all have unique journeys and I want to thank those who have been in mine. Thank you to my husband Emad with whom I have experienced love. Thank you to my lovely family in Iran, my sisters and forever little women Marzieh, Masha and Mohadeseh, my brothers and my parents. I now also have an international family made of people who always support, smile and are there for each other – thank you Dianne, Aaron, Abi, Enzo, Aksi, Heshani, Jessica, Michelle and Wesley."
Wednesday 24 May 2023
For his doctoral research, Dr Enzo Reyes investigated the factors that need to be considered to successfully translocate the endangered Floreana mockingbird to Floreana Island in the Galápagos Archipelago.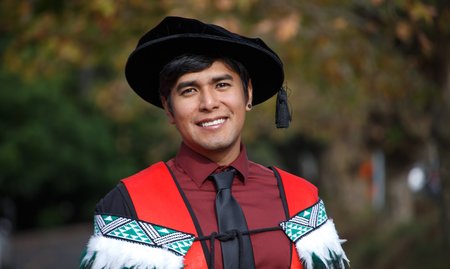 Wednesday 24 May 2023
Black Fern Tyla Nathan-Wong graduated with a Bachelor of Sport and Exercise after navigating her way through study and competing on a global stage.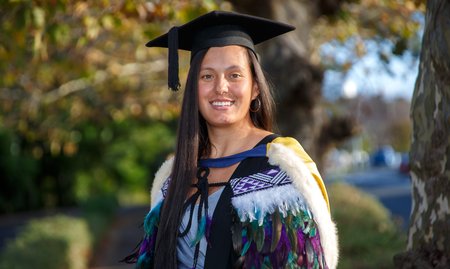 Monday 31 October 2022
Four members of the Massey whānau were recently involved in the first Chatham Island black robin translocation in 20 years.