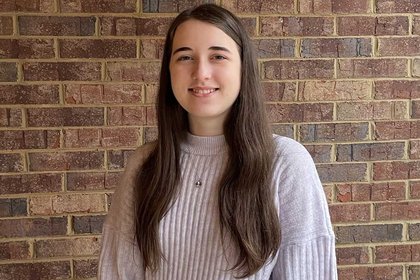 Last updated: Friday 18 March 2022
Learning about summer farming in what she knows as the middle of winter took a little getting used to for American student Katie Owens, but she says the knowledge gained from her virtual study abroad experience at Massey was interesting and informative.
"I enjoyed learning about farming and livestock from a different perspective than how we do in the United States, and it was cool to learn about deer farming since we don't have that here. But it was just a bit weird talking about farming in the opposite months that we would here in the United States."
The Animal Sciences student is currently studying at the University of Kentucky in Lexington USA and has just completed a Virtual Study Abroad programme at Massey during Semester 2, 2021. While she initially struggled with the time difference between Kentucky and New Zealand, Katie found the 24 hour window to complete assessments helped her keep up with the workload.
"Everyone I spoke to was super nice and really welcoming. If I ever had any questions, I would just email the course instructor who was really helpful. I feel like my course with Massey there were a lot more lecturers and topics covered than what we have in the US, so it was worth the effort as I got a lot out of the course."
Katie plans to become a veterinary assistant when she graduates and believes the international perspective from her Virtual Study Abroad experience with Massey will help her future employability.
"It's not the same as studying overseas but I do feel like virtually studying abroad offers you something that you can't get in a typical classroom at the moment," Katie says. "I've been able to build these intercultural relationships and have global communications."
She also has a few kiwi words to add to her vocabulary, relying on Google to translate some of the words she didn't understand in her programme.
"I'd never heard of the terms "hind" referring to deer or "hogget" when referring to sheep and words like hectares instead of acres, or abattoir were completely new to me. Some of the spellings of words were also different too so I just googled the words to figure it out."
While studying abroad has been challenging recently due to the COVID pandemic, virtual study abroad courses offer opportunities to gain international and intercultural education experiences for students who are unable to travel.
According to Massey's Manager Global Engagement (Recruitment and Mobility) Greg Huff, virtual study abroad programmes provide an opportunity to make global education accessible to all.
"Not everyone has the ability to travel due to financial constraints, immigration complications or family situations. While we hope that every student at some point will have an in-person experience, these virtual programmes are still really rewarding."
Click here to find out more about Virtual Study Abroad at Massey.