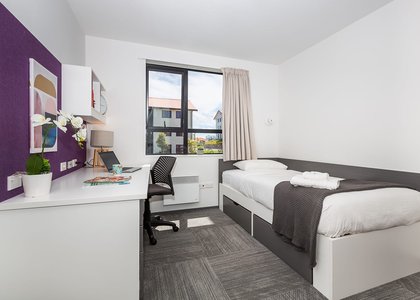 Student accommodation in Auckland and Palmerston North may be available for students doing a block course or contact workshops.
Our large-scale accommodation is ideal for affordable group stays and conferences also, providing an ideal base for group visits to Auckland and Palmerston North, or for conferences and training.
Choose from single bedrooms to self-catered apartments, close to university facilities in each city.
Auckland
Massey's Te Ohanga Village is located on campus in the suburb of Albany on Auckland's North Shore.
The fully-furnished accommodation is surrounded by a wide range of amenities including cafes and bars, Westfield Shopping Centre, cinema complexes and art galleries
Massey's Auckland accommodation provides a choice of single bedrooms or fully self-catered apartments. Wifi is included in the rates.
Book accommodation at the Auckland campus
Manawatū (Palmerston North)
Massey's halls of residence at the Manawatū campus in Palmerston North offers a range of facilities and a selection of single bedrooms, studios or self-catering 4 and 5 bedroom apartments.
Conference facilities and catering are also available, which makes it an ideal base for conferences, meetings and group training.
Contact the office
Auckland accommodation office
Hours
Monday to Friday, 8.30am to 5pm
Office phone
Location
Physical address
The Auckland accommodation office is located on level 2 of Student Central.

Postal address
Massey University
Student Accommodation Auckland
Private Bag 102904
North Shore
Auckland 0745
Manawatū accommodation office
Hours
Monday to Friday, 8.30am to 4.30pm
Office phone
Location
Physical address
The Manawatū (Palmerston North) accommodation office is located in the YFC Building on Rehab Road.

Postal address
Massey University
Student Accommodation Manawatū
Private Bag 11222
Palmerston North 4442