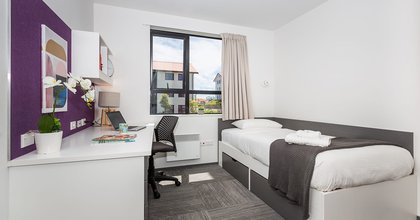 Our student accommodation in Auckland and Palmerston North is available for students attending a block course or contact workshops.
Auckland
Massey's Te Ohanga Village is located on campus in the suburb of Albany on Auckland's North Shore.
Massey's Auckland accommodation offers fully furnished single rooms, with shared bathrooms, access to a communal social hub and wifi.
The accommodation is surrounded by a wide range of amenities including cafes and bars, Westfield Shopping Centre, cinema complexes and the QBE Stadium.
Manawatū (Palmerston North)
Massey's Kiwitea Hall at the Manawatū campus in Palmerston North offers fully furnished, single rooms, with shared bathrooms, a common room, kitchenette and wifi.
This accommodation is close to all student facilities including lecture theatres, library and dining hall, and also is near the Colombo Road public bus stop to Palmerston North city.
Booking requests
To request a booking, please complete the booking request form.
For enquiries please contact the Accommodation Office.
Auckland accommodation office
Hours

Monday to Friday, 8.30am to 5.00pm

Office phone

Location

Physical address
The Auckland accommodation office is located in the Te Rito Building, Te Ōhanga Village.


Massey Halls Auckland
Te Rito Building, Te Ōhanga Village
Massey University
Gate 1
Albany Expressway SH17
Albany
Auckland 0632


Postal address
Massey University
Student Accommodation Auckland
Private Bag 102904
North Shore
Auckland 0745
Manawatū accommodation office
Hours

Monday to Friday, 8.30am to 4.30pm

Office phone

Location

Physical address
The Manawatū (Palmerston North) accommodation office is located on the corner of University Avenue and Rehab Road.

Postal address
Massey University
Student Accommodation Manawatū
Private Bag 11222
Palmerston North 4442