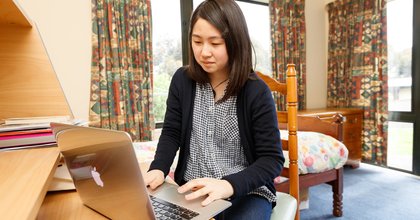 Living with local hosts in their home is a great way to familiarise yourself with your new country or city and adjust to university life in a supportive, safe environment, making it a home away from home.
For domestic students a supportive homestay can help make the many changes that come from moving to university feel less daunting, and for international students it provides a total immersion experience that is a unique introduction to New Zealand life, culture and the English language. You can listen and speak English in a safe and trusted environment that will help you to develop your English language skills.
As a homestay student at Massey you will be matched and placed with a homestay family by our expert homestay team who will work to find the best fit for you and the family you will live with. Homestay accommodation is very cost effective.
Find out about staying in homestay accommodation
Becoming a homestay host
Many New Zealand homes are host to homestay students, providing a safe and welcoming environment for students at Massey University's campuses.
Find out about becoming a homestay host in Auckland or Palmerston North
Contact a homestay office
Auckland Homestay Office
Palmerston North Homestay Office
Wellington Homestay Office