Your local hosts will live in the city where you have chosen to study at Massey University, in Auckland, or Palmerston North.
In your homestay, you will have your own bedroom, and might share facilities such as a bathroom and kitchen with your hosts. Students normally share regular meals with their hosts and join them for everyday or weekend activities.
Your hosts will be available to support and guide you as you settle into a new city or country, and into student life. This could mean showing you around the public transport system, where the supermarket is, the best beaches, and local visitor highlights and events, and other local knowledge.
Overview
Who will you live with?
A homestay means you will live with local people. Your homestay hosts could be a large or small family with older or younger children, or adults with no children. Every homestay will be different.
The benefits of homestay
A Massey University homestay is much more than just renting a room in a shared house. A homestay is about providing a home away from home to help you settle into university life in your new city or country.
You will join your hosts for regular meals and perhaps activities that will help you enjoy and experience your new city.
For international students, a homestay is a great way to improve your English language skills in a safe, supportive environment and get to know more about the New Zealand culture.
For domestic students, a homestay is very useful to familiarise yourself with your new city, especially if you are living away from home for the first time.
How long is a homestay for?
A homestay could be a short as a couple of weeks, to a full semester or academic year.
You can choose the length of your stay depending on your plans for the rest of the year. For instance, you may be an international student who wants to spend a semester with a local homestay host to get to know New Zealand, and then move into a Massey University hall of residence.
How are homestay hosts chosen?
Massey University's Accommodation and Welfare Advisers will try and match you with homestay hosts who suit you.
By letting us know your interests and requirements, we will be able to find a homestay environment that ensures you feel at home.
Massey University is committed to providing a safe and happy homestay experience for you.
All potential homestay hosts must undergo a strict selection process by Massey University staff which includes a home visit, referee checks and police vetting of all adults over the age of 18 who live in the household.
All Massey University approved homestay accommodation is compliant with the Education (Pastoral Care of Tertiary and International Learners) Code of Practice 2021.
When you move into your homestay, Massey University advisers are always there to support you and make sure you have quality and safe homestay accommodation.
Who can live in a homestay?
Any Massey University student can apply to live with a homestay host in cities where there are Massey University campuses, which are Auckland, Wellington or Palmerston North. This applies to both domestic and international students.
International students under 18 years old
At Massey University, all international students under the age of 18 years must live in Massey-approved:
homestay accommodation
designated caregiver accommodation
with their parents.
Designated caregiver
Students may choose to live with a designated caregiver while studying at a Massey University campus.
A designated caregiver is a relative or family friend nominated by the parent or guardian as the caregiver and accommodation provider for the student.
Students under 18 years old wishing to live with a designated caregiver will need to ask their parent/guardian to complete the designated caregiver form during their admission process.
Designated caregivers' homes need to meet the Education (Pastoral Care of Tertiary and International Learners) Code of Practice 2021 to ensure students have a safe home environment.
Food and meals
Homestay students are provided with three meals per day by their hosts. Your food and meals may be:
Breakfast: cereal, toast, fruit, tea or coffee – students usually help themselves
Lunch: sandwiches, fruit, leftovers – students usually prepare their own packed lunch
Dinner: usually the main meal of the day, comprising a hot meal. This is prepared by the homestay host and is generally a time everyone eats together.
Halal and other dietary requirements can be catered for at an additional cost (on request).
Application process
To apply for a homestay with Massey University:
Complete the form to let us know where and when you will be studying. 
Massey University's homestay advisers need at least two weeks to find a suitable homestay match for you. You need to pay the relevant non-refundable fees before your homestay accommodation can be found.
Applying for your homestay is a separate process to enrolling to study at Massey University. Enrolling for study does not automatically mean your homestay has been organised for you.
Massey University is unable to help students find private rental accommodation that is not a homestay.
Pricing
Application fees
Your application fees are non-refundable and are:
$280 homestay administration fee
a prepayment of your first two weeks' homestay fees (detailed below)
if you are under 18 years old, an additional fee of $240 is required to be paid.
If you have chosen to live with a designated caregiver rather than be placed in a homestay, you will need to pay the designated caregiver administration fee of $280, which covers the cost of assessing your designated caregiver's home.
If you are an international student who is aged under 18 and plan to stay with a designated caregiver, you need to pay the $240 under-18 administration fee.
Weekly fees
Weekly fees are paid directly to the homestay host for as long as you stay with them. This fee covers a furnished bedroom, shared facilities including bathroom, kitchen and lounge, three meals every day and unlimited internet.
Auckland: $325 per week
Palmerston North: $280 per week
How to pay the application fees
The initial homestay fee consists of the homestay administration fee, advanced board payment and under-18 homestay administration fee, if you are an under-18 international student. If you are allocated a homestay and then withdraw your application, your initial payment is non-refundable.
Fees are GST inclusive except the Advanced Board Payment which is zero rated for GST.
Auckland
Initial non-refundable payment due (students over 18):
$930 (includes $650 advance board payment + $280 homestay administration fee)
Initial payment due (students under 18):
$1170 (includes $650 advanced board payment + $280 homestay administration fee + $240 under-18 administration fee)
Palmerston North (for Manawatū campus)
Initial non-refundable payment due (students over 18):
$840 (includes $560 advance board payment + $280 homestay administration fee)
Initial non-refundable payment due (students under 18):
$1080 (includes $560 advanced board payment + $280 homestay administration fee + $240 under-18 administration fee)
Paying your fees
Please make sure you add on any additional bank charges you incur. Payment can be made through these methods:
Telegraphic Transfer
Convera (formerly known as Western Union)
GlobalPay
Directly through your bank
Find out more about these payment options for international students
If you're a domestic student, you can pay by credit card or online banking. Find out more about these payment options
Moving from homestay to other accommodation
Homestay accommodation is a great way to settle in to university life as a domestic student and to become familiarised with New Zealand's culture and language as an international student.
Once you're settled into life in your new city you might want to consider gaining some more independence by moving out of a homestay and living in private accommodation with friends, or move into a Massey hall of residence accommodation. Homestay gives you the flexibility to do this as you are not locked in for a whole year.
Support services
Massey's homestay team is dedicated to your wellbeing and available 24/7 to support you. If you are experiencing any kind of trouble you don't want to talk to your homestay family or your teachers about, you can call or visit the homestay office on campus at any time.
Additionally Massey University's campuses provide students with a range of support services.
International student support
The international student support team on Massey's campuses can help students with any welfare or other issues they may have while studying here.
Cultural and religious support
Each Massey campus provides cultural and religious support, including:
chaplaincy
Māori students' study space and common room
Pasifika students' study space and common room
Islamic prayer room.
Contact a homestay office
Auckland Homestay Office
Palmerston North Homestay Office
Wellington Homestay Office
Auckland campus has catered halls, shared apartments and private studio units.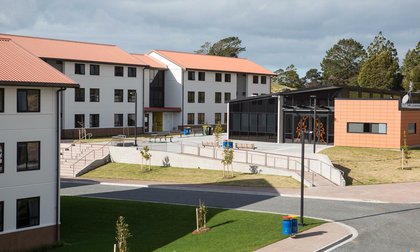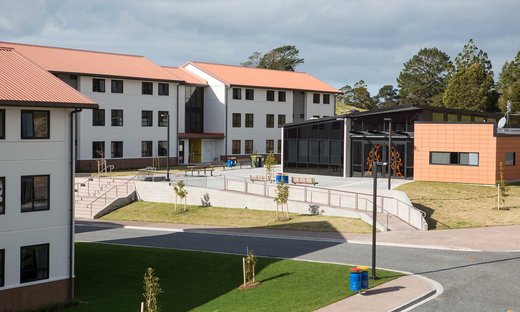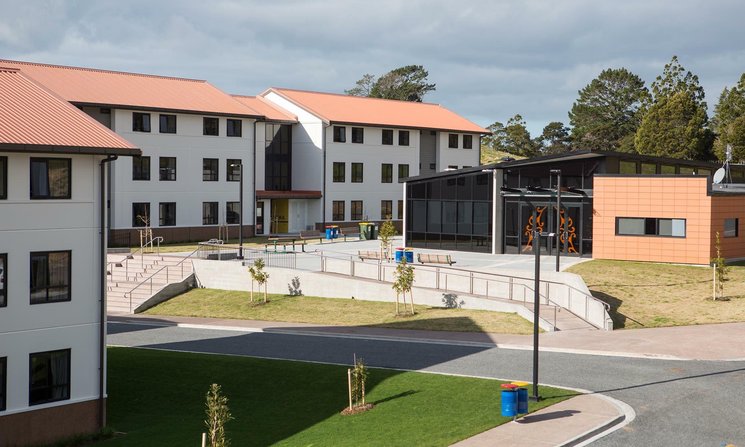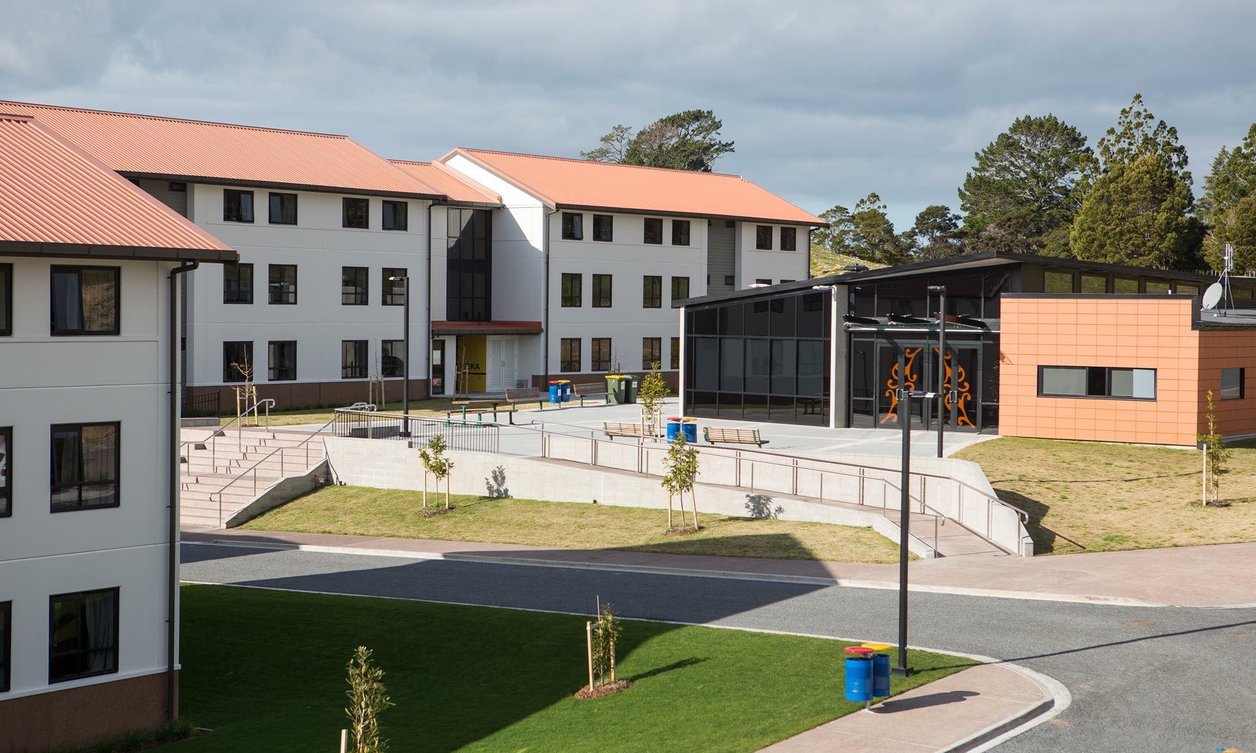 Massey's Manawatū campus in Palmerston North offers a range of furnished accommodation in halls, units and flats, with catering options.