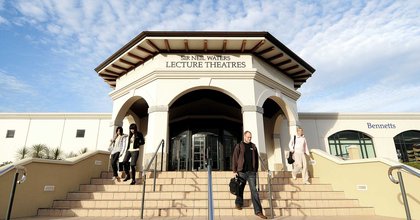 Massey University's Auckland campus is in the North Shore area of the city. The campus is across the harbour from central Auckland, 15km away. Formerly called the Albany campus, the Auckland campus spreads across two sites. These are the:
East Precinct, off the Albany Expressway (State Highway 17)
Albany Village, off Kell Drive and Dairy Flat Highway.
Taking the city bus is quicker than driving from central Auckland because of very heavy traffic on Auckland Harbour Bridge at peak times.
Maps of Auckland campus
Find your way around both campus sites with our handy maps.
Massey University East Precinct, Dairy Flat Highway, SH17, Albany, Auckland 0632, New Zealand
Campus map
This map gives an overview of both Auckland campus sites. The map shows roads into and around the two sites, as well as the gates, main car parks and buildings.
You can also see the School of Psychology, Centre for Psychology and School of Food and Advanced Technology (CoSci) located at the Albany Village.
East Precinct map
This map of building locations helps you move around the East Precinct site. Look at the numbers and letters in the map legend to identify the building. You can also check where to find parking, bus stops, footpaths, roads, accessible toilets and parking, site gates and more.
Address
Massey University East Precinct
Dairy Flat Highway (SH17)
Albany
Auckland
0632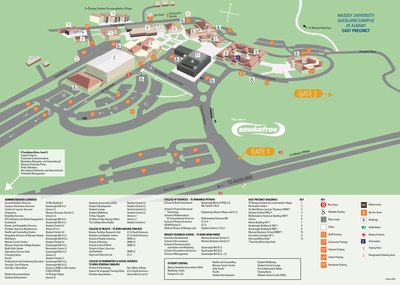 Download maps brochure
You can print out a brochure that includes these maps of the Auckland campus.
Bicycles, scooters and motorcycles
Lock your bike, scooter or motorbike in dedicated parking spaces across the Auckland campus.
Bicycles
Find bike racks on the East Precinct:
next to Massey Business School, level 1 entrance
in the quadrangle between Quadrangle A and Quadrangle B Buildings
between the Mathematical Sciences Building and Student Central
outside the Recreation Centre.
If you leave your bike anywhere else, campus security will remove it. You must not cycle on footpaths or other pedestrian areas.
You can use the showers in these East Precinct buildings:
Massey Business School, level 1
Quadrangle Building A, level 3
Student Central
Sir Neil Waters Lecture Theatres
Recreation Centre.
Motorcycles and scooters
You can park your motorbike or scooter in designated motorcycle parking spaces at the East Precinct, next to the Recreation Centre, by the Scholars Cafe.
Parking
Massey University offers free car parking for students on campus. Car parks are marked on the Auckland campus maps.
Limited visitor car parking is available on campus. Visitors should discuss car parking with the people they're visiting or the Operations Service Desk.
The Campus Operations team manage car parks on the Auckland campus. Call Campus Operations on +64 9 213 6434
Student parking
Massey students can park free of charge in special student parking spaces in car parks on the East Precinct.
Find a student parking space marked with white painted lines.
Overflow paid parking is available at QBE Stadium, car park H, entry from Coliseum Drive. It costs $1 an hour, up to $5 each day. Bus services run from the car park to Albany Bus Station and Constellation Station for connecting services.
Use Auckland Transport's Journey Planner
Mobility parking
If you have a valid mobility card, you can park in any disability parking space.
There are mobility parking spaces in the East Precinct:
in car park 1D, opposite the Recreation Centre
in car park next to the IC Building
next to the Scholars Cafe and Recreation Centre
next to the Sir Neil Waters Lecture Theatres extension
next to Quadrangle Building A – after the barrier arm
next to Massey Business School – after the barrier arm
next to the Atrium and Library – after the barrier arm
next to the Mathematical Sciences and Student Central buildings – after the barrier arm.
Parking permits
If you live in Te Ohanga Student Village, you can park there with a valid parking permit. You can buy a permit from Campus Living Villages.
You must only park in the parking space you've been allocated and display your parking permit.
Parking penalties
You may get a parking penalty ticket or your car may be clamped if you park in a:
grass area around campus
staff or mobility space when you are neither
permit parking space without displaying a valid parking permit.
If you park in a reserved space or park in a way that causes a hazard or significant obstruction, your car may be towed or clamped. Reserved parking spaces have yellow painted lines and signs and may also have numbers.
You can pay parking fines or tow fines at Campus Information Services. Go to Quadrangle Building A, level 1 (Gate 1) in the East Precinct. You can also pay at the Library or Recreation Centre if Campus Information is closed.
Car-pooling, drop-offs and pick-ups
If you're car-pooling, use the special car-pooling area in the East Precinct. This is car park 1D, in the crescent opposite the Recreation Centre.
To use the car-pooling car park, you must:
display two car-pooling permits for each vehicle
use it only between 8am to 4pm.
For more about car-pooling, contact Albany Students Association (ASA)
If you're dropping off or picking up passengers in the East Precinct, you can use the:
short stay spaces for up to 30 minutes – five spaces on the left of the car pool area in car park 1D
drop-off and pick-up zone (P5) – in the left-hand exit lane going towards Albany Expressway.
Buses
Catch public transport to the Auckland campus. Then use the free shuttle bus to travel between the campus sites.
Public transport
Auckland Transport (AT) buses run to the Auckland campus from many parts of the North Shore and stop in front of the Atrium Building in the East Precinct. This includes buses to Albany Station on the Northern Busway to Auckland city.
Check timetables and fares on AT HOP. Or call AT HOP on +64 9 366 6400.
Use the AT Mobile app to make it easy to travel by bus, train, ferry, bike and on foot. With the app, you can use your smartphone to plan your journey and check timetables and real-time departures, plus manage your AT HOP card. Visit your app store to download the AT Mobile app.
Pay your bus fare using the AT HOP card. If you're a full-time student, you can get discounted travel for up to 3 years with your AT HOP card. To get the concession, you need to buy an AT HOP card plus either:
an AT Tertiary ID sticker from Massey Contact
use the AT Mobile app on your smartphone.
See more about the AT HOP card
Download the Massey Uni app
Get campus information and maps in your pocket with the Massey Uni app.
Download the Massey Uni app on Google Play or the App Store.
Campus Operations, Auckland campus
Phone

Location

East Precinct, Quadrangle Building A, level 2, Campus Operations Service Desk (Gate 1)

Address for couriers

East Precinct
Gate 1
Albany Expressway (SH17)
Albany 0632
New Zealand
Auckland campus has catered halls, shared apartments and private studio units.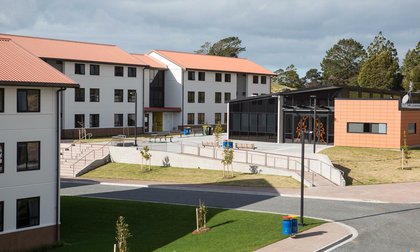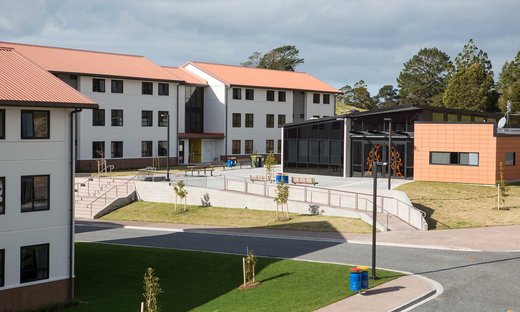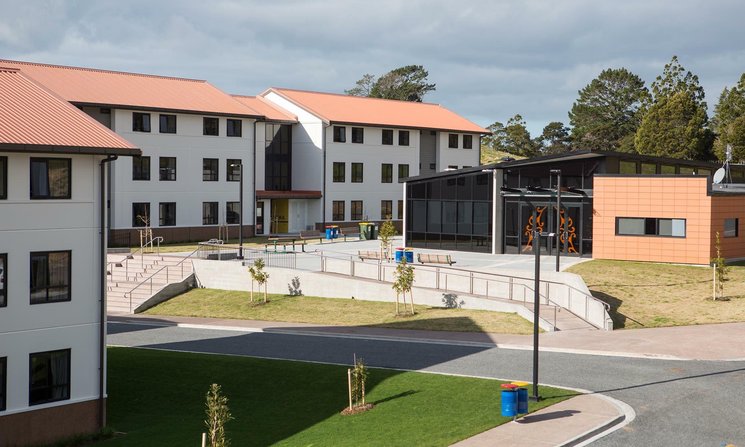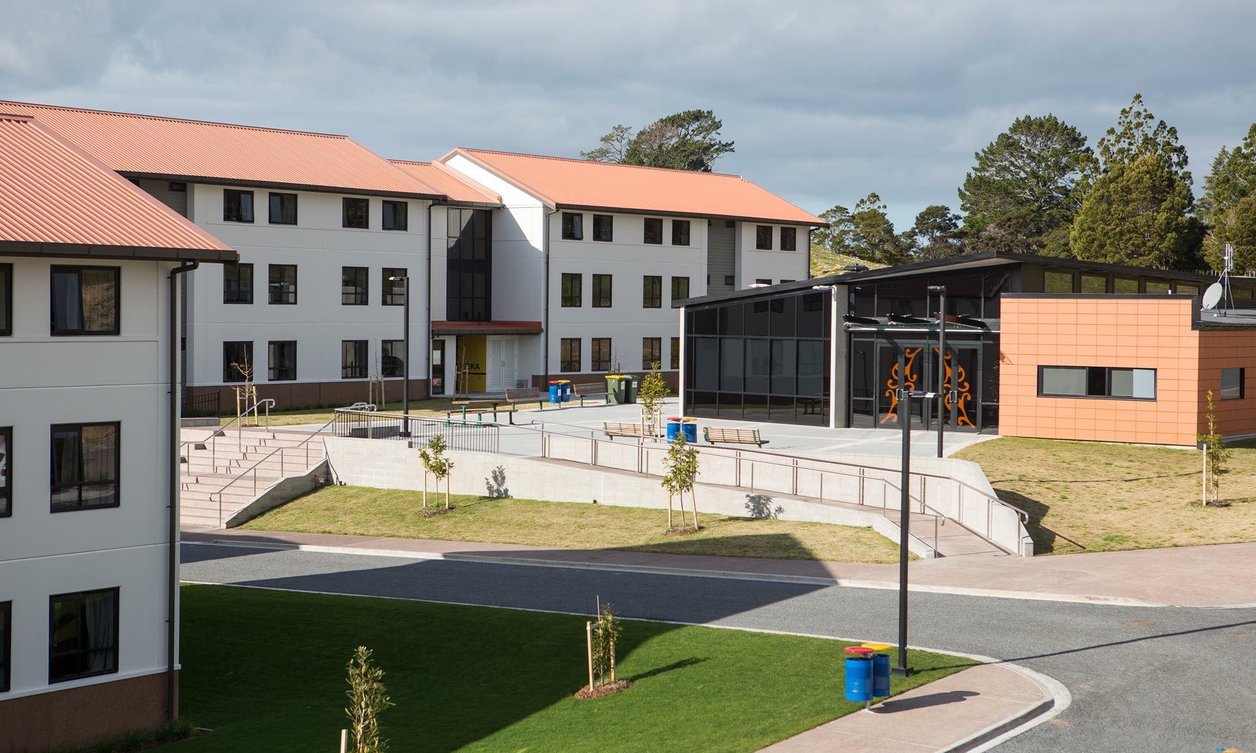 Student associations give you a helping hand and ensure your voice is heard.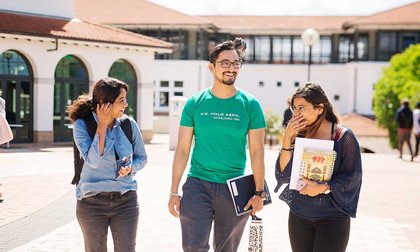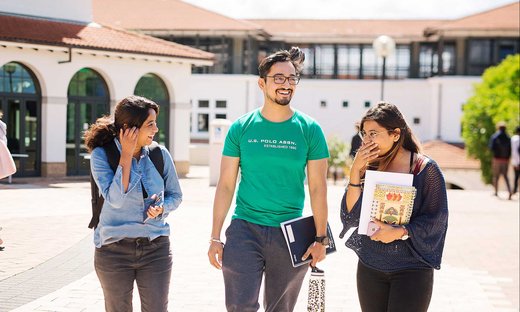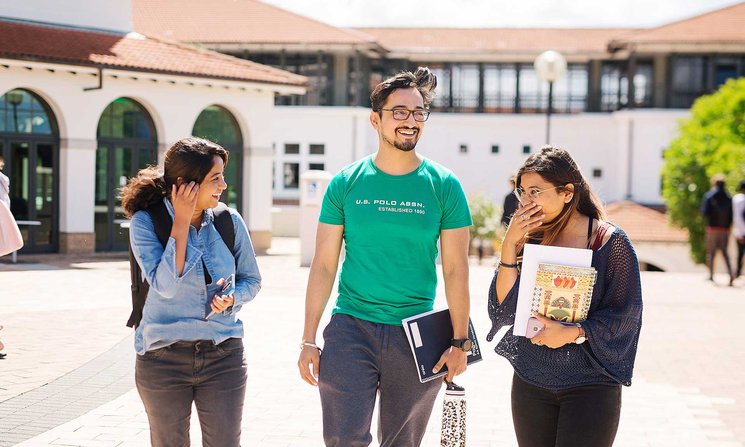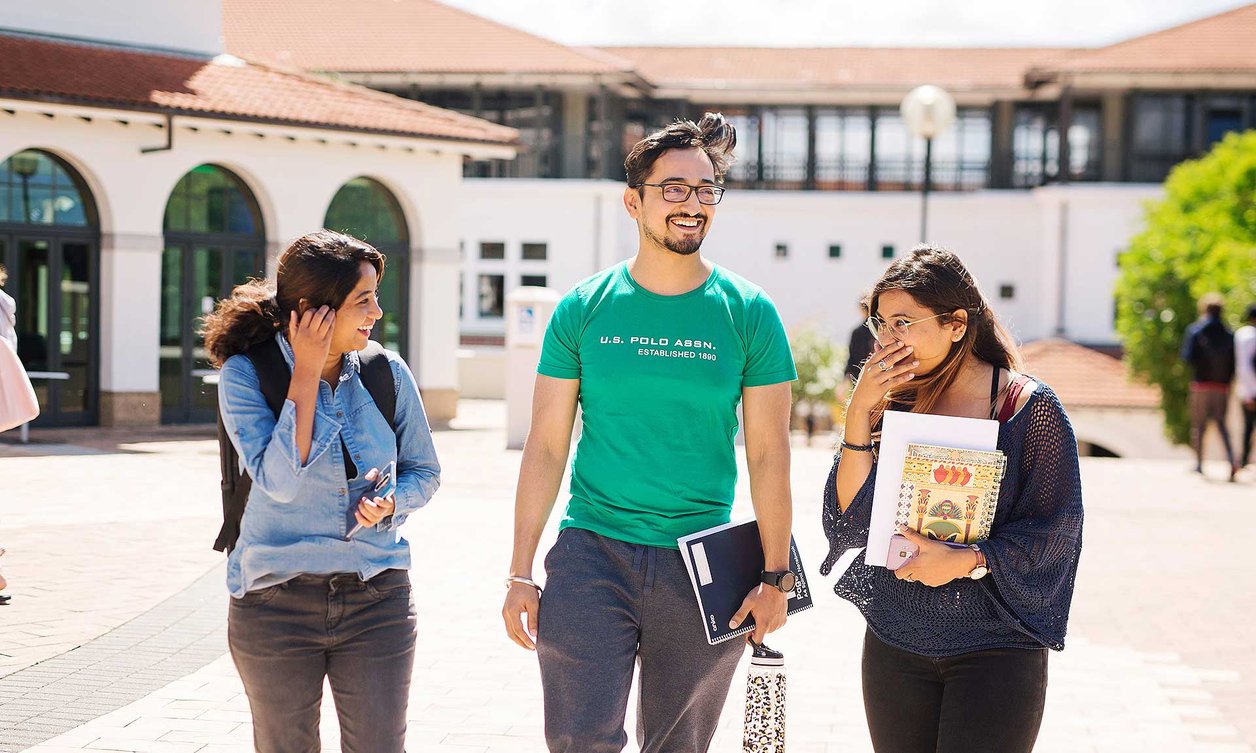 The Auckland Recreation Centre is open to Massey University students and staff and the public, for membership and casual use.