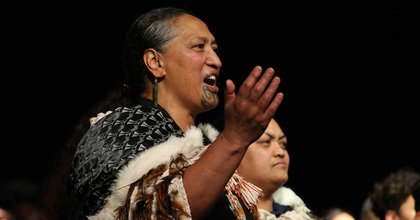 Graduation celebration dates and locations
Auckland
Thursday 26 May 2022 at 4.30pm
Bruce Mason centre
The Promenade
Takapuna
Auckland
Palmerston North
Thursday 5 May 2022, time to be confirmed
Regent Theatre
Broadway Avenue
Palmerston North
Wellington
Wednesday 13 April 2022, time to be confirmed
Te Rau Karamu Marae
Massey University
Wallace Street
Mt Cook
Wellington
How to register to attend a celebration
In order to graduate at an official graduation ceremony you need to apply to graduate. When you apply you can also register to attend a celebration to honour Māori graduates.
What happens at the celebrations
Here's what will happen at the celebrations:
whakatau for manuhiri
graduates dressed in their academic dress will be individually acknowledged with their degree and iwi affiliations and called to the stage to receive a tohu
whānau will have the opportunity to mihi to them (for example, karanga, waiata, haka, karakia)
refreshments.
Massey photographers will be on hand to take whānau photos which will be made available free online.
We are very excited to be able to share this celebration with you. If you have any other questions please contact Robyn Matthews at r.m.matthews@massey.ac.nz
Why you should come to this event
Your graduation is a great achievement that deserves recognition, but this celebration is also an opportunity to thank all those, especially whānau, who helped you on this journey, allowing them to share your success.
This celebration also serves as inspiration to others to follow in your footsteps and reach for higher education. These celebrations will provide you with a lasting reminder of your achievement and a chance to connect with your fellow graduates.
Cost
There is no cost to attend the event, you are our honoured guests.
Bringing guests and tamariki
You are welcome to bring up to 10 guests with you to the celebrations. Children are welcome. It is inspiring for our tamariki to see the success of their whānau.
What to wear
You will be required to wear academic dress and the hood of your discipline. For information about what to wear and hiring academic dress see the Academic Dress Hire website.
Graduate speeches
Due to the number of students attending the Manawatū celebrations, graduates do not get the opportunity to kōrero, but can if they wish to at the Auckland and Wellington ceremonies.
Graduation certificates
Your graduation certificate will be presented to you at your graduation ceremony. At this celebration you will receive a special tohu from the Office of the Deputy Vice-Chancellor Māori.
Which ceremony or celebration to attend
You can choose the location that suits you best, no matter where you studied.
Pacific as well as Māori ancestry
You are welcome to attend both the Pacific celebration and the Māori celebration if you wish. Please make sure you register for both events when you apply to graduate.