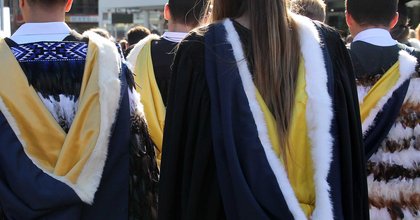 What to wear
Due to the importance of the graduation ceremonies and celebrations, a tidy standard of dress is expected from participants, along with the academic dress applicable to your qualification.
Korowai (Māori cloak) and Pacific cloaks may be worn with academic regalia. They should be worn over the gown and under the hood.
International students may prefer to wear their national dress with the academic regalia.
How to hire academic dress (regalia)
Massey has a preferred supplier arrangement for hiring academic dress with Academic Dress Hire, a service provided by the Graduate Women Manawatū Charitable Trust Inc.
The Academic Dress Hire website provides all the information you need about:
what you should wear
how to wear academic dress
how to hire gowns and academic dress
due dates for hiring academic dress
where to pick up and return hired academic dress.