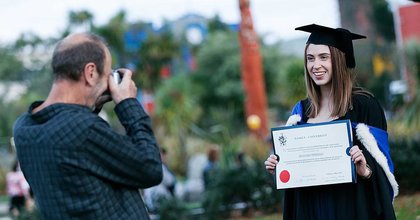 Search our Massey University graduates database
Search the Massey University graduate database to look up and confirm the status of students who have graduated since June 1997.
To enquire about a Massey University graduate whose name does not appear on this database, please email academic.services@massey.ac.nz.
Qualification verification
We can only confirm a candidate's qualification status if the candidate has graduated. If the candidate has completed a qualification but is yet to graduate, we will first require their permission to verify the qualification. This must be in the form of a signed authorisation that specifies the release of educational information.
To request qualification verification, please email academic.services@massey.ac.nz with the candidate's full name, any previous names, date of birth and qualification. Please allow up to five working days for a response.
If a candidate has not completed their qualification, they will need to apply for an academic record and either share it with you electronically or by post.
Disclaimer
We have endeavoured to ensure that information available on this page is accurate and up to date.
The information is provided in good faith without any express or implied warranty. We do not accept responsibility for any use of the information contained in this database.