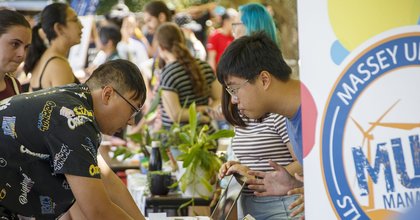 Make your student experience better
There's more to university life than study, assignments, exams and expanding your academic knowledge. Engaging with your student community can help add to an amazing university experience. You can meet new people, explore interests, make friends and even discover strengths to add to your CV.
Massey has vibrant clubs, interest groups and student associations. One of the easiest ways to make the most of your time as a student is to find new whānau (extended family) – by connecting and getting involved with student clubs and societies. Connecting helps you have the best time possible while on your study journey and enhances your student experience.
Find a place to belong
Clubs are all about trying new things, getting involved and finding a place to belong. Being active in a club is a great way to meet new friends, to feel more at home at Massey, and to make your time fun.
Have fun and make a difference to your student experience by engaging with clubs, common interest groups and your students association while on your academic journey at Massey.
We have more than 200 student-run interest groups across our campuses. There's a lot to choose from, including postgraduate clubs. Here's a quick overview:
Cultural — discover heritage, celebrate with food, learn te reo Māori, or share your culture with others. Massey is multi-cultural and groups include Māori, Pasifika, Chinese or Malay, to name a few.
Social — make new friends and discover new passions through music, movies, politics or coffee and cake. 
Academic — brainstorm ideas by meeting like-minded people who are studying the same course as you.
Share your faith — want to connect and share your faith with others? Discuss your spirituality at one of our religious or spiritual groups, such as Christian or Muslim.
Keeping fit and active — there's a sports club ready to welcome you, including cricket, hockey, rugby, aerial arts or table tennis. Get fit and have fun with sport, recreation and games.
Each club is run by student volunteers. If you can't find what you're interested in then we encourage you to start a new one. Lots of support is available through your local student association to help run clubs, and you may be able to apply for funding to buy equipment or run events. 
Discover a club
Clubs and societies are a great way to engage with your student community. Join a club and make your student experience better. Clubs and societies are funded by your Student Services Levy.
Auckland campus clubs
Website: https://www.asa.ac.nz/clubs
Facebook: https://www.facebook.com/albanystudents/
Email: Clubs co-ordinator clubs.auckland@massey.ac.nz
Manawatū campus clubs
Website: https://musa.org.nz/clubs
Facebook: https://www.facebook.com/musaevents
Email: Clubs co-ordinator clubs@musa.org.nz
Wellington campus clubs
Website: https://mawsa.org.nz/mawsaclubs
Facebook: https://www.facebook.com/mawsa
Email: Clubs co-ordinator clubs@mawsa.org.nz
Distance or Online clubs
Regional connections: https://dev.mad.ac.nz/social/
Facebook: https://www.facebook.com/MasseyDistance/
Associated groups
There are more groups available for you to experience:
Participate in sports and fitness through your campus Recreation Centres