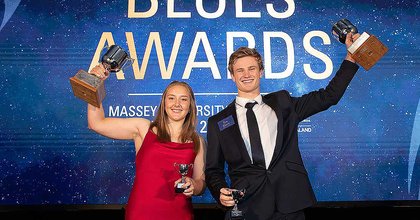 Massey University Blues Sports Awards are part of a longstanding tradition of recognising sporting excellence in New Zealand universities.
The Blues are open to all sports people at Massey, including those studying by distance, who have achieved outstanding results in both their sport and academic studies.
Criteria for the awards
To be considered for a Blue, athletes must meet the sport and academic criteria. Sport criteria are set by the National Sports Organisations (NSO) independently of Massey. These criteria are reviewed each year.
Sport criteria
Qualifying period: 1 September (previous year) to 31 August of the current year
Sport criteria you must meet to be considered for a Massey Blues Award are:
excellence of play and sportsmanship
exceptional merit or honour in the particular sport concerned.
The exceptional merit or honour should be displayed at regional, national or international events during the stated qualifying period. The standard is set by the relevant National Sports Organisation for each sport.
Academic criteria
Qualifying period: June (of the previous year) to July of the current year. This period covers Semester 2, Summer School and Semester 1.
To be eligible for a Massey Blues Award you must be an athlete who has:
enrolled at Massey and is pursuing or completing a qualification (such as a degree or diploma) during the academic qualifying period
gained a successful pass in a minimum of 45 credits over the qualifying period or be completing your qualification.
Award categories
In addition to the individual Massey Blues awards, we offer the following special award categories.
Massey University Sport Achievement Award
This award recognises athletes who have performed exceptionally but are not eligible for a Blue as an individual.
Applicants for this award include:
coaches
officials
teams representing Massey, or 75% Massey members.
You need to meet the same criteria as for the Massey Blues Award but within your circumstances, like an official who has represented Aotearoa New Zealand internationally. Teams do not need to meet the academic criteria.
Contribution to Sport
This category recognises those who have volunteered and contributed significantly to sport at Massey.
Sportsman & Sportswoman of the Year Awards
This category is for Blues recipients who, in the selection panel's opinion, have performed the most outstandingly at their sport while also meeting the academic criteria.
Distance Sportsman & Sportswoman of the Year Award
We also present a Distance Sportsman and Sportswoman of the Year. This award for distance students is given at the awards event closest to where the winner is based.
Nomination process
Nominations for the award typically open in June each year and close in late July or early August. You can nominate yourself or another athlete through an online form. We strongly encourage athletes to put themselves forward for the awards.
Teams just need one member to nominate on the team's behalf but you may need to provide more information about other team members when your nomination is received.
Judging the awards
The Blues are awarded by a selection committee of between seven and 10 Massey staff members, representing the diversity of the University and the student body. Members of the committee show a passion for sport and understand what sporting excellence is.
Awards function
We give out the Blues awards during annual awards functions. We know that huge commitment and discipline are needed to become a Blues recipient. You have successfully juggled the often-weighty workloads of university study with heavy training and performance schedules.
If you can't come to the function you can get your award posted to you afterwards.
Find out more
Visit the Massey Blues website for more information about nominations and awards functions.
For questions about the Blues award, email the High Performance Coordinators on hpc@massey.ac.nz.