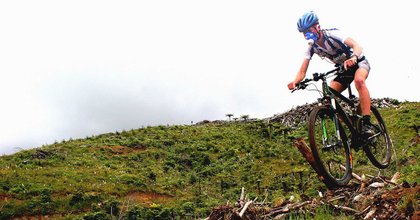 With flexible study options and multiple study locations, Massey has been recognised as Aotearoa New Zealand's first athlete-friendly university.
Our Academy of Sport is a sport scholarship programme for emerging and high performance athletes, supporting you to achieve your best academically and in your sporting career.
What Massey offers athletes
No other New Zealand university gives the level of flexibility to elite athletes as Massey does.
Study options such as on-campus, off-campus, mix-mode, full-time or part-time academic work mean you can fit your study around your sporting commitments. You can also change your study approach if you need to attend major events like World Champs, Commonwealth Games or the Olympics.
As a high-performance athlete, you can apply for a scholarship to the Academy of Sport programme in the year before you start at Massey and continue to get support for the duration of your time as a student.
Massey also offers athletes other support like:
a travel fund to help with costs for international competition
the annual Massey Blues Sports Awards, and
great sporting facilities on all of our campuses.
Massey Academy of Sport
The Massey Academy of Sport offers athletes the following benefits:
sport science services such as nutrition advice, physical conditioning and sports psychology
gym memberships at our sport and recreation centres
practical group seminars on topics like anti-doping, media training, mental skills, public speaking, time management and self promotion
Massey Academy training apparel to wear and keep, in recognition of being in the programme
individualised help with balancing your academic and sporting career through our High Performance Coordinators.
Where possible, our services are delivered by High Performance Sport New Zealand-accredited providers.
Within the Academy, our High Performance Coordinators will be your first point of contact to make the most of combining your sporting and academic careers.
We can help you plan how to complete your academic work alongside your sport commitments, and make adjustments so you can compete in major events. We understand the life of elite athletes.
Applications and entry to the Academy
To become a member of the Academy of Sport you need to be a recipient of one of our scholarships and awards.
We offer up to 25 full-time and part-time scholarships each year. The scholarships are valued at between $3,000 and $5,000 for full-time students or pro-rated for part-time students.
Applications are due in August of the year before you start. The financial assistance lasts for your first year of study but you can continue in the programme until you graduate.
You also become a member of the Academy if you are awarded a High Performance Sport New Zealand Prime Minister's Scholarship. Because as a Prime Minister's Scholarship recipients you already have access to sport-related support personnel, the Academy of Support mainly gives you academic advice and help.
Apply for a Massey Academy of Sport scholarship
High Performance Sport New Zealand - Prime Minister's Scholarships
Testimonials from our athletes
"With the support of Massey University and the Academy of Sport, I was able to chase my sporting dreams while continuing to study. Assistance balancing my schedule and planning study to ensure I could manage my workload was a massive help towards achieving my goals. Thanks to the Academy's close connections and similarities between campuses, having to change my course of study and relocating from Palmerston North to Auckland was a smooth transition. If it wasn't for the Academy's support, I wouldn't have achieved what I have today." — Mac Wilcox, New Zealand Hockey Representative
"Being a professional footballer and playing for the NZ Football Ferns means that I am based overseas and frequently travelling for international events. As a distance student, Massey University does a great job at enabling me to pursue my professional footballing career. I know I have a finite career as an athlete, so I recognise that it's important to think about my future beyond just my sport. This continuous support provided by Massey University's Academy of Sport in both one's academic and athletic life is world-class and means I can now excel in both incredibly important facets of my life." — Paige Satchell, New Zealand Football Representative
"Massey University continually supports me in achieving my athletics goals. As my sport involves frequent overseas travel, I require a flexible schedule via distance learning. The encouraging and understanding attitude shown by lecturers means I can comply with all the university requirements while fitting these into my training and competing requirements. This environment allows me to excel in both my chosen sports and academics, setting me up for a successful future." — Olivia Eaton, New Zealand Athletics Representative and New Zealand Surf Lifesaving Representative
"I'm a massive advocate for living a balanced lifestyle, so studying while pursuing my athletic career was the obvious choice after leaving high school. Massey was the perfect fit for me, with its willingness to support athletes to achieve their dreams in the sporting arena. Their distance programme is perfect for athletes who are on the road, and without Massey there is no way I would have been able to gain a qualification while competing." — Hamish Kerr, New Zealand Athletics Representative
Current specialists at the Academy
Discover who is currently delivering our specialist support services at the Academy of Sport.
Manawatū (Palmerston North) campus, Wellington campus and relevant distance students
High Performance Coordinator: Tamara Scott-Valath
Bachelor of Business Studies (Marketing Communication, Sport Management & Coaching), Post Graduate Diploma in Business Administration, Master of Management (Sport Management).
Nutrition: Conrad Goodhew
Performance Dietitian, NZRD, DipBS, BAppSc, MDiet (Dist)
Sports Psychology: Professor Emeritus Gary Hermansson
NZ Registered Psychologist, NZ Olympic & Commonwealth Games
Strength & Conditioning: James Amon
Bachelor of Human Performance, Certificate in Exercise Science, HPSNZ-Accredited Trainer
Auckland campus and relevant distance students
High Performance Coordinator: Danielle Jones
Bachelor of Sport Management
Nutrition: Kathryn Beck
Sports dietitian & nutritionist, NZRD, Master of Science (Human Nutrition), Bachelor of Physical Education
Sports Psychology: Warrick Wood, PhD
Lecturer of Sport & Exercise Psychology, HPSNZ-approved / SESNZ-accredited Mental Skills Trainer
Strength & Conditioning: Karl Puohotaua
Dip Fitness Centre Training, Strength and Conditioning coach Lvl4
Follow us on Facebook
Find out more about the Massey University Academy of Sport.
Staff contacts
Tamara Scott-Valath
High Performance Coordinator, Recreation and Sports Centre, Manawatū, Palmerston North
Danielle Jones
High Performance Coordinator, Recreation and Sports Centre, Auckland
Academy of Sport, Auckland
Location

We are based in the Recreation Centre, Gate 1 on the Massey Albany campus, and look after athletes studying on the Auckland campus and at a distance.

Postal address
Massey University Academy of Sport
Massey University
Private Bag 102-904
North Shore Mail Centre
Academy of Sport, Manawatū and Wellington
Location

We are based in the Massey Sport and Recreation Centre on Orchard Road, and look after athletes studying on the Manawatū campus in Palmerston North and the Wellington campus, and studying at a distance.

Postal address
Massey University Academy of Sport
Massey University
Private Bag 11-222
Palmerston North