Botanical name: Bellis perennis
Family name: Asteraceae
Overview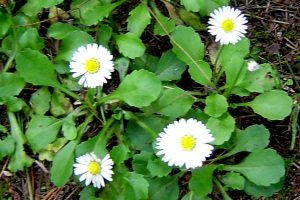 Daisies are generally well-known to everybody, and many people have made daisy chains as kids. Daisy mainly causes problems in lawns, where the very noticeable white flowers with yellow centres can be considered an eye-sore or charming depending on your point of view.
They are often also found in pastures, where they seldom cause too many problems. However, in some parts of the country such as Southland and Otago, daisies can become very aggressive, dominating the pasture and therefore leading to low pasture production. Trial work suggests they don't reduce pasture production until they occupy over 30% of the available ground, so spraying prior to this level of infestation is obviously not warranted.
Livestock generally avoid eating it. Porina caterpillars also don't like it, so daisy plants are often one of the few species left in pastures badly affected by porina. It is best suited to sheep-grazed pastures and closely mown lawns where its small size becomes an advantage, being able to remain below the level of defoliation and not overtopped by neighbouring plants due to the low vegetation height. Daisy prefers moist soil conditions and does well in shade.
Distinguishing features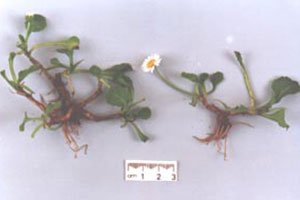 As vegetative plants, daisy grows as a small rosette. Each leaf is spoon-shaped. Often the rosettes will grow in patches, and if these patches are dug up, they are found to be connected by short, stout rhizome systems. The rosettes are always quite small and flat, so don't form upright clumps of oxeye daisy.
The flower heads have many white ray florets radiating out from a yellow centre, with the whole structure about 2 cm in diameter, and held on an unbranched leafless stalk.
Control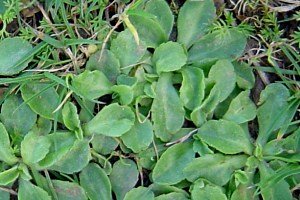 In pastures, selective control of daisy is quite difficult to achieve as it is not very susceptible to either MCPA or 2,4-D. Trial work in the late 1970s showed 2,4-D to be slightly more effective than MCPA.
Further trial work in the mid-1980s showed some benefits from spraying infested pastures with low rates of paraquat. In turf, herbicides such as clopyralid (Versatill), triclopyr/picloram (Victory Gold) and 2,4-D/dicamba mixes all give good control.