Overview
Massey's School of Aviation was established in 1987 to meet the aviation industry's needs for graduates with a wide industry perspective.
We were the first New Zealand training organisation to meet the regulations for Civil Aviation Authority Rule Part 141 certification and are New Zealand's only university with an aviation school.
The school is an Air New Zealand preferred flight training organisation, and the only aviation school in New Zealand that is ISO-accredited.
Massey's School of Aviation is located close to the Palmerston North Airport business park.
Te Tiriti o Waitangi at Massey
We are deeply committed to being a Tiriti-led university, demonstrating authentic leadership in contemporary Aotearoa New Zealand as we uphold te Tiriti o Waitangi, the founding document of our nation, and its principles through our practice. We embrace this not just as an obligation but as a real opportunity for the nation and its people.
Te Tiriti o Waitangi ki Te Kunenga ki Pūrehuroa – The Treaty of Waitangi at Massey
Study with us
Undergraduate qualifications enable you to train to become a pilot, or you can specialise in aviation management with the skills to adapt to the needs of aviation organisations.
Aviation Management students can study in New Zealand or internationally by distance study. The school's a long-standing relationship with the Singapore Aviation Academy enables international students to enrol in aviation management courses while living offshore.
Senior aviation managers are required to demonstrate not only technical knowledge and expertise, but also postgraduate aviation qualifications and skills.
An aviation postgraduate qualification from Massey can prepare you for a future career in senior aviation roles or add an industry–specific postgraduate qualification to your industry experience.
Fly planes while getting in-depth knowledge of the aviation industry. We're New Zealand's only university with an aviation school.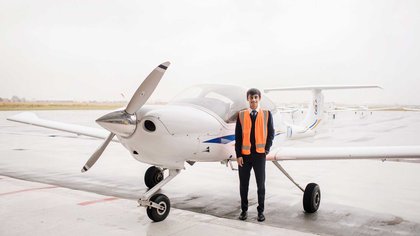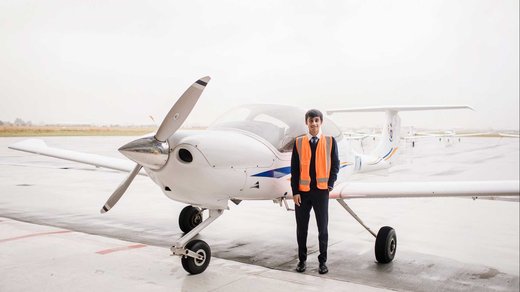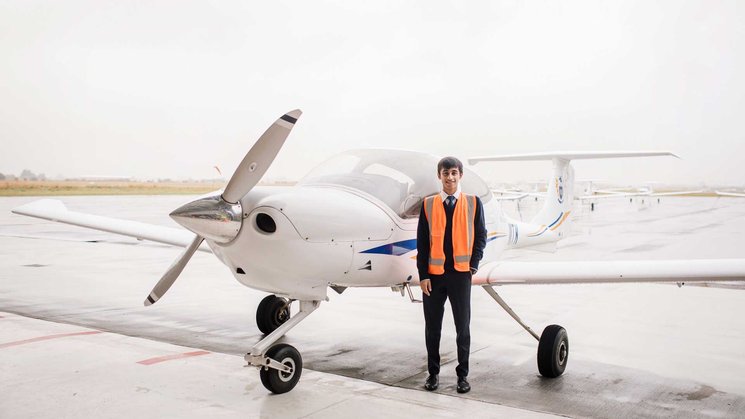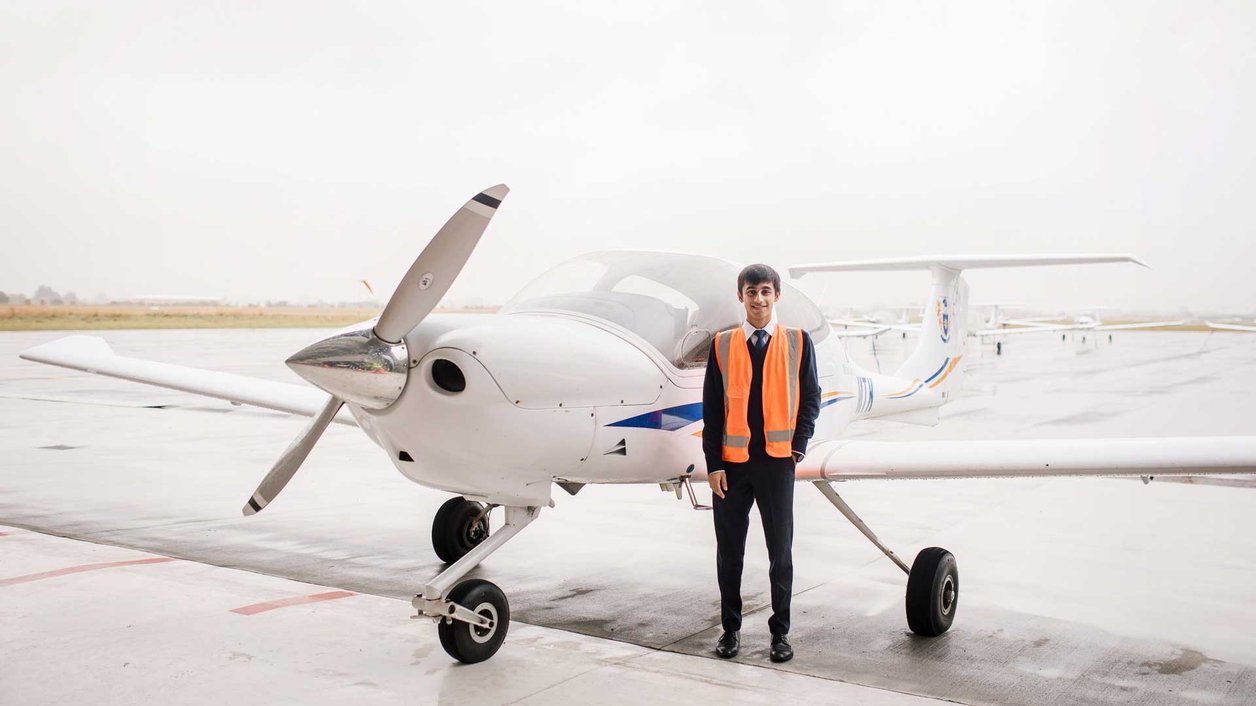 Pilot or professional study
We offer different qualifications depending on whether you're interested in pursuing a career as a pilot or in aviation management.
Become a pilot with a difference. Gain a professional qualification that integrates flight training with university study.
Become an aviation professional
If you are passionate about aviation and are interested in the broader picture of the aviation industry, this is the degree for you.
Our facilities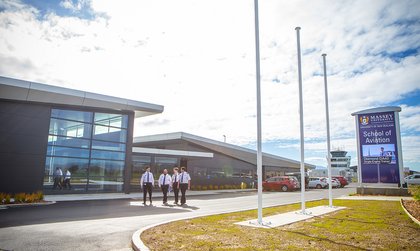 Aviation Centre
One of a kind in New Zealand. It includes:
Diamond DA40 and DA42 aircraft
flight simulators
maintenance hangers
operations area
classrooms and briefing rooms overlooking runways.
Location: Palmerston North Airport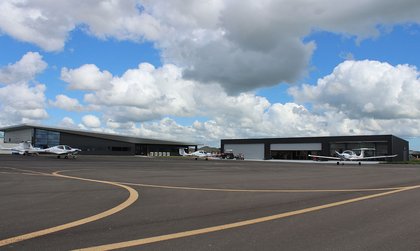 Flight systems and airstrip
Bachelor of Aviation students work alongside the busy Palmerston North airfield with full Air Traffic Control services. Aviation Management students' classes are also mostly taught at the Aviation Centre so they experience flight operations and airport operations at close hand.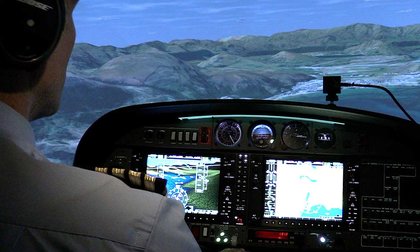 Diamond DA-42 flight simulator
Massey's state-of-the-art flight simulator has a 220-degree wraparound screen and can be set to any airport in the world. Massey University's School of Aviation was the first pilot training facility in New Zealand to install this new-generation simulator.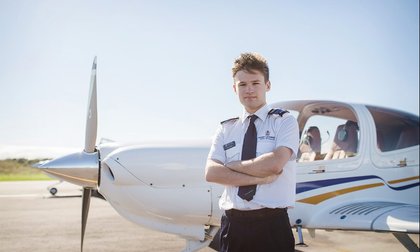 Diamond DA40 Single-Engine Trainer
Massey owns 12 single-engine trainer aircraft. They have a cruising speed of 110 knots and a range of 720 nautical miles. The trainers are fitted with Garmin 1000 cockpit displays incorporating digital moving map displays, terrain awareness warning and traffic avoidance systems.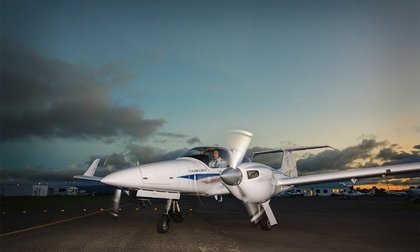 Diamond DA42 Twin-Engine Trainer
Massey owns two Diamond DA42 twin-engine trainer aircraft for the air transport pilot qualification. These aircraft have a cruising speed of 140 knots and feature Garmin 1000 cockpit displays incorporating digital moving map displays and terrain awareness warning systems.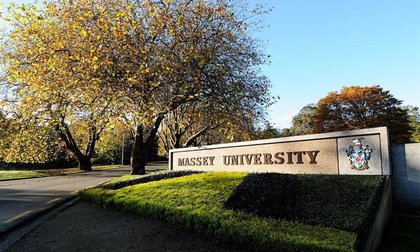 Robin R2160
Massey's low wing fully-aerobatic two-seat trainer, is used for the BAv students' "upset training" modules and for those working towards gaining their aerobatic rating.
Aviation Centre video tour
Tour through Massey's Aviation Centre based at Palmerston North Airport. As well as the school's fleet of technically-enhanced Diamond DA40 and DA42 aircraft, the centre houses ground-based training facilities, including a new generation Diamond DA-42 flight simulator.
Our programmes from undergraduate to PhD-level degrees, along with remotely-piloted aircraft systems courses, are delivered from this location.
Professional training courses
Massey offers professional training and short courses.
Remote Piloted Aircraft System (RPAS)
Massey offers two professional courses for Remote Piloted Aircraft System (RPAS) operators to learn aviation legislation and safety processes.
Learn how to use your Remote Piloted Aircraft Systems (RPAS) safely and within the law in this two-part professional course. RPAS are also called drones and unmanned aerial vehicle (UAV). Understand the law and safety processes for RPAS and put your knowledge into practice with industry experts.
Take this course if you operate RPAS and:
have little or no aviation experience
want to deepen your understanding of RPAS in aviation
want to apply for CAA PART 102 certification.
Learn how to safely take part in and manage Remote Piloted Aircraft Systems (RPAS) in multi-crew operations, night operations and large, high-risk complex operations.
This professional course is online only, with an online test.
Take this course if you are:
a Civil Aviation Authority (CAA) Part 102 operator
an RPAS operator taking part in complex operations
a manager of a complex operation
a regulator of health and safety and other regulatory compliance for organisations that run complex RPAS operations
applying for or renewing an operational competency assessment (OCA).
Civil Aviation Instructional Techniques Course
Teaching you how to teach others to fly. Pass on the the flying experience gained from your commercial pilot's licence to teach the next generation. Learn the knowledge, attitudes, skills and techniques to help you become a flight instructor.
CAANZ Instructional Techniques
Short course
Instilling knowledge in others requires a specific skill set. This course shows you how to use the flight experience you gained whilst working a commercial pilot to teach others to fly. The course will demonstrate the knowledge, skills and techniques to help you to become a good flight instructor.
You need to pass this course to apply for the Civil Aviation Authority New Zealand (CAANZ) Category D and C initial instructor rating.
Take this course if you:
have a commercial pilot's licence
are training to be a flight instructor.
Contract flight training
Short course
Massey offers contract flight training for airlines and international aviation training institutions that require group training for prospective pilots. Choose from:
Basic training – airline cadet (69 weeks)
Advanced training – airline bridging course, equivalent to European Union Aviation Safety Agency Multi Crew Co-operation course (2 weeks)
King Air type rating (3 weeks)
Training articulation agreements
The school has articulation arrangements with the following institutions and organisations whose graduates will be eligible to be awarded credits into the Bachelor of Aviation Management.
Singapore Polytechnics (Republic Polytechnic, Nanyang Polytechnic, Singapore Polytechnic and Temasek Polytechnic
Sri Lanka Airport and Aviation Academy)
Kuala Lumpa Malaysian Institute of Aviation Technology
New Zealand Defence Force and Royal New Zealand Air Force
Airways New Zealand
Who we are
Our people make us who we are. Meet senior leaders in the School of Aviation.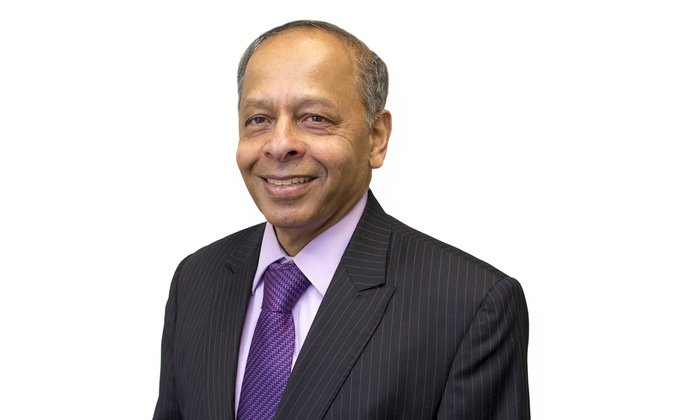 Mr Ashok Poduval
Chief Executive Officer, School of Aviation
Ashok has been a training captain with Indian Airlines and Gulf Air and has over 12,500 hours of airline jet flying experience. He has held corporate positions with IATA and Gulf Air and is a frequent international presenter and consultant.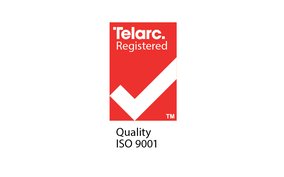 Telarc
The Bachelor of Aviation Massey is ISO-9001-2015 certified.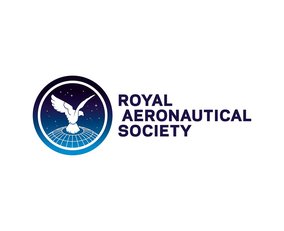 Royal Aeronautical Society accreditation
The Royal Aeronautical Society accredits all aviation qualifications at Massey University, certifying that they meet the RAeS's international professional standards.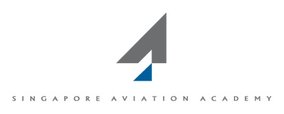 Singapore Aviation Academy
Massey's School of Aviation offers the Bachelor of Aviation Management and Master of Aviation via distance learning to international students through a partnership with Singapore Aviation Academy. The academy is an ICAO TRAINAIR PLUS Full Member, ICAO endorsed Government Safety Inspector Training Centre and ICAO Aviation Security Training Centre.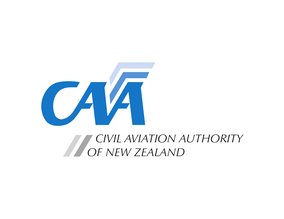 New Zealand Civil Aviation Authority (CAA)
The Bachelor of Aviation has equivalence approval from the New Zealand Civil Aviation Authority.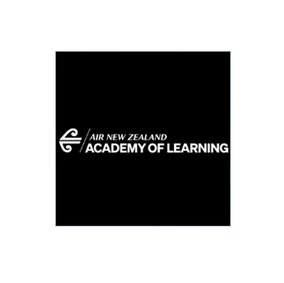 Air New Zealand
The School of Aviation is the only Air New Zealand Preferred Flight Training Organisation (PFTO) that offers an integrated aviation degree, and one of only four PFTOs selected by the institute to provide airline-informed ab-initio flight training.
Meet our graduates
"Massey staff and lecturers were always extremely helpful and keen for me to do well and to achieve my goal to increase my personal knowledge."

"Massey has been a big contributing factor in the opportunities that I have come across. The wide variety of papers that are on offer really give you a broad understanding of the aviation industry as a whole and I would not have wanted to study anywhere else!"

"The support network and resources for postgrads is really very good. I had two children along the way and the support I got during those times was excellent."

Internship and work placements
Bachelor of Aviation Management students may have the opportunity to work in industry in their final year as part of their study. This gives students invaluable real-world experience and provides industry with access to fresh new thinking.
If you are interested in working with a student, contact us.
"The Ministry of Primary Industries internship provided hands-on experience and insight on border working. I developed essential skills, such as communication, risk assessment and dealing with diversity. Observing communication techniques used by Quarantine Officers was a highlight."

"The internship opportunity made my transition from university to the industry seamless. I came to Massey University, BAvMan programme hoping to start a career in aviation after three years – I am already in the industry having commenced my career even before the three years was up!"

"The internship helped improve my knowledge of front line / airline operations and also helped me make valuable contacts within the wider aviation industry."

Research
The School of Aviation's researchers conduct and supervise research in many different areas of the aviation sector.
Our staff and postgraduate students are leading the way in their areas of expertise, presenting their findings at domestic and international conferences and publishing articles in leading journals.
See examples of research areas we explore.
Contact the School of Aviation
School of Aviation
Email

Location

Physical address
Massey University Aviation Centre
47 Airport Drive
Milson
Palmerston North
Looking for a staff member? Visit our staff directory or use Expertise search.