Our globally recognised MBA gives you the credibility to take on leadership roles. You will develop strategic thinking skills, learn to analyse and solve complex business issues, see global opportunities and demonstrate your financial literacy at management level.
You will join other emerging managers, learn from their experiences and expand your network.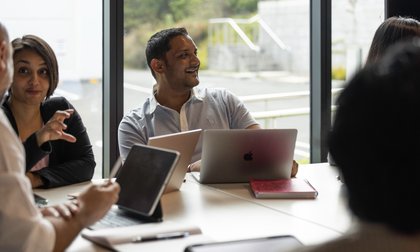 Benefits of Massey's MBA
Massey's MBA is unique in New Zealand – the only MBA with specialisations offered part-time fully online or full-time in a year.
Gain practical knowledge you can use immediately at work. You will benefit from connection to practice through engagement with business leaders and assignments that often include corporate consultancy work.
Our MBA has no examinations, and all assessments are practical.
Learn about how you can expand your opportunities with our internationally accredited MBA
A flexible and personalised journey to management and leadership
You can choose two convenient study programmes - full-time for 12 months at our modern Auckland business school campus or fully online, from New Zealand or anywhere worldwide.
If you would like more information about what study option can work for you, email mba@massey.ac.nz or speak to an MBA specialist.
Our full-time MBA provides international students with work experience in New Zealand, through a management internship placement. You will visit businesses, network with leaders, and we will help you prepare for the New Zealand market. Upon completion, international students can apply for a 3-year work visa.
Study with us online
Our flexible and convenient fully-online MBA can be completed from anywhere in New Zealand or worldwide. With scheduled small group interactive sessions and on-call support, you'll be able to manage your workload while staying connected to support.
Massey is an expert in distance learning, with fresh material often contributed by managers from businesses in NZ and globally.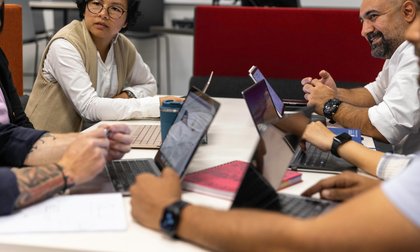 Study with us on campus
This practical learning approach allows you to study full-time and complete your studies within a year.
Our face-to-face class sessions are in the afternoon from Tuesday to Thursday in Auckland. You'll have ample opportunities to work part-time and remain current with practical job skills.
Get the support you need to succeed
We understand that every student has different needs, and we're here to support you with what's needed to achieve a Massey MBA degree.
Our people
Meet your MBA practitioner academics.
Professor Dr Dr Jens Mueller
MNZM, PhD, MSAM, LLM, JurDr, MBA, GDNZIA, GD ProfCoach, MRSNZ
Professor of Management Practice, Massey Executive Development Director
Jens has been a CEO and Director in global firms, including more than 9 years as Board Director for the $1+ Billion PHARMAC Crown entity, an advisor to Governments and corporate leaders and is also a Licensed Immigration Adviser.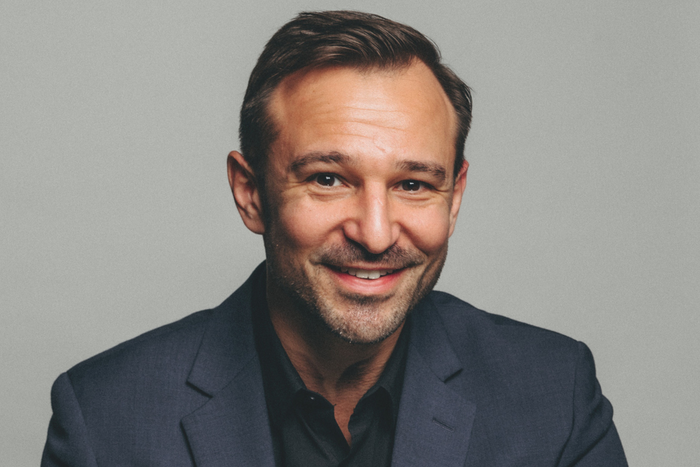 Flavio Hangarter
MMgt
Lecturer and Growth/Innovation Consultant
Flavio is a sought-after advisor for launching and scaling technology companies with 12+ years of experience working with executives, tech accelerators, governments and NGOs across the globe. 
MBA awards and prizes
Our Master of Business Administration has awards available to students enrolling and prizes for our top-performing students.
MBA awards
Limited awards are available to full-time or distance students enrolling in the Master of Business Administration (MBA).
View more information about our MBA awards and how to apply
The Wiley Outstanding MBA Student Prize $1,000
This prize has been established for students enrolled in the online offering of the MBA to recognise excellence in academic performance. The prize is awarded two times per year, once to students eligible to graduate in April/May and once to students eligible to graduate in November. The winners will be the students with the highest grade point average of those eligible to graduate. The prize is $1000.
The Prof Jens Mueller Outstanding MBA Class Engagement Student Prize $2,000
This prize has been established for students enrolled in the full-time/internal offering of the MBA, to recognise excellence in class engagement. The prize is offered up to three times per year, once for each cohort. The winners will be selected by the course controllers of the six core courses for that cohort. The prize is $2000.