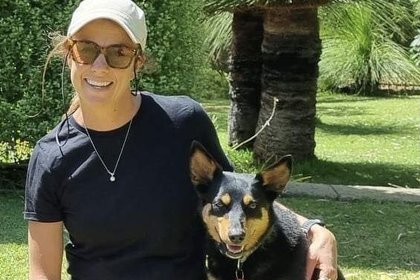 After graduating with a Bachelor of Veterinary Medicine and Surgery from Murdoch University in Perth in 2006, Emily worked in a mixed practice before moving to a small animal practice. She says as she reached the 10-year milestone at the clinic, she began to feel the need to grow as a veterinarian and achieve a further qualification.
"I found I was getting to a point where I was unmotivated and felt I wasn't providing my clients and pets the service they deserved. I started looking into options for postgraduate study and found Australia was lacking. I then found Massey's Master of Veterinary Medicine and the course looked fantastic."
The Master of Veterinary Medicine (MVM) is an online education qualification created to help veterinarians deepen their knowledge of veterinary medicine. It can be completed in a year full-time or across four years part-time. Knowing that it would be a big commitment, Emily says she spoke to the MVM team to ensure the course would work for her.
"The MVM team were so helpful to talk to, from discussing the course and my queries, to my concerns with fitting study into an already busy work and family schedule. Once I signed up, I never looked back! The course was brilliant from start to finish, I couldn't fault it at all."
Emily says the most important thing that kept her on track during the course was time management and discipline.
"I learnt early on to take part and be involved with the forums because, as with anything in life, you get out what you put in. I loved each of the papers I studied and the practitioners leading the courses were fantastic, incredibly knowledgeable but also approachable. What I loved most about the course was the practicality and useability. I can honestly say my skills and knowledge as a general practitioner went from strength to strength. My colleagues now approach me for assistance and advice and, most importantly, my clients received a far superior level of care and service."
In her final year of study, Emily took on her capstone project which saw her completing a literature review on the treatment of canine mast cell tumours. The project coincided with Emily's long service leave, so she and her family travelled around Australia in a camper trailer for nine months while she completed the final year of her master's.
Emily says this was a standout moment in her academic journey.
"It was amazing, not only because we were travelling, but also because I really enjoyed working closely with a supervisor and learning the process of writing a scientific paper. It certainly had its challenges but with hard work and dedication – and lots of coffee – it was achievable."
The 39-year-old says she's grateful for the support she received from the MVM team throughout her studies.
"Two years into the degree, I had my first child so needed some time away. I applied for an extension to the programme and had a 12 month break to focus on my baby. I honestly can't thank all the lecturers enough for all their guidance and in particular, my supervisor Dr Linda Laven who assisted me during my capstone year. I learnt in my time with Massey that anything is possible. If you work hard, prioritise and believe in yourself, you can do anything."
Emily has now taken on a new job and says she's excited for the next chapter in her life.
"It's a fantastic opportunity for growth and change. I honestly don't think I would have had the confidence or the skills to do this without completing the MVM. I'm also enrolling in an abdominal ultrasound course next year as I'm already missing the study!"
Living in Adelaide with her partner Ben and their four-year-old Henry, Emily says she's thankful for her family.
"Ben is my rock and main support. He believes in me and supported me through my MVM journey. Henry is a delight and a constant reminder to not take life too seriously!"
For any veterinarians considering taking the next step in their career, Emily says to go for it.
"You will never look back, honestly. I am so happy I stumbled across the course years ago and would recommend the MVM to any veterinarians wanting to enhance their skill set, knowledge, confidence and passion for the profession."
Interested in learning more about studying a Master of Veterinary Medicine?
Thursday 4 May 2023
Waiata Geddes, Ngāti Awa, Ngaitai ki Tōrere, Mataatua, Tainui waka, flew over from Sydney to attend her graduation in Palmerston North. She graduated with a Bachelor of Veterinary Science after six years of full-time study.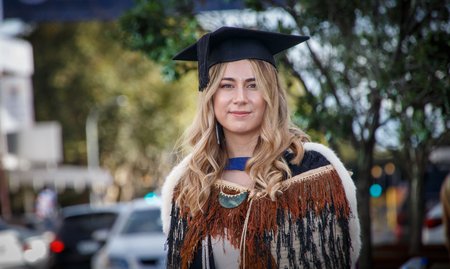 Monday 28 November 2022
Longer life expectancies in domestic cats mean many are living with chronic conditions. For owners, caring for their ageing cats involves not only managing these conditions, but having to make the hard decision of when to say goodbye.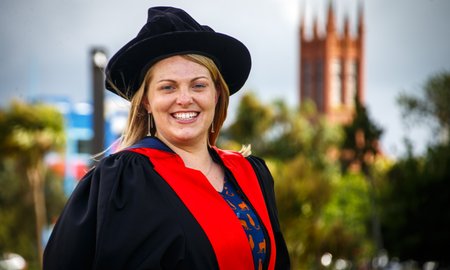 Thursday 4 March 2021
The latest QS World University Rankings results see the school up an additional nine places, from 28th in the 2020 results, to 19th in 2021.