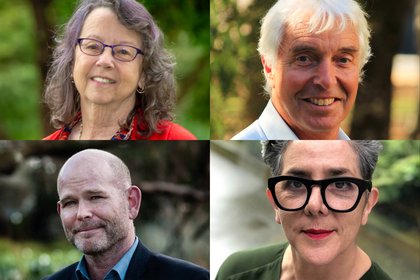 Last updated: Thursday 15 June 2023
Distinguished Professor Nigel French from the School of Veterinary Science has been made a Companion of the New Zealand Order of Merit (CNZM) for services to epidemiology. Professor French began his career as an epidemiologist in the United Kingdom before moving to Aotearoa New Zealand, where he was appointed as a Professor at Massey in 2004.
He pioneered the use of genomic sequencing to trace the source of outbreaks of food and water-borne bacteria, community infections and controlling Mycoplasma bovis in livestock. His research in 2005 pinpointed sources of food-borne campylobacter infections, informing interventions which halved the rate of infection by 2007/2008.
Professor French founded the Molecular Epidemiology and Public Health laboratory in 2005 and the Infectious Disease Research Centre at Massey in 2012, as well as being the founder and inaugural director of the New Zealand Food Safety Science and Research Centre. He also founded One Health Aotearoa (OHA), though which he has led inter-disciplinary research programmes in both New Zealand and the United Kingdom.
Professor Emeritus Ralph Sims has also been made a Companion of the New Zealand Order of Merit (CNZM), for services to sustainable energy research. Professor Sims first gained national prominence for his work in the early 1970s in making and testing biodiesel from animal fats, which is now a part of New Zealand's renewable fuel mix.
He played a key role in 2001, while on the Board of the Energy Efficiency and Conservation Authority (EECA), in establishing New Zealand's first energy efficiency and renewable strategy.
From 2006 to 2010 he was seconded to the International Energy Agency, and led the writing of chapters in three assessment reports for the Intergovernmental Panel on Climate Change, including that on 'Energy Supply' for the 2007 Assessment Report that won the Nobel Peace Prize.
In 2013, Professor Sims was appointed to the Scientific and Technical Advisory Panel of the World Bank's Global Environment Facility for a four-year term.
Associate Professor Shirley Jean Jülich from the School of Social Work has been made an Officer of the New Zealand Order of Merit (ONZM) for services to restorative justice and survivors of sexual abuse.
Dr Jülich has been involved in the restorative justice community in New Zealand since the mid-1990s, focusing on facilitating survivors of sexual abuse to experience a sense of justice.
In 2001 she completed her doctoral thesis on restorative justice and child sexual abuse at Massey, where she has since held academic and teaching roles. She initiated Project Restore in 2005, which offers restorative processes specifically designed to address sexual violence.
Dr Jülich is a globally recognised leader in the use of restorative practices, a sought-after keynote speaker, author and educator. Since 2017 she has been a member of the Mercury Bay Cancer Support Trust, focusing on supporting its work to assist people experiencing the impacts of cancer.
Professor Huhana Smith, Ngāti Tukorehe, Te Mateawa, Ngāti Rangitāwhia, Ngāti Kapumanawawhiti ki Kuku, has been made a Member of the New Zealand Order of Merit (MNZM) for services to the environment.
Dr Smith is the Head of Whiti o Rehua School of Art and has been leading the largest Māori-led research project into climate change, with local iwi and hapu. She has led her team to work with Māori land and farm-owners, using their ancestral knowledge and whakapapa to encourage a better understanding of climate change.
She was part of the Deep South Challenge Vision Mātauranga science programme, which looked at how climate change would affect Māori primary industries, tourism and taonga. Dr Smith was elected as co-chair of Horizons Climate Action in 2021, tasked with addressing the impact of climate change in Manawatū and the surrounding areas.
Massey's former Pro Chancellor Hon John Stephen Kós, KC, has been made a Knight Companion of the New Zealand Order of Merit (KNZM) for services to the judiciary and legal education. He served as Pro Chancellor from 2006 to 2011 and currently teaches at Melbourne Law School.
Massey alumni and former staff members who are recipients of this year's King's Birthday Honours:
Companions of the Order of New Zealand (CNZM)
Dr Brian Walter Wickham (Master of Agricultural Science 1973, Bachelor of Agricultural Science 1970) for services to the dairy industry and statistical genetics.
Officers of the Order of New Zealand (ONZM)
Associate Professor Catherine Mary Andrew (Master of Arts 1998, Bachelor of Arts 1991) for services to nursing education.
Rodney David Baxter (Postgraduate Diploma in Social Service Supervision 2009) for services to youth.
Professor Rochelle Lee Constantine (Diploma in Science 1994, Bachelor of Science 1990) for services to wildlife conservation and marine biology.
Dr William John Werahiko Edwards (Former staff member, PhD 2010, Master of Philosophy 2003, Bachelor of Horticulture 1992) for services to Māori health.
Colin Tindall Jones (Diploma in Dairy Technology 1970) for services to the dairy industry.
Sunita Devi Narayan (Postgraduate Diploma in Business and Administration 1995, Bachelor of Arts 1992) for services to language education and the Indian community.
John Frederic Taylor (Master of Philosophy 2006, Postgraduate Diploma in Arts 2001) for services to disabled people.
Members of the Order of New Zealand (MNZM)
Anna Victoria Rogers (Former staff member) for services to literature.
Franklin Manu Solomon (Diploma in Education 1978) for services to education, particularly Māori and Pacific education.
Judith Anne Solomon (Bachelor of Education 1993) for services to education, particularly Māori and Pacific education.
Kenneth James Wilson (Master of Education Administration 1991) for services to education, research and the economy.
Wednesday 8 June 2022
Four former staff members and 14 Massey alumni were named in the 2022 Queen's Birthday and Platinum Jubilee Honours list.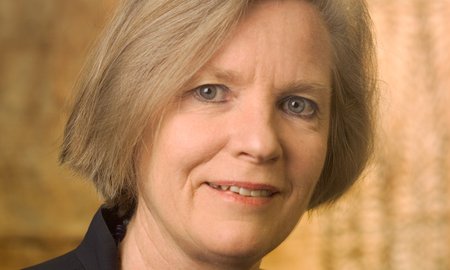 Tuesday 2 June 2020
Two Massey University professors received Queen's Birthday Honours, alongside an adjunct professor and 11 other alumni.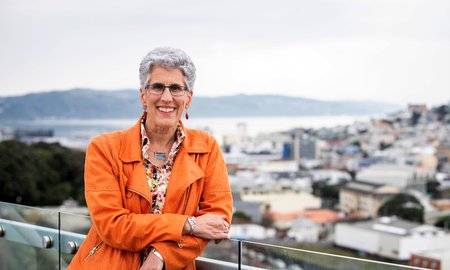 Thursday 6 June 2019
Seven Massey University graduates are among recipients of this year's Queen's Birthday Honours.