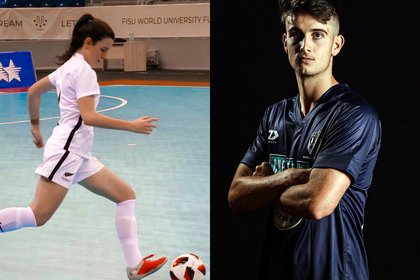 Last updated: Wednesday 29 June 2022
Hamish Grey and Emily Gillion will be travelling to Portugal to compete in the tournaments from 19-24 July in Braga and Guimarães. The 2022 FISU World University Championships offers the first international futsal action for the Aotearoa New Zealand teams since 2019.
Futsal, a form of small-sided indoor football that takes place on a hard court instead of a field, has been growing in popularity in Aotearoa New Zealand over the last half decade. The game is played between two teams of five players, using a smaller ball with less bounce than a regular football.
For Hamish and Emily, the Championship offers an opportunity to gain international experience that could see them progress into playing at a national level.
Emily is in her second year with Massey, studying a Bachelor of Health Science majoring in Integrated Human Health. She says she's very excited to be travelling to Portugal as part of the women's team.
"I was lucky to have travelled over to Kazakhstan previously for the same event a few years back so I have an idea of what it will be like. I think it's an amazing opportunity for New Zealand futsal to come up against some big countries and gain experience playing against them. I'm looking forward to learning from the other teams and players we wouldn't get to encounter back home."
Emily, who's based in Auckland, chose to study via distance with Massey this year to balance her sport, study, and work commitments. She says while it can be tricky, distance study makes it easier to deal with the workload in her own time.
"It's super helpful having recorded lectures and study material available online. I can study around training and work."
Hamish is also a distance student, working toward a Bachelor of Arts while living in Spain. He says being picked for the men's team means a great deal as he's put in a lot of hard work over the years.
"It will be my first time representing Aotearoa New Zealand, so I'm very excited. We're expecting it to be a tough competition, coming up against the likes of Portugal and Argentina, known powerhouses of futsal. It will be a great privilege to play against them."
Monday 23 May 2022
The Massey women's team placed for the first time at the University and Tertiary Sport New Zealand (UTSNZ) 3x3 Basketball Championship, beating out University of Waikato to take the bronze.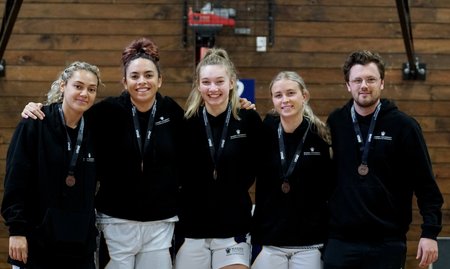 Wednesday 22 June 2022
The annual Massey Club Sport Home Day took place on Saturday 18 June on the Manawatū campus, in celebration of club sport at the university.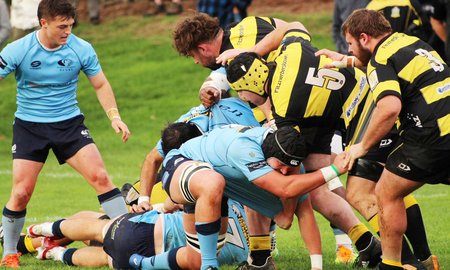 Wednesday 13 October 2021
New Zealand's most successful Olympian and Canoe Sprint champion Lisa Carrington has been named the inaugural winner of the Massey University Blues Sports Awards Supreme Award for 2021.