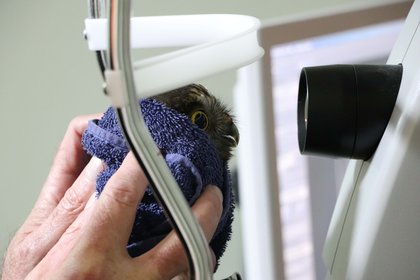 Last updated: Tuesday 20 September 2022
The ruru was brought to Whanganui Bird Rescue in Turakina by a member of the public in June, after a suspected collision with a car. He had suffered a traumatic head injury that included bleeding from the ear..
From there, he was transported over to Wildbase Hospital on Massey's Manawatū campus.
Wildbase Rehabilitation Technician Tracie Poole says he was taken to a local human optometrist for a checkup, as there was suspected damage to his right eye.
"They needed to look at the structure of the eye a bit deeper, where he had an assessment done of the retina. That's where they found that there was actually some dead tissue in the back of the eye which was a real cause for concern for this guy."
She says ruru need their vision to be able to hunt at night, so it was important to get a clear idea of the extent of the damage he had sustained. It was determined that there weren't any fractures or other damage, so he was moved to Central Energy Trust Wildbase Recovery in the Victoria Esplanade.
The ruru's rehab was tailored around his eye damage, with technicians setting up his aviary in a certain way, with a hunting pit, so they could see if he was able to hunt live insects. Despite being shy at first, it wasn't long before he became bright and alert and was hunting every night.
Ms Poole says it's fairly common for ruru to be hit by cars.
"If damage is done because of human causes, we have that responsibility and that duty to help the animals and get them back to where we can send them back off into the wild and give them a second chance."
"It was really fortunate that the member of the public acted so quickly to bring him in. We are always so appreciative of the help and part that the public play in dealing with ill or injured native wildlife. We couldn't do what we do without the part that they play."
The ruru was released at Macphersons Bush in the Turakina Valley on 8 September.
Friday 6 July 2018
Horowhenua has two of its residents back - a black shag and a blue penguin - after treatment at Massey University's Wildbase Hospital.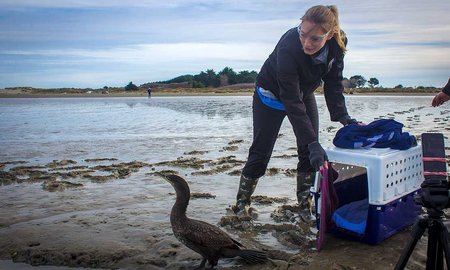 Thursday 9 May 2019
A young kākāpō chick has undergone life-saving brain surgery at Massey University's Wildbase Hospital to treat a developmental problem of the skull, a world-first procedure, adapting surgical techniques from humans and other mammals.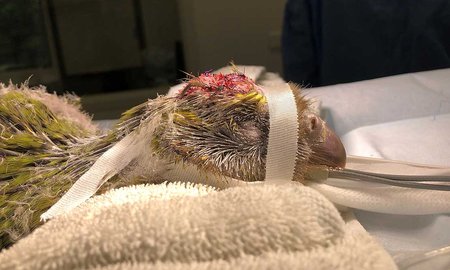 Friday 30 August 2019
A kārearea, New Zealand's native falcon, is ready to return to the wild after three months in hospital and rehabilitation.