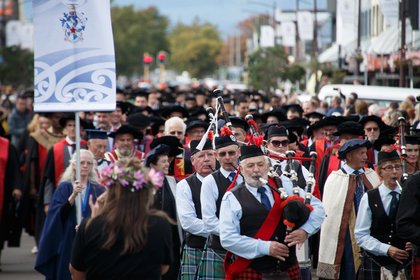 Last updated: Wednesday 3 May 2023
Alongside their fellow students, they walked across the stage at The Regent on Broadway to have their degrees conferred.
Here's a snippet of some of their successes:
Dr Jonathon Hannon
Zero Waste Coordinator Dr Jonathon Hannon received his PhD this week in Environmental Management. His research examined the critique and opposition to the zero waste movement, relative to the global waste crisis, caused by the failure of traditional waste management theories and practices.
Dr Hannon says the key outcome of his research has been to establish an extensive new blueprint for understanding and implementing an interdisciplinary methodology for zero waste in the critical municipal context.
"The global zero waste movement has been a lightning rod for criticism and opposition, generated by the same types of vested industry lobby groups that promulgate climate change denial and delay. If we genuinely want to address crucial environmental problems, we need to cut through that kind of misinformation and policy capture and instead follow evidence-based, practical, successful, community-engaged, change-making pathways."
Dr Hannon's motivation in taking on the challenge of a PhD is part professional and part personal. As a father of three kids, he wanted to model the Massey ethos of 'life-long learning'.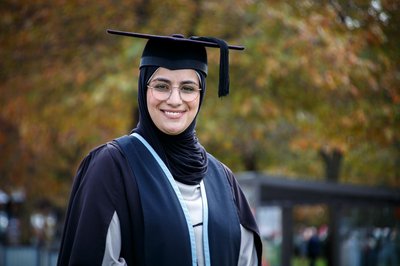 Haifa Albostami
Research Internal Funding Coordinator Haifa Albostami graduated this week with a Postgraduate Diploma in Health Science (Bioscience). Already holding a Bachelor of Dental Surgery from the University of Sharjah, Ms Albostami had her sights set on a higher qualification to build on her skills and knowledge in the field of health sciences.
She says the university's offering of distance study was the key to making that happen.
"Returning to study was a hard decision, given I'm working and have three children. My youngest was one at the time I decided to return to study. But distance study provided me with a way to manage it all. It wasn't always easy, but with flexible working arrangements, effective time management and supportive family and colleagues, I got through."
Ms Albostami has been working at the university since May 2022, with her role allowing her to provide administrative support to researchers. She says she enjoys working in the field of research management and support.
"I have learned during my time with Massey that I can do much more than I thought I could. Going through this journey has taught me a lot about myself, my strengths and my capabilities."
Following graduation, Ms Albostami plans to continue developing her career in research support and potentially look into gaining a specialised degree relating to her current work further down the line.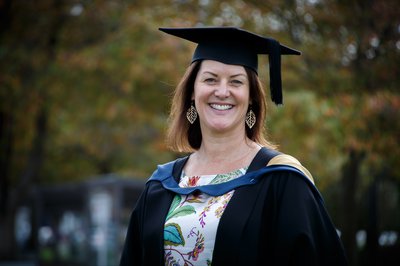 Rachel Dickinson
Rachel Dickinson is a Physical Education (PE) Lecturer in the School of Sport, Exercise and Nutrition. She graduated this week with a Master of Education alongside some of her students who were receiving their Bachelor of Sport and Exercise.
She says this was particularly exciting for her as what she enjoys most about her role is observing and being part of a student's journey.
"I enjoy supporting first-year students as they transition into tertiary study right through to working at a third-year level to provide opportunities for students to start practicing their craft and apply principles of sport pedagogy in the real world. The process of practicing, reflecting and refining as part of developing a professional philosophy of practice is an awesome wrap-up to three years of study. It is so rewarding to see the changes and how far they have come."
While working as a PE and health teacher, Mrs Dickinson began to pursue a Master of Education. She started her post-graduate study at University of Canterbury before transferring to Massey. She began working for the university in 2021 and was particularly excited to take on the professional inquiry option that was on offer.
Mrs Dickinson says her biggest challenge was finding ways to fit study around full-time work and family commitments. She says what helped was the high level of relevance that was driving her practice.
"Knowing that what I was learning and researching at the time had a direct impact on my teaching provided great purpose and motivation. I've always loved the hands-on part of teaching but am really stimulated by academic study and research which feeds into that. I hope to keep marrying those two elements together, as I continue in my current role and embark on a PhD in the future. My time with Massey has shown me how much I can achieve and not to underestimate what I'm capable of."

Other staff that graduated:
Angus Byers – Graduate Diploma of Learning and Teaching
William Caltaux – Bachelor of Aviation
Heyjoung Choi-Millward – Bachelor of Arts
Jo Duthie – Bachelor of Business
Brigette Grooby – Diploma in Business Studies
Djhoanna Lambert – Postgraduate Diploma in International Development
Margo Lawrence – Master of Management
Kylie Legg – Doctor of Philosophy
Sarmini Maheswaran – Doctor of Philosophy
Caitlin Payne – Bachelor of Arts
Molly Sheridan – Bachelor of Arts
Nathaniel Sutherland – Bachelor of Aviation
Liam Urquhart – Bachelor of Science
Ben Westberry – Doctor of Philosophy
Julie Williams – Bachelor of Business