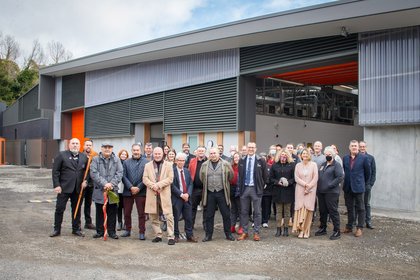 Last updated: Monday 28 November 2022
Tāwharau Ora School of Veterinary Science's recently completed farm animal hospital was blessed last week, and is now open for use by staff and students. The blessing marks the completion of the third of five stages of the Tāwharau Ora building upgrade programme, a multi-year capital programme which includes new buildings and renovations of existing spaces.
Kaumatua Manu Kawana and representatives from Rangitāne o Manawatū led a karakia and walk-through of the new areas, which was attended by key members of Tāwharau Ora and the College of Sciences, as well as those involved in the construction and design of the building.
The new building contains the university's first dedicated facility to care for farm and production animals. Along with a small surgery suite, animal stalls suitable to care for a variety of farm and production animals, and a range of supporting spaces, the hospital provides a world-class facility to support the learning of veterinary students and animal health and welfare throughout the farming community.
Dean and Head of Tāwharau Ora, Professor Jon Huxley, paid tribute to the collaboration with Rangitāne o Manawatū. "I want to thank Rangitāne for help in bringing the cultural narrative alive. It's a hugely important part of where we want to go as a school," he said.
Professor Huxley also thanked Tāwharau Ora staff for their resilience and patience during the disruptions.
Background
The Veterinary School upgrade is a 10-year, approximately $160 million dollar capital programme, which includes new buildings and renovations of existing spaces, and is expected to be completed in 2024. The final two stages will include a new research, teaching and student support building and a refresh of the existing Small Animal Clinic. Taken together, the new facilities will enable students to learn in a modern environment with safe working practices and animal welfare at the forefront of their experiences. Modern building technologies will also provide environmentally sustainable research, clinical and learning spaces with links to New Zealand's unique culture and heritage.
Friday 6 May 2022
Tāwharau Ora - School of Veterinary Science recently blessed and opened the second stage of their building upgrade.
Monday 22 August 2022
A group of 85 tamariki from four Palmerston North schools spent a day on Massey's Manawatū campus recently, as they took part in the first-ever Discovery Day as part of the Wānanga Nohinohi Te Kunenga Children's University programme.
Monday 3 May 2021
Two veterinary scientists will each be awarded a Doctor of Science, one of the highest academic accolades, at Massey University's Manawatū graduation.