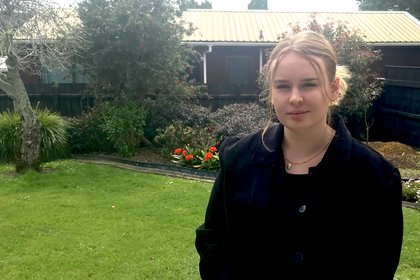 Last updated: Monday 3 October 2022
Ehlana is completing her placement at the The Salvation Army Bridge Programme in Auckland as part of the final year of her degree, in which she is majoring in mental health and addiction.
The Salvation Army Bridge Programme is an eight-week residential alcohol and drug rehabilitation programme which covers things such as gender therapy, communication workshops and cognitive behaviour therapy.
"In the beginning I mostly observe the case workers and learn the processes they use," Ehlana explains.
"This may look like observing group work sessions with the clients, or attending an assessment with a new client. Over time my supervisor works with me to migrate into co-facilitated group work and supervised independent work. Eventually I will be independently conducting assessments and co-facilitating group work sessions."
The 23-year-old says that she is enjoying the hands-on experience of the programme.
"I am enjoying it much more than I excepted. The nerves and intimidation wear off very quickly."
The most challenging thing about the placement has been learning the processes and policies of the places she is working in, much of which she has never been exposed to, such as criminal legalities, bail processes and courts.
"I had to ask a lot of questions in the beginning. I found it quite difficult understanding a lot of topics due to lack of jargon or service specific language."
Ehlana spends approximately 10-12 hours each week at the placement and will likely complete 200 hours over the course of the semester, even though the minimum requirement for the degree is 120 hours.
"The placement is a requirement of the degree, but even if it wasn't I would still complete placement as it qualifies me for an Addiction Practitioners' Association Aotearoa New Zealand (DAPAANZ) registration."
Studying mental health was an easy choice for Ehlana as it is something that she has always cared deeply about.
"Working in the counselling and therapy world has been my ultimate goal for a long time. The idea of having a direct impact on the mental wellbeing of someone else is my main motivation."
Being able to study via distance was a key reason Ehlana chose to study with Massey.
"Extramural study was the best option for me as I could move around the country and simply change my exam venue. I also prefer being flexible with my study schedule and work through activities at my own pace."
Ehlana says her favourite thing about the degree has been growing her confidence and knowledge of mental health and addiction.
"The degree is structured very well, it progressively grows your confidence over the years from introducing topics to practising them when you do your placement." 
With her final semester nearly complete, Ehlana is hoping to find employment as a case worker, although she is also considering studying a Master of Counselling which would lead her into a more specific role, such as addiction counsellor. 
Learn more about studying a Bachelor of Health Science at Massey.