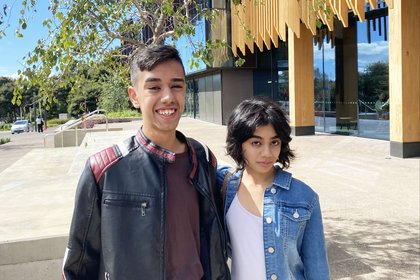 Last updated: Wednesday 23 August 2023
Beginning university at a young age is only one accomplishment in a long line of achievements for the siblings. Older brother Ali, now aged 15, describes himself as a game developer, animator, 3D artist and programmer, while 13-year-old Fatimah is an author, digital artist and software developer.
The two have already worked on individual and joint projects, with Fatimah publishing a book of short stories and illustrations when she was 11 and Ali having developed a range of games over the years.
As the siblings were home-schooled by their parents, their admission to Massey was a special case, particularly for Ali as he was the first to enrol in 2021. Manager of Admissions Lauren Moore says she was excited to play a role in their admittance.
"The process became quite involved as we had to bring in academics from the College and the Director of Teaching and Learning to understand how their home-schooling curriculum corresponded to university entrance. We got really invested, especially as we unpacked all the incredible work they've done and skills they already have. It's been a real joy to watch them progress, first Ali and now Fatimah."
A staged admission was arranged which saw the siblings enrol in the Certificate of Science and Technology part-time, starting with two papers per semester before moving onto a Bachelor of Information Sciences which they're completing via distance.
Ali will be 17 when he graduates from his bachelor's but has already made his mind up on continuing into a master's and then a PhD as he says he's enjoying his studies.
"I'm finding the study great and challenging enough to be interesting. The best bit is doing the actual programming, that's the most fun part."
Outside of his study, Ali says his favourite past time is working on personal projects including game and software development.
"I like to develop all sorts of games and I build the games from scratch by using what's available to me. I'll go out into the garden to take pictures of the grass so I can use the images to make textures for the 3D model of the game. I'm currently working on a new survival game which I hope will come out this year."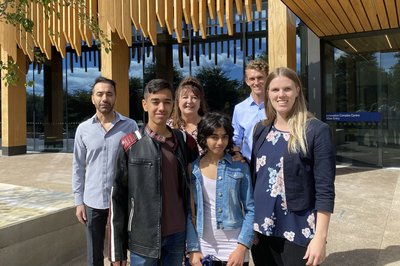 Ali has taken up the role of casual assistant within the programme to mark assignments. He says it was another application process that took some consideration.
"As I'd received good marks in the papers, I was keen to apply so I emailed my application which included a CV and a copy of my passport. My passport was a few years old so I looked even younger in the picture. They called me up and couldn't believe my age, so it had to be authorised by the lecturer of the paper, but I was eventually approved."
Fatimah is currently completing the final two papers in the Certificate in Science and Technology and will begin the Bachelor of Information Sciences in July. She says she's been enjoying learning new things.
"It's been really interesting, and while there have been a few challenging moments, I'll take the time to make sense of it and move forward. I'm getting good grades and I've met some great people, so it's been fun."
While Fatimah is keen to write more in the future, she's currently focusing on school and drawing. She enjoys drawing anime and chibi art which she often makes into animations. She says it's nice having an older brother who is studying in the same programme as it helps with motivation.
"When we're doing similar papers, we have little competitions to see who can get the higher grade. I don't want to brag, but for the last statistics paper we took, I got a higher grade than Ali which I'm happy about."
The siblings can both speak Farsi and Ali also knows Arabic and Gujarati. They have two younger siblings, the youngest being eight-years-old and already a keen programmer.
"My younger brother is the best at testing my games because he always finds flaws. He's good at finding different ways to do things in the game, so he plays through it all and comes back with a list. It's helpful, but also can be annoying," Ali says.
Ali and Fatimah's father Dr Shahin Soltanian says the application process was a big part of what made them pleased to join Massey.
"I really like the culture of Massey. When we applied for Ali, the environment was great and the people we talked to were so helpful. After seeing how much Ali was enjoying it, Fatimah decided to go in the same direction."
Deputy Vice-Chancellor Students and Global Engagement Dr Tere McGonagle-Daly took a direct interest in the young and gifted scholars, having approved their enrolment. He says it's been great to see the siblings make strides at the university.
"When we accept gifted students like Ali and Fatimah, we want to ensure they feel at home at the university and that they are well supported – both in and out of the classroom. So, it's exciting to see them both continue to uncover their potential. For Massey to play a role in seeing their aspirations become reality is extremely special and rewarding. They've already accomplished so much and I'm looking forward to seeing where they go from here."
Interested in studying Information Sciences?
Monday 20 March 2023
Hebei University of Technology recently visited Te Kunenga ki Pūrehuroa Massey University for its first overseas trip since China's borders opened following the pandemic, signifying the importance it places on the partnership.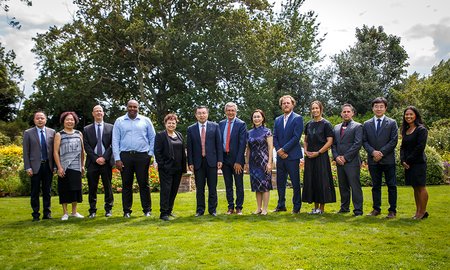 Tuesday 2 May 2023
The hope that her tamariki could experience a more equitable education system is what motivated Keita Durie, Ngāti Kauwhata, Rangitāne, Ngāi Te Rangi, to complete a Master of Education in Māori Education with Distinction.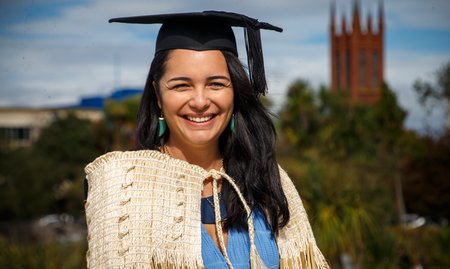 Thursday 27 April 2023
It's a dream become reality for Oli and Charlie Mollard as they are named champions in a LEGO building game show on national television.