Type of qualification
Bachelor's degree
Level of study
Undergraduate study
An undergraduate qualification is usually the first one you study.
NZQF level 7
Our courses follow the New Zealand Qualification Framework (NZQF) levels.
Time to complete
3 years full-time (360 credits)
Up to 8 years part-time
Part-time available
International students
International students are not New Zealand citizens or residents.
Open to international students on campus in New Zealand, or studying on-line outside New Zealand
Study a Bachelor of Information Sciences – BInfSc
Flexible and unique study options
Massey is the only university in New Zealand to offer five ICT-related majors in the same degree. This allows you to mix and match courses to suit your strengths and interests. Enjoy smaller classes with individual attention from lecturers. Experience the first-year courses and still be able to change your major at the start of the second year. Include a double major or a minor (in any subject) or New Zealand's only minor in Games Programming.
Generous cross credit system
Massey transfers credits from a wide range of previous study. If you have a previous diploma in any area of ICT, it is highly likely that you will be awarded credits towards your BInfSc.
Applied and technical knowledge
Massey teaches students the skills and knowledge needed to succeed in the software industry. Topics include:
mobile applications
graphics and games programming
networks and security
web development and internet programming
artificial intelligence.
machine learning and data wrangling. 
Massey is the only university in New Zealand specialising in the C and C++ programming languages that are highly sought after by employers. You'll also learn Java, Python, SQL and other languages.
Join the real world of software development
Massey has close ties with the innovative and rapidly expanding software companies based in North Auckland. These companies offer opportunities for internships, industry projects, holiday work and possible employment offers. Students are also involved in creating websites and applications for charities and voluntary organisations.
Further study
Once you graduate you can move on to advanced study in the Postgraduate Diploma in Information Sciences (one year of 120 credits in taught courses) or the Master of Information Sciences (180 credits including 120 credits of taught courses and a major professional project).
A BInfSc is a good fit if you:
think logically and analytically
are interested in learning technical and applied skills
look forward to a challenging and rewarding career in the software industry.
Accreditations and rankings
Institute of IT Professionals New Zealand (IITP) accreditation
Massey's Bachelor of Information Sciences is accredited by IT Professionals New Zealand. Accreditation ensures that courses are relevant to the industry.
Useful planning information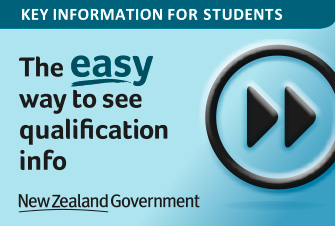 Key information for students
Compare qualifications and academic information across different New Zealand institutions. Learn more on careers.govt.nz