Where you can study
Auckland campus
Distance and online
International students
International students are not New Zealand citizens or residents.
Open to international students on campus in New Zealand
Specialise in Data Science for your Bachelor of Information Sciences at Massey
The Bachelor of Information Sciences (Data Science) gives you the skills to fill the rapidly growing number of jobs in the area of data science and analytics.
You'll learn how to make sense of complexities so others can understand them and how to apply computing to data-oriented challenges. You may have an interest in commerce, government, natural and social sciences. You can learn how to apply technology to drive potentially world-changing innovation, decision-making and research in those fields.
Data Science brings together some of the most interesting aspects of computer science, IT and statistics in order to make a unique, custom-designed and relevant specialisation for the current job market.
A Bachelor of Information Sciences in Data Science is a good fit if you:
you are curious, love problem solving and making discoveries
want to be on the cutting-edge of artificial intelligence innovations shaping the world
want a dynamic and stimulating career for life.
Planning information
This is a guide. You are advised to check the Courses and specialisations section and the regulations for this programme on this page for the latest information on courses.
Your first year
First year for a full-time student usually consists of eight courses.  Take electives (or courses from other majors) to get the total number of courses to eight.  Make sure you include courses that are prerequisites for the next level of courses you wish to study.  You can change your major up until the start of your second year and it is a good idea to keep your options open by taking courses such that you are ready to move on to several different majors.  In the first year of study, you should take the following courses:
See Courses and specialisations for the required courses at 200-level and 300-level.
Minors 
Completing a minor is optional. Minors increase the breadth of your degree. They give you extra knowledge, attributes and capabilities. 
A minor must be in a different subject from your major. 
A Bachelor of Information Sciences (Data Science) with a minor 
You may choose a minor from any University undergraduate degree that has recognised minors. If the minor is from another undergraduate degree, the regulations of that qualification will apply.  
A data science minor (for students who are studying a different degree)
If you are not studying towards a Bachelor of Information Sciences (Data Science) and wish to complete a minor in data science see the regulations for the requirements of this minor.  
Computer requirements
You will need:
Computer (laptop or desktop) (Mac or Windows) - needs to be no more than two years old at the commencement of your study
Recent version of operating systems
Chromebooks are not suitable
Official regulations
To understand what you need to study and must complete to graduate read the official rules and regulations for this qualification.
You should read these together with all other relevant Statutes and Regulations of the University including the General Regulations for Undergraduate Degrees, Undergraduate Diplomas, Undergraduate Certificates, Graduate Diplomas and Graduate Certificates.
Returning students
For returning students, there may be changes to the majors and minors available and the courses you need to take. Go to the section called 'Transitional Provisions' in the Regulations to find out more.
In some cases the qualification or specialisation you enrolled in may no longer be taking new enrolments, so may not appear on these web pages. To find information on the regulations for these qualifications go to the Massey University Calendar.
Please contact us through the Get advice button on this page if you have any questions.
Courses you can enrol in
Course planning key
Prerequisites

Courses that need to be completed before moving onto a course at the next level. For example, a lot of 200-level courses have 100-level prerequisite courses.

Corequisites

Courses that must be completed at the same time as another course are known as corequisite courses.

Restrictions

Some courses are restricted against each other because their content is similar. This means you can only choose one of the offered courses to study and credit to your qualification.
Compulsory courses
Choose 45 credits from
Course code:

158337

Database Development

credits

15

A study of enterprise data models, including how data storage and retrieval methods have changed over time. Modern techniques for handling relational and non-relational data and their implications in transactional and analytical processing are evaluated. Students will gain practical skills in designing, creating and querying databases using database management systems.

View full course details
Course code:

297201

Data Wrangling and Machine Learning

credits

15

An introduction to the data science workflow involving the acquisition, processing, transformation and integration of data from disparate sources having inherently different data structures, from which actionable insights can be extracted. Entry-level machine learning and statistical techniques for analysing and extracting knowledge from data will be covered. Particular emphasis will be placed on attaining competency in using a high-level programming language for conducting data-driven problem solving and appreciating the necessary agility such tools afford.

View full course details
Course code:

297301

Applied Machine Learning and Big Data Processing

credits

15

An in-depth exploration of methods for developing intuition and insights about data that enables effective problem formulation and its solution through data-driven methods. A broad range of advanced machine learning and data mining algorithms will be used to build predictive models from real-world contexts. A particular emphasis will be on developing data-products, rapid prototyping and effectively communicating their value through visual storytelling and interpretable summaries. Practical skills for processing large datasets will be taught.

View full course details
Subject Courses
At least 30 credits from
Any 161.2xx Courses
At least 15 credits from
Any 161.3xx courses
At least 15 credits from
Course code:

158258

Web Development

credits

15

An introduction to web-based application development. Students will gain practical experience in the use of modern techniques relevant to the design and development of web-based systems.

View full course details
Course code:

159201

Algorithms and Data Structures

credits

15

An introduction to the analysis and implementation of algorithms and data structures including linear data structures, trees, graphs, hash tables, searching algorithms, sorting algorithms, optimization problems and complexity analysis. The course includes a significant practical component covering the implementation and application of important data structures and algorithms.

View full course details
At least 15 credits from
Course code:

158326

Software Construction

credits

15

An advanced study of methods used to model, design, build and test robust software artefacts. The course provides an in-depth study of multiple techniques to support software design and implementation. It takes a practical approach using current methods and tools.

View full course details
Course code:

159302

Artificial Intelligence

credits

15

An advanced study of the principles and techniques used in developing Artificial Intelligence applications. The course includes the implementation and application of a range of AI methods including state-space representation and search, knowledge representation, constraint satisfaction, game playing, logic systems and machine learning.

View full course details
Compulsory capstone course
Choose 15 credits from
Course code:

158383

Information Technology Project

credits

15

Based on an initial project specification, students work individually or in groups on carrying out an information technology project. This includes understanding the project context, selecting appropriate methods and approaches, constructing the project artifacts, and reporting on project outcomes.

View full course details
Course code:

159333

Computer Science Project

credits

15

A capstone computer science project. Students will develop a piece of software or conduct a computer science research project under the supervision of an academic staff member. Projects will be completed individually or as part of a team depending on staff availability. Students must produce a written technical report and give an oral presentation demonstrating their work.

View full course details
Entry requirements
Admission to Massey
All students must meet university entrance requirements to be admitted to the University.
Specific requirements
There are no specific entry requirements for this qualification, outside of university admission regulations.
English language requirements
To study this qualification you must meet Massey University's English language standards.
English language skills
If you need help with your English language skills before you start university, see our English for Academic Purposes (EAP) courses.
Can't meet the entry requirements?
If you need to do a course before you start your qualification, there may be options for you in Summer School.
Fees and scholarships
Fees, student loans and free fees scheme
Your tuition fees may be different depending on the courses you choose. Your exact fees will show once you have chosen your courses.
There will also be some compulsory non-tuition fees and for some courses, there may also be charges for things such as study resources, software, trips and contact workshops.
Already know which courses you're going to choose?
You can view fees for the courses that make up your qualification on the course details pages.
Student loans (StudyLink) and Fees Free scheme
You may be eligible for a student loan to help towards paying your fees.
The New Zealand Government offers fees-free tertiary study for eligible domestic students. Find out more about the scheme and your eligibility on the Fees Free website. To use the site's eligibility checking tool, you will need your National Student Number.
Current and returning Massey students can find their National Student Number in the student portal.
Careers and job opportunities
A shortage waiting to be filled
LinkedIn's 2020 Emerging Jobs Report lists Data Scientist and Artificial Intelligence Specialists as being the top three professions for the last three years. This trend is likely to continue throughout the disruptions in the job market and economic uncertainties.
Data scientists are in high demand because they:
innovate new products
drive greater efficiency in profitability in competitive environments
enable management to make better decisions.
The skills you learn at Massey University and the qualification you will receive are recognised throughout the world and enable you to work in any industry or government sector.
A career with variety
Some examples of careers that could lead on from this qualification include:
data science engineer
Hadoop big-data engineer
business analytics consultant
data-product entrepreneur
banking fraud detection analyst
machine learning specialist
government researcher
government communications and security analyst
customer insight analyst
data management architect
text mining analyst
software developer
scientific researcher.
International students
New Zealand is a great place to study. Massey University's reputation is supported by our international rankings, accreditations and associations. We are rated five star plus by the QS World University Rankings.
Massey University has small class sizes, and our lecturers and staff are friendly and approachable.
As an international student, there are entry requirements that will apply to you. We recommend that you apply at least three months before your anticipated start date so your application can be processed in time. There are additional steps you will need to take. These include obtaining a visa and travel bookings if your study is to be in New Zealand.
Related study options
Lighting – Graduate Certificate in Science and Technology
Specialisation
The Graduate Certificate in Science and Technology (Lighting) is a great qualification for those interested in any aspect of lighting – from interior design to energy efficiency.
Successful completion of the Graduate Certificate in Science and Technology means you can go on to study the postgraduate area you are interested in, without completing a second bachelor's degree.
Useful planning information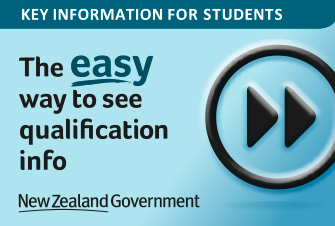 Key information for students
Compare qualifications and academic information across different New Zealand institutions. Learn more on careers.govt.nz