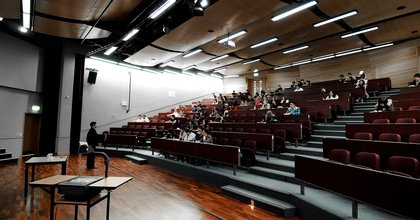 Learn about your new campus
Part of the fun of the first week of semester is discovering the exciting events and facilities your campus offers ­– and getting lost on your way to find them.
Find campus maps, and read about your campus and its facilities
Campus guides
Massey Guides are friendly senior students who can answer your questions and help you get to where you need to be. They'll be walking around campus wearing blue t-shirts, so you'll be able to spot them easily.
Get the Massey Uni App
You can find out about events at your campus, and download maps on the Massey Uni App.
Download the Massey Uni App on Google Play or the App Store.
Sort out your timetable
If O-week is about settling in and having fun, your academic year will begin with your first lectures or seminars. Make sure you know where you need to be and when by creating your timetable in the student portal. You will then be able to view your personal timetable in either the student portal or the Massey Uni app.
Step 1: Confirm your tutorial times in Stream
Open your course in Stream.
In the menu at the top left of the screen, choose "Tutorials".
If your course coordinator has set tutorial times, you'll be able to see yours on this page.
If the course coordinator wants you to choose from a range of times, you'll see your options on this page. Click on one to sign up. Remember to choose a time that doesn't clash with any of your other lectures or tutorials.
Repeat this process for each of your courses.
Step 2: Add your lecture and tutorial times in the student portal
Log in to the student portal, and find the link to your timetable at the top right of the screen.
On this page, you'll be able to see all of the available lectures, tutorials and labs for each of the courses you're enrolled in.
Hide the tutorials and lectures you don't plan to attend by clicking on the blue tick-box in their top right hand corners.
You should be left with only the lectures, tutorials and labs that you're signed up to.
You can find out what the timetable venue and building codes mean including where they are located.
Step 3: View your timetable in the Massey Uni App
Open the Massey Uni App.
Follow the link to see your timetable.
Find out how Student Services can support you
In all the excitement and bustle of your first week on campus, don't forget to look after yourself and think about the support you might need in the weeks and months to come.
There are lots of ways we can support you to make the most of your time at Massey, and stay happy and well while you're with us. You can access health and wellbeing support, counselling, academic support, disability support, financial assistance and more.
How to get medical treatment at Massey 
Māori and Pacific student support
If you're a Māori or Pacific student, you can access specialised services, scholarships and support, and connect with a community dedicated to helping you thrive at Massey.
Access the Māori community and support through Māori @ Massey 
Connect with the Pacific community and get support through Pacific @ Massey 
Start to study independently
Working hard in lectures and classes is important, but studying on your own is key to getting the most out of your tertiary education.
Use your first week to plan how you'll stay on track academically.
Be organised and realistic about how much you need to study. Remember that each course takes about 12 hours' work each week.
Find out when your assignments are due and when your tests and exams will be, so you can make a plan to meet your deadlines.
Your campus library is a great place to focus on studying. You'll get free wifi and access to our library collections, plus individual and group study spaces.