Where you can study
Manawatū campus (Palmerston North)
International students
International students are not New Zealand citizens or residents.
Open to international students on campus in New Zealand
Note: Selected entry qualification.
Specialise in Flight Instruction for your Graduate Diploma in Aviation at Massey
This 120-credit qualification acknowledges and recognises that having significant aviation experience has real value.
You may have an interest in working as a flight instructor. Or you are already working as a commercial pilot but want to share your experience with a new generation of budding pilots.  If so, and you wish to gain your 'C' Category Flight instructor rating within a University framework, the Graduate Diploma in Aviation (Flight Instruction) is for you.
Share your passion for flying with the next generation.
Massey University is the only place in New Zealand where you can train to become a flight instructor and gain a University diploma at the same time.   
The Graduate Diploma in Aviation (Flight Instruction) draws on existing courses from the Bachelor of Aviation and the Bachelor of Aviation Management programmes giving an insight into the full undergraduate degree.
Topics covered include:
Flight Instruction Foundation Fundamentals
Introduction to Aerobatic Principles
Flight Instruction Human Factors
Flight Instruction Fundamentals 1
Two courses from the Schedule of the Bachelor of Aviation Management
Further study
After completing this qualification, you will have not only your 'C' Category Flight instructor rating but you could progress to complete the full Bachelor of Aviation Management degree.
A Graduate Diploma in Aviation in Flight Instruction is a good fit if you:
already hold a commercial pilot's licence but wish to gain a flight instructor rating
Planning information
If you study full-time you'll take eight 15-credit courses, making a total of 120 credits.
Meeting requirements for industry membership
Becoming a flight instructor
You will need to complete the necessary competencies to achieve a CAA NZ 'C' Category Flight Instructor Rating, a night instructor endorsement removal and an aerobatics instructor endorsement removal and pass the following integrated courses:
190282 Introduction to Flight Instruction
190285 Aerobatic Aircraft Handling
190301 Flight Instructor Human Factors
190315 Flight Instruction Fundamentals I
190335 Flight Instruction
Integrated courses comprise two components: academic and practicum. You must pass both the academic component and the practicum component to obtain a pass in the course.
Official regulations
To understand what you need to study and must complete to graduate read the official rules and regulations for this qualification.
You should read these together with all other relevant Statutes and Regulations of the University including the General Regulations for Undergraduate Degrees, Undergraduate Diplomas, Undergraduate Certificates, Graduate Diplomas and Graduate Certificates.
Returning students
For returning students, there may be changes to the majors and minors available and the courses you need to take. You can go to the section called 'Transitional Provisions' in the Regulations to find out more.
In some cases the qualification or specialisation you enrolled in may be no longer be taking new enrolments, so may not appear on these web pages. To find information on the regulations for these qualifications go to the Massey University Calendar.
Please contact us through the Get advice button on this page if you have any questions.
Courses you can enrol in
Course planning key
Prerequisites

Courses that need to be completed before moving onto a course at the next level. For example, a lot of 200-level courses have 100-level prerequisite courses.

Corequisites

Courses that must be completed at the same time as another course are known as corequisite courses.

Restrictions

Some courses are restricted against each other because their content is similar. This means you can only choose one of the offered courses to study and credit to your qualification.
15 credits at 300 level from 190 prefix (Aviation)
15 credits at 200 or 300 level from the 190 prefix (Aviation).
Entry requirements
Admission to Massey
All students must meet university entrance requirements to be admitted to the University.
Specific requirements
This programme is a selected entry qualification. This means there are extra requirements you must meet.
To enter the Graduate Diploma in Aviation (Flight Instruction) you will:
have been awarded or qualified for a bachelor's degree, or equivalent, or
have demonstrated equivalent practical, professional and/or scholarly experience
hold a Commercial Pilot Licence (CPL) - Aeroplane (A)
hold a Class One medical certificate recognised by the CAA NZ
meet appropriate pilot aptitude selection criteria.
You will provide a copy of:
your CV including academic and work history
a copy of your Commercial Pilot's Licence. You can upload an electronic copy of this document, but please also supply a verified hard copy to the University
a copy of your NZCAA Class One Medical Certificate. You can upload an electronic copy with your enrolment.
You will need to attend an interview.
English language requirements
To study this qualification you must meet Massey University's English language standards.
English language skills
If you need help with your English language skills before you start university, see our English for Academic Purposes (EAP) courses.
Fees and scholarships
Fees, student loans and free fees scheme
Your tuition fees may be different depending on the courses you choose. Your exact fees will show once you have chosen your courses.
There will also be some compulsory non-tuition fees and for some courses, there may also be charges for things such as study resources, software, trips and contact workshops.
Already know which courses you're going to choose?
You can view fees for the courses that make up your qualification on the course details pages.
Student loans (StudyLink) and Fees Free scheme
You may be eligible for a student loan to help towards paying your fees.
The New Zealand Government offers fees-free tertiary study for eligible domestic students. Find out more about the scheme and your eligibility on the Fees Free website. To use the site's eligibility checking tool, you will need your National Student Number.
Current and returning Massey students can find their National Student Number in the student portal.
Careers and job opportunities
You could go on to become a flight instructor.
The graduate diploma is also a bridging tool to gain the equivalent of an undergraduate major in a specific area so you can go on to further study in aviation.
Related study options
Gain a professional qualification that integrates a research-led flight training programme into university courses at an internationally recognised training facility.
Take your aviation career to the next level with Massey's Graduate Diploma in Aviation. Gain a university qualification while following your passion for aviation.
Take a 'trial flight' into university aviation studies with Massey, the only place in New Zealand where you can turn your passion for aviation into a tertiary qualification.
Enhance your career prospects in the internationally competitive aviation sector with the Master of Aviation. Massey is the only place in New Zealand where you can turn your passion for aviation into a tertiary qualification.
Useful planning information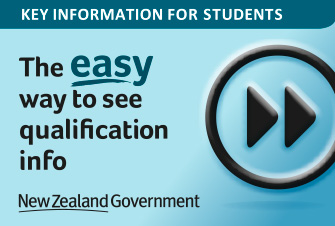 Key information for students
Compare qualifications and academic information across different New Zealand institutions. Learn more on careers.govt.nz