Get in touch to talk with one of our psychologists in Palmerston North
Nau mai, haere mai. Welcome.
Our Palmerston North Psychology Clinic at Massey's Manawatū campus is the largest psychology clinic in New Zealand providing:
therapy and assessment psychology services to the general public
health conditions psychology services to DHB-referred patients
cancer psychology services to DHB-referred patients.
As part of the Massey University School of Psychology we are a clinical training centre. We provide clinical practicum experience (10 to 12 weeks) and internships (one year) to students completing postgraduate studies in Clinical Psychology.
Sessions with interns or students are offered at discounted rates.
Opening hours
The Clinic is open Monday to Friday from 8.30 am until 4.30 pm.
Who we see
We see people of all ages from children to older adults. We offer psychology services for:
individuals
couples
families and whānau.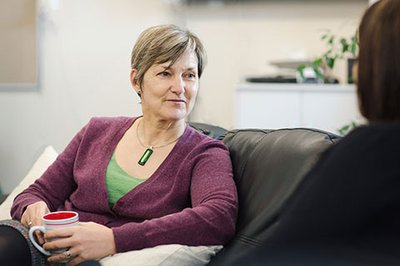 We're not a crisis, acute or emergency service
If you require urgent support within Palmerston North, please call the Community Mental Health Team on 0800 653 357. Additional support services are listed below. We also don't accept high urgency referrals.
Who we work with
As well as the public, we also work on referrals from a range of organisations including:
GPs and medical specialists
District Health Boards (DHBs)
other health professionals including iwi providers and PHO staff
ACC
New Zealand Defence Force (NZDF)
Work and Income New Zealand (WINZ)
Child Youth and Family Services (CYFS)
schools and other community agencies.
Referrals and bookings
We take referrals from health practitioners such as your GP and self-referrals.
You can be referred to our health conditions and cancer psychology service by any health professional including your:
GP
nurse
dietician, physiotherapist, social worker or other allied health professional
specialist
other health professional including iwi providers and PHO staff
NGO (Heart Foundation, Diabetes Trust, Asthma and Respiratory Foundation)
Getting referred
Your health professional needs to fill out a Health Conditions Referral Form or Cancer Psychology Service Referral Form.
You need to fill out a Hauora/Wellbeing form.
Making a booking
Email: massey.clinic.pn@massey.ac.nz
Phone number: +64 6 350 5196
We will contact you within one to two days of getting your referral.
Our first contact will be a phone call to gain further information and confirm if we are the right service for your needs. We will then discuss available clinicians and seek to book an initial appointment.
Our team
Our team includes:
senior clinical psychologists
clinical psychologists
intern psychologists
clinical psychology placement students.
Services we offer
As a university training clinic our services reflect a high standard in clinical practice and professional care. We specialise in the treatment of psychological difficulties using researched and validated best practice guidelines. Our core areas are:
clinical psychology, including neuropsychology – through therapy and assessments
health conditions and cancer psychology
psychology research
psychologist training.
Our clinicians are committed to providing culturally appropriate services under te Tiriti o Waitangi. We promote and integrate Māori cultural frameworks to tautoko and support pathways to health and wellbeing.
Services our clinical team provide include:
Acceptance and Commitment Therapy (ACT)
Cognitive Behavioural Therapy (CBT)
Compassion Focused Therapy
mindfulness-based approaches
motivational interviewing
play therapy
Schema Therapy
solutions-focused therapy
specialist assessments (psychological, cognitive, neuropsychological)
trauma-informed therapy (such as EMDR)
Therapy
Our therapy services help with a range of psychological difficulties.
Therapy sessions include:
adjustment/life change
anxiety (including social anxiety, worry and panic)
low mood/depression
relationship issues
parenting difficulties
sleep difficulties
stress
work-related problems
chronic pain/illness-related difficulties
post-traumatic stress/trauma.
Clinicians are allocated based on best fit. Or you may ask to see a specific psychologist.
Several of our senior clinicians are ACC-registered (for physical injury and sensitive claims) and are trained in EMDR (Eye Movement Desensitisation Reprocessing).
Assessments
We offer a range of specialist assessments and reports.
Reports include:
psychological assessments
neuropsychological assessments
cognitive/learning assessments.
Specialist assessments generally involve:
a clinical interview (usually one to two hours)
completion of relevant questionnaires or cognitive neuropsychological tests or both
a written report
feedback with recommendations.
The particular timeframes and requirements will be discussed with you in a phone call first and during your first clinical interview.
Sometimes we suggest referrals to a specialist service with expertise in a particular area if we believe this will be best for you.
Health conditions psychology service
We work with adults, children and families who live in the MidCentral District Health Board region who are dealing with a qualifying medical condition.
We offer short-to-medium term psychology services (usually six to eight sessions). Our service is completely confidential, free for the user and is funded by the District Health Board.
Some medical conditions we help with are:
diabetes
asthma
COPD
cystic fibrosis
heart conditions
renal conditions
respiratory conditions
other illnesses affecting children and adolescents.
You may face many challenges with a long-term health condition. You might feel distressed or overwhelmed, or have trouble adjusting to your condition.
Psychological skills are important tools that will help you (and your family) to:
manage stress associated with the condition
deal with physical symptoms like pain, panic attacks and sleep problems
manage fears, anxiety or depression
improve relationship skills and build up support networks
work with your health professionals
make decisions and solve problems around living with the condition
provide balance in dealing with health difficulties and getting on with everyday life.
Our service is available across the MidCentral District Health Board region. You can visit us at our Palmerston North Massey University clinic or in one of our community clinics in:
Pahiatua
Dannevirke
Feilding
Levin
Otaki.
Or we can arrange to see you at home or online.
Cancer psychology service
We provide psychological therapy and support for patients with cancer and their whānau from the MidCentral and Whanganui District Health Board regions.
Our service is free for the user, and is funded by the District Health Board.
Why psychology?
Psychology provides useful ideas and practical approaches to manage a range of human experiences and problems, based on research.
We are concerned with understanding and treating your psychological, emotional, quality-of-life and functional aspects of having cancer. We work with every stage of cancer from diagnosis to recovery/post-treatment, bereavement and survivorship.
Many people find the cancer experience very distressing. Psychological skills and strategies are important resources to help deal with your distress.
Techniques that can help
You can improve your coping abilities by using psychological techniques to:
make decisions and solve problems
manage stress levels
reduce physical symptoms like pain, anticipatory nausea and panic attacks
recognise and address fears, anxiety or depression
improve relationship skills
build support networks
improve self-esteem and self-image
find information or decrease information overload
help with meaning, purpose, wairua and spiritual concerns.
Location of service
Our service is available across the MidCentral District Health Board region. You can visit us at:
our Palmerston North Massey University clinic
Palmerston North Hospital
Addis House
one of our community clinics in Pahiatua, Dannevirke, Feilding, Levin, Otaki, Whanganui and Marton.
Or we can arrange to see you at home or online.
Group sessions
We offer group sessions online and in person.
Sessions can include:
anxiety
ACT for youth
wellbeing groups.
We will advertise these when they occur but we also keep a waiting list for those who are interested in groups that may be coming up.
To find out more and about our waiting lists contact us at massey.clinic.pn@massey.ac.nz.
Supervision
We provide clinical supervision for psychologists, counsellors and allied health professionals.
Professional development workshops
The Palmerston North Psychology Clinic is committed to supporting the professional development of health professionals. We offer professional development workshops at competitive rates – on application or request. 
Workshops, when upcoming, are advertised here and also emailed to those on our Professional Development email list. If you would like to be added to this list to receive updates please email us at massey.clinic.pn@massey.ac.nz.
Costs
Services direct to the public without a referral from a funding agency will incur a cost, as below. Fees are in New Zealand dollars and include GST.
Therapy
Intern Psychologist: $110 to $140 an hour
Senior Clinical Psychologist (with trainee observing): as discussed with the Senior Clinical Psychologist
Clinical Psychologist: $150 to $230 an hour
Wellbeing groups: to be advised per group
Assessments
Range from $200 to $230 an hour
What to expect
It can be nerve-wracking to see a clinical psychologist for the first time. From your first contact we will try and assist you the best we can.
Let us know if you have a preference for a clinician of a particular gender, cultural background or expertise. We will do our best to find an appropriate clinician to meet your needs.
First contact
In our first phone call, we will get a sense of what is happening for you, and which of our clinicians might be the best to help.
Your first session
The first appointment is a chance for you to meet with us and learn about what we do, share with us what has been happening for you and let us know what you would like to focus on in therapy (your goals).
We will then plan future therapy sessions around these goals.
If we are not the best service for your needs we will let you know. We might suggest others who can help or provide support free of charge.
Duration of sessions
Therapy sessions range from one or two sessions to longer-term therapy depending on what you want to focus on.
Most people who come to therapy want to focus on one or two issues such as anxiety, low mood, worry or stress. They often have from 6 to 12 sessions of therapy.

Student practicums and internships
As part of the Massey University School of Psychology we also provide:
clinical practicum experience of 10 to 12 weeks
internships (one year) for students completing postgraduate studies in Clinical Psychology.
You may be asked if you are willing for a student to sit in and observe sessions, and may be offered the option of seeing an intern psychologist at a lower rate.
All students and interns are closely supervised by senior clinicians.
Our research
Research at the Massey University Psychology Clinic (Palmerston North) is looking to address applied research questions.
We believe that all aspects of the health experience have a psychological component and therefore psychological research can be a beneficial part of any researcher's project.
A benefit of being part of our clinic is you're contributing to research. We value the scientist-practitioner model, and our practice is based on evidence from research and validated techniques. We also ensure our work is able to be evaluated in terms of outcomes for clients.
You may be asked if you would like to take part in research; we use a variety of methods and our research often involves postgraduate students doing Honour's or Master's theses, or doctoral-level studies (Doctor of Clinical Psychology or PhD).
Other services that may assist
For further support visit the Mental Health Foundation support page.
If you need urgent assistance please:
call the Community Mental Health Team on 0800 800 717
call or text 1737 for support, or
if it's an emergency dial 111.
Location
Psychology Building, Fitzherbert, Palmerston North 4474, New Zealand
Contact and hours
Contact us to book an appointment (with or without a referral) or use our professional services.
Palmerston North Psychology Clinic – Massey University
General Clinic phone

Health and Cancer Services phone

Location

Physical address
Palmerston North Psychology Clinic – Massey University
Bernard Chambers B, Library Road
Massey University
Tennent Drive
Palmerston North

Postal address
Palmerston North Psychology Clinic – Massey University PN319
Private Bag 11-222
Palmerston North 4442
We offer a lot of support to help you have a positive time at Massey and to make the most of student life.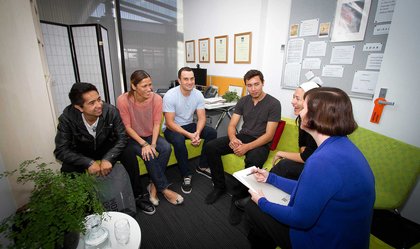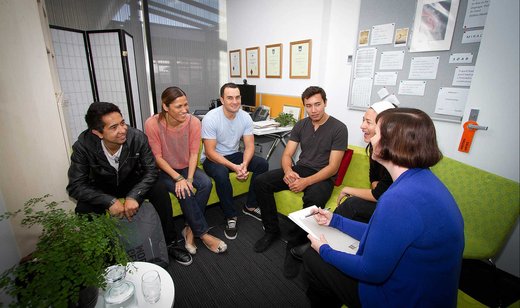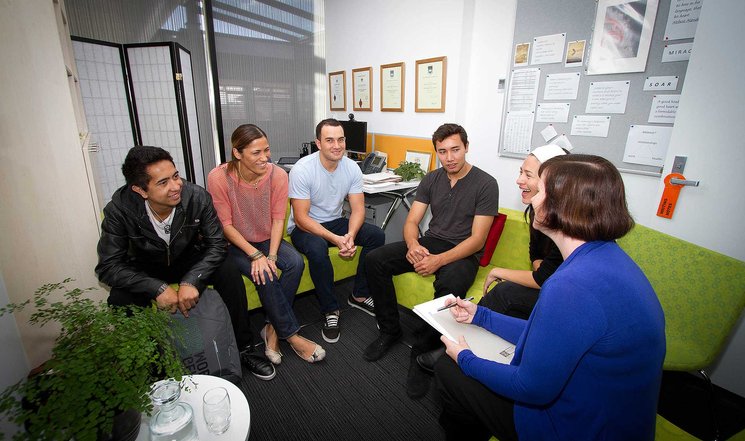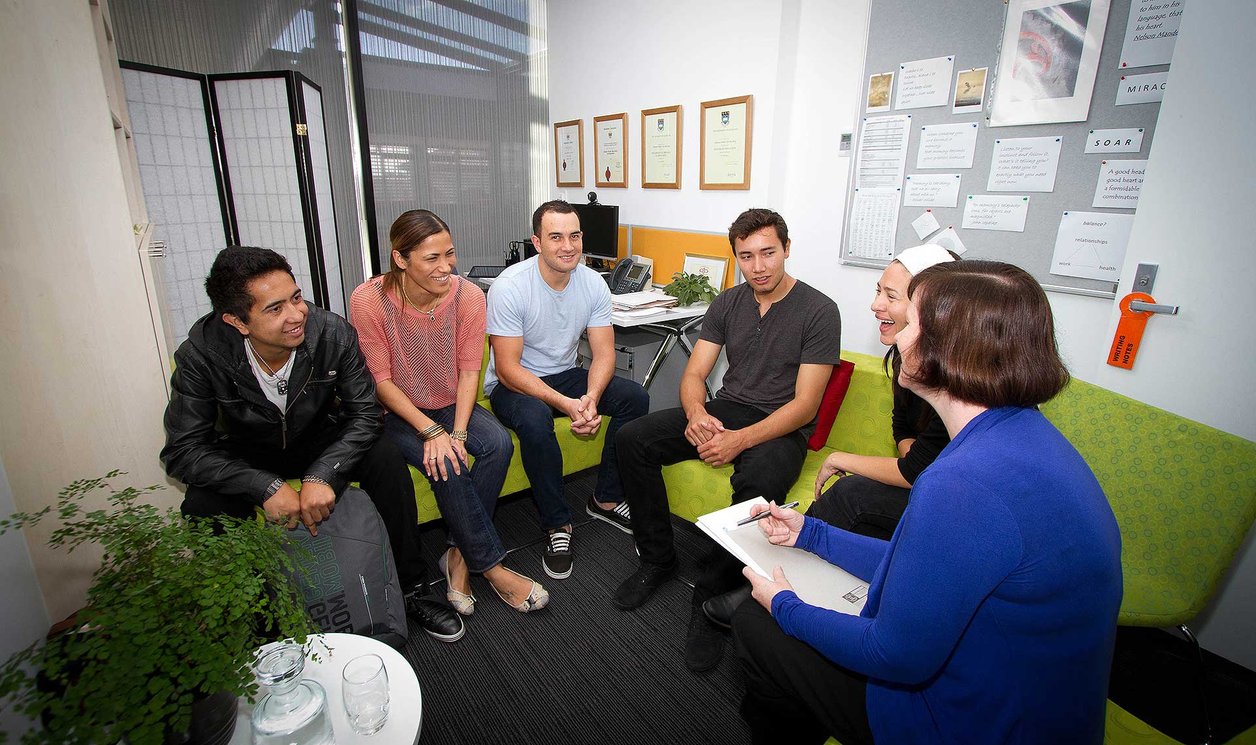 Benefit from Massey's expertise with our affordably-priced public clinics and services.