Get in touch to talk with one of our psychologists in Albany
Nau mai, haere mai. Welcome.
The Albany Psychology Clinic (formerly the Centre for Psychology) seeks to be a safe, supportive and compassionate space to discuss any difficulties you might currently be experiencing.
Our team of registered clinical psychologists can help with a wide range of psychological difficulties. We are experienced in a range of areas to help support you.
As part of the Massey School of Psychology we are a clinical training centre. We provide clinical practicum experience and internships to students completing postgraduate studies in Clinical Psychology. Sessions with interns or students observing are offered at discounted rates.
Opening hours
The clinic is open Monday to Friday from 8.30am until 4.30pm.
Who we see
We work with people of all ages from children to older adults. We offer psychology services for:
individuals
couples
families and whānau.
Note: We are not an emergency service.
Body: If you require urgent support within Auckland, please call the Community Mental Health Team on 0800 800 717.
Referrals and bookings
We take referrals from health practitioners such as your GP and self-referrals.
Make a referral or booking
Email: centreforpsychology@massey.ac.nz
Phone number: +64 9 213 6095
We will contact you within one to two days of getting your referral.
Our first contact will be a phone call to gain fuller information and confirm if we are the right service for your needs. We will then discuss available clinicians and seek to book an initial appointment.
Our team
Our team includes:
senior clinical psychologists
clinical psychologists
intern psychologists
clinical psychology placement students.
Services we offer
As a university training clinic our services reflect a high standard in clinical practice and professional care. We specialise in the treatment of psychological difficulties using researched and validated best practice guidelines.
Our clinicians are committed to providing culturally appropriate services under te Tiriti o Waitangi. We promote and integrate Māori cultural frameworks to tautoko and support pathways to health and wellbeing.
Services our clinical team provide include:
Acceptance and Commitment Therapy (ACT)
Cognitive Behavioural Therapy (CBT)
Compassion-Focused Therapy (CFT)
mindfulness-based approaches
play therapy
Schema Therapy (ST)
specialist assessments
trauma informed therapy, such as Eye Movement Desensitisation Reprocessing (EMDR)
Therapy services
Our therapy services help with a range of psychological difficulties, including:
adjustment/life change
anxiety (including social anxiety, worry and panic)

low mood/depression
relationship issues
parenting difficulties
sleep difficulties
stress

work-related problems
chronic pain/illness-related difficulties
post-traumatic stress/trauma.
Clinicians are allocated based on best fit. Or you may ask to see a specific psychologist.
Many of our senior clinicians are ACC registered (for physical injury and sensitive claims) and are trained in EMDR (Eye Movement Desensitisation Reprocessing).
Assessments

We offer a range of specialist assessments and reports including:
psychological assessments
neuropsychological assessments
cognitive/learning assessments
intercountry adoption reports.
Specialist assessments generally involve:
a clinical interview (usually one or two hours)
completion of relevant questionnaires or cognitive neuropsychological tests or both
a written report
feedback with recommendations.
The particular timeframes and requirements will be discussed with you in a phone call first and during your first clinical interview.
Sometimes we suggest referrals to a specialist service with expertise in a particular area if we believe this will be best for you.
Group sessions

We offer group sessions online and in person such as:
anxiety
ACT for youth
wellbeing groups.
We will advertise these when they occur but we also keep a waiting list for those who are interested in groups that may be coming up.
To find out more and about our waiting lists contact us at centreforpsychology@massey.ac.nz.
Supervision
We provide clinical supervision for psychologists, counsellors and allied health professionals.
Costs
Fees are in New Zealand dollars and include GST.
Therapy
Clinical Psychologist $200/hr
Intern Psychology student $150/hr
Assessments
Cognitive/Neuropsychological Assessment (with trainee/intern involvement): $1,200
Cognitive/Neuropsychological Assessment (by neuropsychologist): $2,000
Intercountry Adoption Assessment and Report: $1,500 to 1,800 (depending on the requirements of the country)
What to expect
It can be nerve-wracking to see a clinical psychologist for the first time. From your first contact we will try and assist you the best we can.
Let us know if you have a preference for a clinician of a particular gender, cultural background or expertise. We will do our best to find an appropriate clinician to meet your needs.
First contact
In our first phone call, we will get a sense of what is happening for you, and which of our clinicians might be the best to help.
Your first session
The first appointment is a chance for you to meet with us and learn about what we do, share with us what has been happening for you and let us know what you would like to focus on in therapy (your goals).
We will then plan future therapy sessions around these goals.
If we are not the best service for your needs we will let you know. We might suggest others who can help or can provide support free of charge.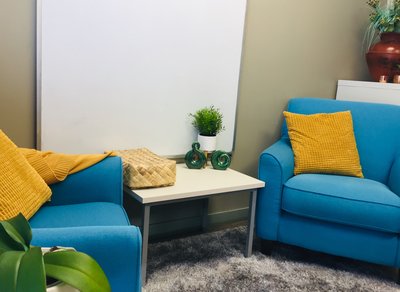 Duration of sessions
Therapy sessions range from one or two sessions to longer-term therapy depending on what you want to focus on.
Most people who come to therapy want to focus on one or two issues such as anxiety, low mood, worry or stress. They often have from 6 to 12 sessions of therapy.

Student practicums and internships
As part of the Massey School of Psychology we also provide:
clinical practicum experience of 10 to 12 weeks
internships (one year) for students completing postgraduate studies in Clinical Psychology.
You may be asked if you are willing for a student to sit in and observe sessions, and may be offered the option of seeing an intern psychologist at a lower rate.
All students and interns are closely supervised by senior clinicians.
Other services that may help
For further support visit the Mental Health Foundation support page.
If you need urgent help:
call the Community Mental Health Team on 0800 800 717
call or text 1737 for support
if it's an emergency dial 111.
Location
229 Dairy Flat Highway, Albany, Auckland 0632, New Zealand
Contact and hours
Contact us to book an appointment (with or without a referral) or use our professional services.
Albany Psychology Clinic – Massey University
Phone

Location

Physical address
Albany Psychology Clinic – Massey University
Level 3, Albany Village Library Building (off Kell Drive)
229 Dairy Flat Highway
Albany Village
North Shore
Auckland

Postal address
Albany Psychology Clinic – Massey University
Private Bag 102-904
North Shore
Auckland 0745
Meet the real world head on. We examine today's challenges and contribute to people's wellbeing and resilience.
We offer a lot of support to help you have a positive time at Massey and to make the most of student life.
Benefit from Massey's expertise with our affordably-priced public clinics and services.