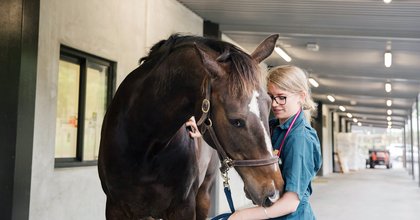 What we do
Our expert veterinarians work alongside Massey students to offer a broad range of equine services. From routine healthcare such as vaccinations to high-tech diagnostic procedures such as CT scans.
We're also subsidised to teach our students dentistry and castration, so these procedures can be very affordable. Ask us what you might be eligible for.
Surgery and therapeutic
Our surgery and therapeutic services include:
lameness investigation and treatment
orthopaedic surgery – arthroscopy, fracture repairs
soft tissue surgery – colic, tie backs, cryptorchids
laser surgery
skin masses (sarcoid)
Stem cell therapy
IRAP anti-inflammatory treatment for injuries
PRP (platelet rich plasma) treatment for injuries
shockwave treatment
standing and dynamic endoscopy to investigate poor performance and upper airway issues
wound assessment and treatment.
Preventative health
vaccinations
microchip implants
weight and nutritional management
dental care
faecal egg counts
Internal medicine
Critical care (24/7)
Gastrointestinal diseases
Neonatology
Respiratory diseases
Endocrine diseases
Urinary diseases
Liver diseases
Ophthalmology
Cardiology
Neurology
Dermatology
Castrations
Open castrations are performed by final-year vet students under supervision of a surgeon.
Ambulatory Services
Imaging
Our new CT (computerised tomography) scan machine allows us to continue to offer a world-class diagnostic service to our clients for limbs and heads. We also offer:
endoscopy
gastroscopy
ultrasound
radiography.
Emergencies and after hours service
We offer 24/7 emergency service by appointment.
Vet referrals
Student involvement
Teaching is at the heart of what we do. Final-year veterinary students examine patients, discuss solutions with clients, and work with clinicians to resolve challenging cases.
By using our services, you are giving Massey students hands-on opportunities to learn.
Our team at work
Who we are
Our equine clinicians are supported by:
anaesthetists
nurses
technicians
clinical pathologists
diagnostic imaging specialists
administrators.
Subscribe to our quarterly newsletter
Find us
Massey Equine Veterinary Clinic
University Avenue
Palmerston North 4474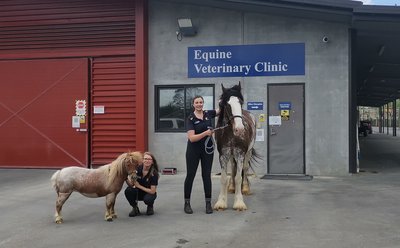 By studying veterinary science at Massey University, you'll join a world-leading veterinary qualification that will qualify you to work as a veterinarian in many different areas.
Read profiles of some of our veterinary science graduates.