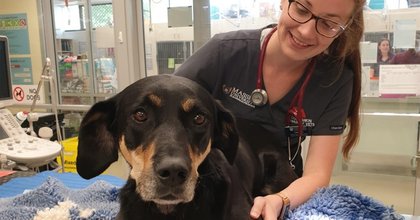 Call our 24-hour pet emergency centre
Companion Animal Hospital
What we do
Our team of vets, technicians and nurses work alongside Massey's vet students to care for sick and injured pets of all shapes and sizes. Our clinic is staffed 24 hours a day, 7 days a week.
Routine healthcare
Bring your pet to us by appointment for all routine healthcare including:
vaccinations
health and dental checks
spays or castrations.
We sell pet food, flea and worming products.
Community Practice clients book here using our client booking portal.
Bird and reptile care
Call our friendly reception to book an appointment with Wildbase Hospital for your pet bird or reptile.
Vet referrals
Vets – refer a companion animal to us for specialist care.
Emergency care
Our team is ready to give your pet emergency and critical care in our purpose-built hospital.
How to get your pet treated
1

,
Make an appointment first
Email or phone us to arrange an appointment, or ask your local vet to refer your pet to us.
2

,
Bring your pet to us
If it's your first visit, arrive 10 minutes before your appointment time to give us details for you and your pet.
If you haven't filled in a form before you arrive, bring details of:
your pet's age and medical history
any medication your pet is taking or has taken in the past

any medical treatment your pet has had recently
the vet clinic you usually go to
your pet insurance, if you have any.
We will discuss our recommended treatment with you before starting it.
3

,
Pay for your pet's treatment
You need to pay on the day of your consultation.
Student involvement
When you bring your pet to us, you're helping to train the next generation of caring, highly-skilled vets.
Students learn on the job, closely supervised by our vets and veterinary nurses.
Who we are
Reception
Rachel Sturgess
Telephonist/Receptionist, School of Veterinary Science
Danielle Laws
Veterinary Receptionist (After Hours) - Small Animal Hospital, School of Veterinary Science
Nursing
Casi Renner
Treatment Room Nurse, School of Veterinary Science
Chelsea Morris
Veterinary Nurse - Companion Animal Hospital, School of Veterinary Science
Julie Purchas
Community Practice Nurse, School of Veterinary Science

By studying veterinary science at Massey University, you'll join a world-leading veterinary qualification that will qualify you to work as a veterinarian in many different areas.
View profiles of some of our veterinary science graduates.