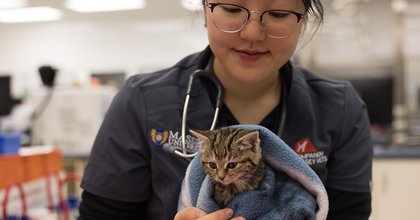 Continuity of care service
If you're a local vet who would like us to care for your patient overnight, please complete the Request for continuity of patient care form.
All cases will have a consultation with the veterinarian on duty prior to hospital admission. We will also discuss costs with the client during this consultation.
Areas of expertise
Companion animal services
Our specialists, backed by a team of professional staff, provide diagnostics and care for dogs, cats, birds, reptiles and other pets.
surgery, including oncology
Support services:
Services we contract in to the clinic:
dentistry, from extractions to root canals, orthodontics and more
dermatology
cardiology
Equine services
Elective and emergency surgery for horses including:
arthroscopy
colic surgery
airway surgery, including laser surgery.
Investigation and treatment of:
lameness
poor performance
weight loss
respiratory disease
colic.
Other specialist treatment, including:
neurology
ophthalmology
neonatology
cardiology
theriogenology
Advanced imaging including:
digital radiography
ultrasonography
videoendoscopy and gastroscopy
dynamic endoscopy
computed tomography (CT)
Meet the team
Specialists
Our specialists are a dedicated team of experts.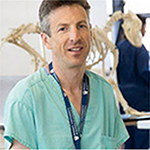 Professor Andrew Worth
BVSc PGDipVCS MANZCVSc FACVSc Registered Specialist
Professor of Small Animal Surgery
Lee Beever
Senior Lecturer in Small Animal Surgery
Kat Crosse
BVetMed
Senior Lecturer in Small Animal Surgery
Nursing
Our service coordinators provide nursing support at Massey Vets.
Divina Gleeson-Sargent
Veterinary Nurse - Service Coordinator Internal Medicine
Rachel Montgomery
Service Coordinator - Surgery
Kari Scherger
Service Coordinator, Medicine