An opportunity to join the amazing veterinary team, at the university that teaches, supports and inspires future vets.
To meet the rapidly expanding needs of the profession, we will be recruiting 30 full-time equivalent team members over the next four years at the Tāwharau Ora – School of Veterinary Science in Palmerston North.
Our new team members will become a part of creating the future of veterinary education at the only veterinary school in New Zealand.
Veterinary education is changing and we have kept ahead of these changes ready to teach the next generation of vets.
We are over halfway through rebuilding and renewing our facilities, and our new curriculum, based on the AAVMC's Competency-Based Veterinary Education Framework is aimed at meeting Day 1 Competency requirements. We will have a sharper focus on equipping students with the skills and attributes they need to thrive in contemporary clinical practice and the myriad of other roles filled by veterinarians after graduation.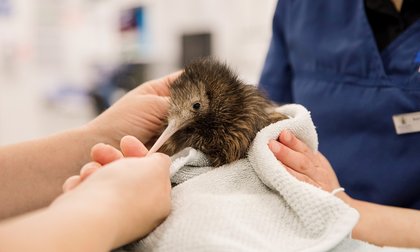 About the School of Veterinary Science – Tāwharau Ora
Founded in 1963, we remain the only veterinary school in New Zealand and we consistently rate in the world's top 30 Veterinary Schools.
We have a long-standing and distinguished history of making improvements to animal health and welfare worldwide. This remarkable performance, relative to the size of New Zealand's economy and population, reflects the skills and dedication of our staff and students.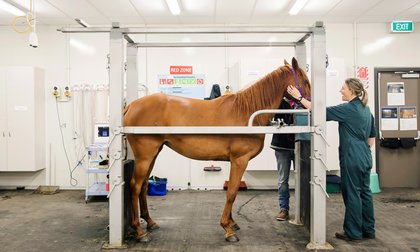 Benefits of working with us
You'll be a part of training future vets in a really exciting environment.
Every day is different and you will never be bored.
You'll work alongside talented professionals both within and outside the school of veterinary science.
Working in veterinary education is very rewarding.
Hear from Professor Jon Huxley, Head of School, and some of the team about working at the School of Veterinary Science
About you
Our key focus is flexibility, collegiality and a can-do attitude. You don't need to have a background in academia to apply, and while a veterinary degree that is registrable with the Veterinary Council of New Zealand (VCNZ) is preferable, it isn't an absolute requirement.
We value applicants who are happy to teach both within their areas of experience and expertise but also more broadly across foundational, clinical and professional veterinary topics, and who are happy to coordinate and administer units of teaching.
We will provide the support and training you need to develop your skills so you can grow and develop in your role.
Current vacancies
Information about our current vacancies and how to apply.
Roles can be graded from Tutor through to Associate Professor depending on the experience and expertise of the successful applicant and could have a range of job profiles including:
Teaching and Research Roles (Lecturer / Senior Lecturer / Associate Professor)
Clinical Practice Tuition and Teaching Roles (Veterinarian / Senior Practicing Veterinarian or Professional Clinician / Senior Professional Clinician or Associate Professor)
Teaching Only Roles (Tutor / Senior Tutor)
We would particularly like to hear from applicants with interests or expertise in the following areas (although these are not the requirement for application):
Equity, diversity and inclusion
Student support
Administrative leadership and coordination of clinical rosters including external placements.
We are happy to consider part-time appointments if that is your preference. Our strong preference is for our team to be physically based on the Manawatū campus in Palmerston North, we will consider applicants who do not wish to relocate.
Contact us
If you can see your future with us at Massey, we'd love to hear from you.
For further information, or for a confidential discussion about these roles, please contact Rachel Malaquin, our Staff Recruitment Advisor.
What your future colleagues say
"I chose to work at Massey because I enjoy delivering veterinary education and the energy of intelligent young people. The balance of this combination makes for a remarkably fulfilling life". 

Stuart Bruere - Senior Practicing Veterinarian in Pastoral Livestock Health and Parasitology
"I chose to be a part of a team that supports and develops young veterinary professionals to be equipped with the knowledge and skills to succeed in the veterinary industry, not only in New Zealand but internationally".

Christie Balcomb - Senior Lecturer in Production Animal Health
Watch Dr Janelle Wieranga, Senior Lecturer in Veterinary Emergency and Critical Care discuss career opportunities at Massey University.
About Massey University – Te Kunenga ki Pūrehuroa
Growing from a small agricultural college in Palmerston North to become a university with campuses across three cities. Since we were founded more than 80 years ago, we have been breaking new ground in all our areas of expertise - business, creative art, health, science and humanities and social science and consistently ranked in the top 3% of universities worldwide (QS World University rankings). We are a world-leading university in many academic disciplines and fields of research.
Our point of difference is research that is connected to community and industry. Our researchers are developing expertise and skills to advance human knowledge and understanding.
Working together across disciplines and locations, we solve national and global problems through fundamental, applied and interdisciplinary research, while culturally and artistically enriching our world. We are deeply committed to being a Te Tiriti-led university, demonstrating authentic leadership in contemporary Aotearoa New Zealand as we uphold Te Tiriti o Waitangi, the founding document of our nation, and its principles through our practice. We embrace this not just as an obligation but as a real opportunity for the nation and its people.
Our educators are preparing a new generation of global leaders. Our students are diverse and are attracted to Massey because they want to achieve their personal goals or make their mark in the world. Massey is not only defined by what we do, but by how we do it.