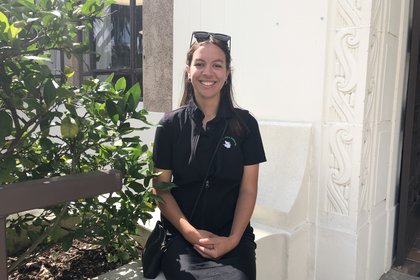 Being invested in people and their wellbeing is something that resonates strongly with third year student Jade de Figueiredo, who is currently working towards a Bachelor of Social Work.
Jade grew up in a small town and says she saw and experienced a lot through her childhood. It was these experiences that made it evident to Jade that there's a need for people to help others 'walk that journey with them' when they need it.
It also made her realise that she wanted to be part of helping others navigate their own true, authentic path in life.
"These times influence and shape us to be who we are. I believe there is no one pathway, and it can be a struggle for many individuals and whānau out there to see the light.
"I am privileged to have a circle of people, some who have come into my life and left and others that have stayed who have all taught me various things. Kōrero shared inspires me to think, reflect and to remain open-minded. Only you can choose the opportunities and what you do in life. Kia kaha, kia māia, kia manawanui."
Jade's study journey evolved over the years, after first embarking on study back in 2018 in the arts. However, a year into studying she realised it wasn't quite what she wanted to do, but made sure she saw the year out.
After gaining some more 'real-life experience,' Jade turned her passion of caring and understanding people into something more official and enrolled in a Bachelor of Social Work.
"I feel I have the knowledge and the wisdom to help people. Understanding someone is truly authentic, in a way that you are able to make connections and form trust."
Jade, who is of African and Portuguese decent, grew up immersed in Te Ao Māori and embraced the culture as her own.
"I have taken upon myself Te Ao Māori values and beliefs, which have shaped who I am and brought me that closure of not yet fully connecting to my own indigenous whakapapa."
During her first year of study in 2020, COVID-19 reared its ugly head but along with that arose an opportunity that was truly 'life-changing' for Jade.
Whilst helping the COVID-19 response team at Muaūpoko Tribal Authority (MTA) at a local vaccine site, Jade was approached by a team leader at MTA who took notice of her interactions with people from the hāpori. She was encouraged to apply for a role if one came up in the rangatahi team, and soon enough Jade saw there was a job opportunity and went for it. Jade was lucky enough to be offered to fulfill the position of working in the Oranga Rangatahi team and has been working there ever since.
"I just love my mahi. To be able to experience everything first-hand that I learn in class is pretty amazing."
Jade is excited for the future and what it has to offer and is hungry to take up every opportunity possible to be the best social worker she can be.
"If you ask me now where I see myself in the future with a BSW degree, I wouldn't have a single set answer. I know that I want to continue exposing myself and building off not only the mātauranga I learn but the relationships I have in my life and continue to build."
If Social Work sounds like something that interests you, click here.
Tuesday 25 October 2022
The School of Social Work acknowledged their top students at the Social Work Student Awards ceremony on the Auckland campus last week. Both undergraduate and postgraduate students were honoured for their continued dedication to their field and high-achieving accomplishments.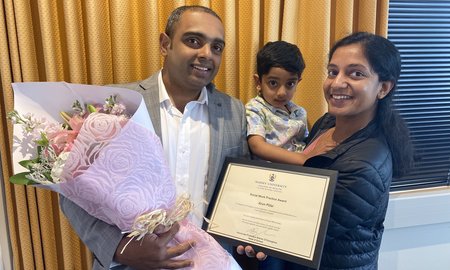 Friday 5 November 2021
Marcalla Pearce and Sam Davis have been named as the recipients of two significant prizes for fourth-year Bachelor of Social Work students.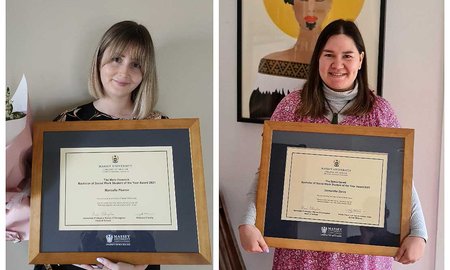 Monday 9 December 2019
Massey University's School of Social Work acknowledged three of its top students from the Auckland Campus earlier this week at the inaugural Student Social Work Awards.