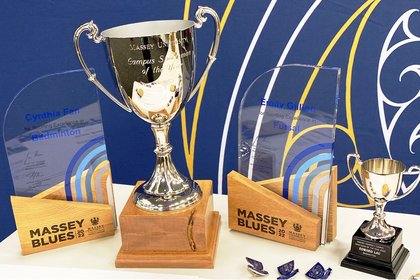 Last updated: Monday 2 October 2023
This year, 151 Blues Awards, the highest sporting accolade given in Aotearoa New Zealand's tertiary system, will be awarded to 145 recipients, with six athletes receiving a Blue in more than one sport.
Additionally, two Sporting Excellence Awards will be presented, which acknowledge non-athletes who are excelling in their roles as coaches, managers or officials within their respective sports.
The celebration will take place online on Thursday 19 October, with alumna and former New Zealand Football Fern Anna Green as a guest speaker.
Dr Bevan Erueti returns to host the Awards again and will be joined for the first time by student co-host Eliza McCartney. Eliza is a New Zealand athletics representative in pole vault and studying a Bachelor of Science, majoring in environmental science.
Eliza already has an impressive sporting career under her belt, becoming the fourth New Zealand Olympic medallist in a field event when she won bronze in women's pole vault at the 2016 Summer Olympics in Rio de Janeiro.
After an injury in 2021 that kept her from competing at both the Tokyo Olympics and the 2022 Commonwealth Games, Eliza says her love of competing is what motivates her through the tough times.
"I love being an athlete and I wasn't ready to move on. Because of the challenges I've faced, I'm even more grateful to be back competing this year and have loved every moment regardless of the result."
The enjoyment is what Eliza says helps her strike a harmony between her sporting and academic commitments.
"It's much easier to balance commitments when you truly enjoy what you do. I wouldn't have been able to keep up my studies while being an athlete if I didn't have passion and love for what I'm studying."
Eliza has a big year in athletics coming up, having qualified for the World Indoor Championships in March and the Paris Olympics starting in July. She says the rest of this year will be about training hard and setting herself up for 2024, but she's looking forward to being involved in the Blues Awards.
"I'm very excited to be co-hosting this year alongside Dr Erueti. It will be great to hear more about the achievements of our student athletes and their passions outside of sport."
Event details
Time: 6pm
Date: Thursday 19 October
Hosts: Dr Bevan Erueti and Eliza McCartney
To attend the Blues Awards, register here.
Finalists
Campus Sportswoman of the Year
Hannah Cross – Ice Hockey
Brenna Greene – Taekwon-Do
Mary Ieremia-Allan – Touch
Ashtuti Kumar – Cricket
Julia Padrutt – Canoe Sprint
Phoenix Reid – Artistic Roller Skating
Savannah Scheen – Athletics
Campus Sportsman of the Year
Mathieu Clatin – Gymnastics
Wilrich Coetzee – Swimming
Fergus Alistair Eadie – Surf Life Saving
Hamish Gill – Athletics
Connor Greentree – Hockey
Bayley Latter – Indoor Cricket
Te Rangatira Waitokia – Rugby
Distance Sportswoman of the Year
Wai Ling Natalie Chan – Fencing
Olivia Corrin – Surf Life Saving
Erica Dawson – Yachting
Erika Fairweather – Swimming
Aimee Fisher – Canoe Sprint
Eliza McCartney – Athletics
Hannah Rowe – Cricket
Paige Satchell – Football
Anna Taylor – Para Cycling
Distance Sportsman of the Year
George Gautrey – Yachting
Luca Harrington – Skiing
Nicholas Kergozou De La Boessiere – Cycling
Kazuma Kobori – Golf
Ben Lister – Cricket
Matt Macdonald – Rowing
Nic Woods – Hockey
Supreme Award 2023
From the four major award winners, the Selection Committee will choose one overall Supreme Award winner to be announced on the evening.
Wednesday 20 September 2023
Airana Ngarewa, Ngāti Ruanui, Ngā Rauru and Ngāruahine, has been making strides as an author, an athlete and a teacher, which he credits to the people and the place that raised him.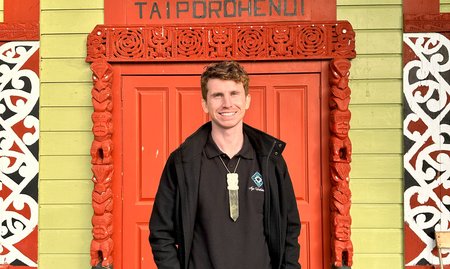 Friday 21 October 2022
Te Kunenga ki Pūrehuroa Massey University celebrated the annual Blues Awards this week, with Canoe Sprint champion Aimee Fisher taking out the biggest award of the night.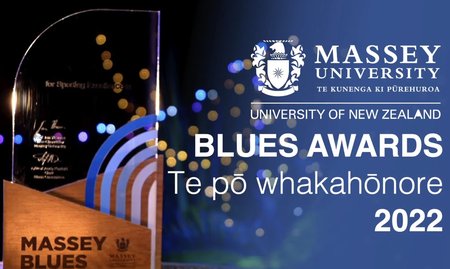 Thursday 1 September 2022
Consistency has been key in enabling track cyclist Regan Gough to complete tertiary study while pursuing a career as an Olympic athlete.