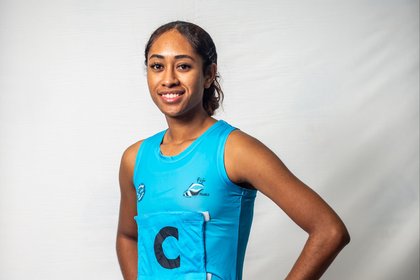 Last updated: Friday 1 September 2023
Born in Labasa, Fiji, Ana grew up in Auckland and began playing netball when she was six years old, following in the footsteps of her mother who played during her primary school years. By the time Ana reached Year 11, she says her dream had been realised – she wanted to play professionally and wanted to represent Fiji in the Netball World Youth Cup in 2017.
"It took three years of training, but I kept that dream in the back of my mind and achieved it. We placed fourth in that campaign and seeing how we just missed out on standing on the podium, I realised I wanted to keep pushing through and represent Fiji at a higher level."
In 2018, Ana started her academic journey and enrolled in a Bachelor of Speech and Language Therapy at Te Kunenga ki Pūrehuroa Massey University. Two years later, when Ana's father passed away, she made the decision to switch to psychology.
Ana says the journey to understand her own emotions and how to deal with grief inspired the change.
"Being brought up in a Pacific Island home, we're taught to repress our feelings and I wanted that to change. I want to break the intergenerational trauma and teach my family and relatives how to open up and not feel they'll be seen as "weak" in today's society. I aspire to become a clinical psychologist in the near future and work alongside children and adolescents. I want to give back to the Pacific Island and Fijian community, especially to those who want or need help but can't easily access it."
Throughout her studies, Ana says there have been many thought-provoking learnings alongside some challenges.
"It's been interesting learning about mental distress and childhood disorders, not necessarily to diagnose them but to navigate them and help those going through them to cope. However, there has been content that triggers my emotional response, so having clinical psychologists as my lecturers and tutors has been great as they know exactly what we're going through mentally and are really understanding with deadlines, extensions and support."
Balancing study around netball games, competitions, training, travelling and work has been a challenge, but Ana says having a game plan and solid support has been key.
"Studying one to two papers per semester makes it easier for me to manage my time and set up study periods before or after trainings throughout the week. If I need to catch up, I'll dedicate Saturday and Sunday for that. No parties or going out for me, especially during pre-season and competition season! I do my best to stay on top of things, but when it gets hard, I can shoot an email to my course coordinator, and they'll help me out. Massey's lecturers and tutors are so understanding with everything, and the Pacific Student Success team have been a huge help. If I need an essay proof-read or some support around better understanding the study content, they are right there with me."
Despite dealing with injuries between 2020 and 2022 which meant several missed opportunities, Ana held onto the dream of playing on the world stage for Fiji. At the beginning of 2023, she sent through an expression of interest to Fiji Netball and went over to Suva to trial and train.
Ana says since being signed she has loved the experience and every opportunity that has come with it.
"It's an incredible honour to be signed. I've loved meeting new people and creating lifelong friendships. I don't get to go back to Fiji often, so being selected as a Fiji Pearl is an amazing opportunity. I get to see all my family, friends and relatives again and immerse myself in my culture. Being brought up overseas, you tend to forget your cultural identity so having this chance to go back home is amazing."
Ana says getting to represent her homeland in Cape Town for the Netball World Cup has been a highlight of her career so far.
"The whole experience was inspiring as I got to play against the top athletes in netball. Just from the pool games, I've learned so much and it's been fascinating learning how every country has a unique style of play."
Not planning on slowing down any time soon, Ana says she's got lots to look forward to.
"I've got Netball New Zealand Open Champs in September, so I'm currently training for that as I'll be playing for Netball North Harbour. Then Pacific Games is coming up in Honiara, Solomon Islands, so it's important to maintain my fitness. Study wise, I'm working towards a Master of Clinical Psychology to continue towards my goal of becoming a registered clinical psychologist."
To help motivate her to keep pushing forward, Ana says she goes back to one of her all-time favourite quotes by Michael Jordan.
"His words remind me success doesn't come easily. It doesn't come from winning, but from hard-work and never giving up."
"I've missed more than 9000 shots in my career. I've lost almost 300 games. 26 times, I've been trusted to take the game winning shot and missed. I've failed over and over and over again in my life. And that is why I succeed." – Michael Jordan
She says success for her also comes from prayer.
"My skills don't just come from training hard but from God who has given me this talent. My secret to success is trusting in His plan always. Stress, disappointment and fear is what I usually go through in life, but I am reminded of how far God has brought me and that's what keeps me going. Also, my family who have supported me since day one and helped me get to where I am. They're amazing and have my back always."
Tuesday 29 August 2023
The last decade has seen Football Fern Meikayla Moore succeed in her love of the game on national and international fields alike, but this year, she achieved a different kind of goal.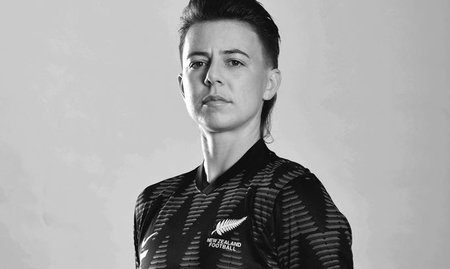 Monday 11 July 2022
At just 24 years old, Silver Fern Maia Wilson, Te Ākitai Waiohua, Te Rarawa, Ngāti Te Ata Waiohua, has been a pivotal member of the national netball side for five years now. She faces her first major tournament this month at the Games in Birmingham.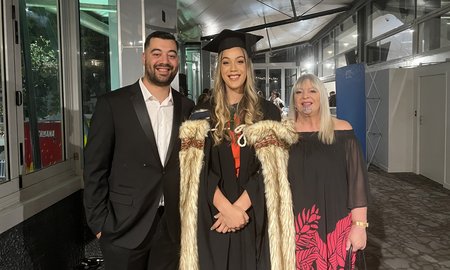 Monday 11 July 2022
Mother of five Krystine Nation says no matter how old you are, how many kids you have, or how smart you think you are, you can absolutely work towards a qualification.