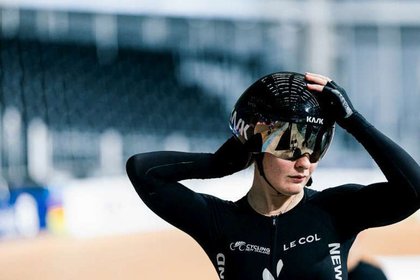 Growing up in Palmerston North, Emily began her cycling journey at 12 years old while also dabbling in hockey. After a few years when event dates began to clash, Emily made the decision to focus on cycling.
The 24-year-old has an impressive list of achievements under her belt, from being selected to represent New Zealand at two Junior World Championships, moving into the New Zealand Women's Elite Track Endurance Team and doing European training campaigns, through to her success at the Games in Birmingham.
"I have loved the journey so far. There have been so many highlights, including competing at the Commonwealth Games and winning a silver medal while being a rider short as my family cheered from the crowd. Being able to travel around the world on my bike and experience places I wouldn't necessarily go makes me super grateful," Emily says.
Securing the silver in the Women's Team Pursuit wouldn't have felt possible a year prior, as Emily says she had only been able to return to cycling seven months before the event due to health issues.
"In 2020, I was diagnosed with Inappropriate Sinus Tachycardia which resulted in a year off the bike to give my body time to recover. I'm very thankful to my cardiologist Dr Mohamed Ramadan who was so understanding of my dream to get back on my bike and went above and beyond to allow it to happen."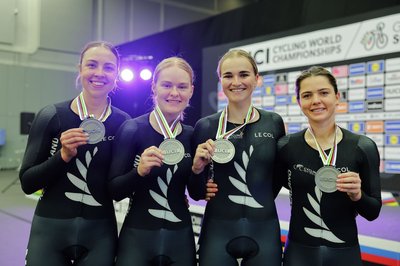 This year has seen Emily continue to flourish in her cycling career, beginning in Indonesia where she and her team set a new national record and won gold in the Women's Teams Pursuit, before travelling to Egypt to win silver, followed by a successful Oceania Cycling Championships in Brisbane.
To round out a year of high-profile competitions, Emily and her team competed at the Union Cycliste Internationale (UCI) Track Cycling World Championships, where they won silver in the Women's Team Pursuit.
"It was my first elite world champs so I wasn't sure what to expect, but I had a blast and loved the atmosphere as it was a sold out event so the velodrome was just electric. The success we had can be attributed to the relationship we have as a team and our dedication to training. We have developed a strong trust with each other over the last couple of years, which is greatly influenced by our coach and support staff, to create an environment where we know ourselves and our teammates are going to give it all we've got."
Alongside her sporting success, Emily says a standout moment this year was completing her studies with Te Kunenga ki Pūrehuroa Massey University.
"I chose Massey because it had been highly recommended by my High Performance Life Advisor and other athletes due to the great distance learning opportunities, which was a key factor as I wanted to study while travelling. It's been a long time coming, as I didn't study full-time, but it's something I'm really proud of."
Emily says being able to study part-time helped her balance her sporting and academic commitments.
"It's not always easy, and studying isn't always something you want to spend your free time doing when you're tired from training but it's so rewarding and looking back, I'm glad I stuck with it. I had a lot of help at the start of each year planning out my papers and how many I would take with my High Performance Life Advisor to ensure I was on the right track. It was great being able to study online because it made it much more manageable for me and I found it was easy to connect with my professors and tutors at any time, as well as study no matter where in the world I was."
Despite not originally enrolling in a Bachelor of Arts (Psychology), Emily says she decided to transfer after her first year of study as it was more aligned with what she was interested in.
"I had already experienced a lot of psychology workshops and one-on-one work with a psychologist in my sport, so I knew I had an interest in this area, and it was potentially something I wanted to delve further into. What I most enjoyed with my psychology study was how relatable a lot of the learnings were to areas we are already exposed to within society."
For the remainder of the year, Emily will be focused on training to ensure she's in good condition for the Nations Cup at the start of 2024, which are a part of the Olympic qualification.
"My biggest goal is to get selected for the Paris 2024 Olympics and improve that silver to gold. I also plan to do some further study in 2025."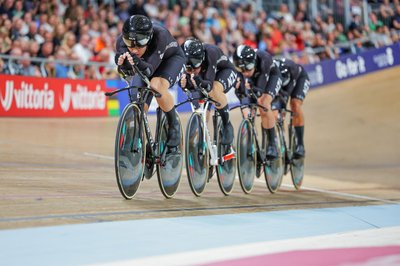 Interested in Psychology?
Friday 3 November 2023
Off the back of a gold medal win at the Union Cycliste Internationale (UCI) Cycling World Championships, Paralympian and master's student Anna Taylor is keeping her focus on the future.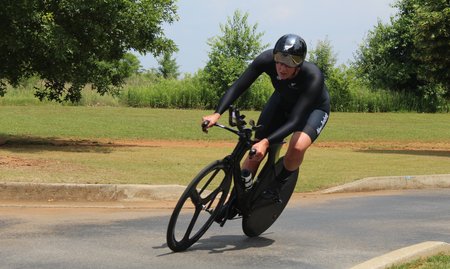 Friday 1 September 2023
It's been a year of personal success for 25-year-old Ana Moi, including representing Fiji in the 2023 Netball World Cup and graduating with a Bachelor of Health Science (Psychology) , but it hasn't come without hard work and persistence.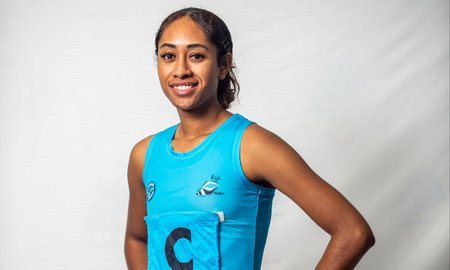 Friday 15 July 2022
With the 2018 Games already under his belt and the nickname ' KiloKergy ' to uphold, 26-year-old cyclist Nick Kergozou De La Boessiere is eager to give it his all in Birmingham later this month.