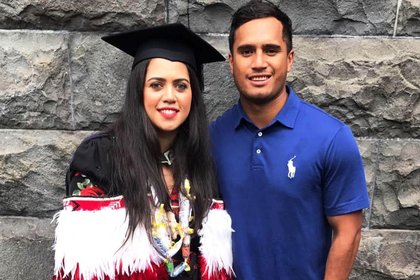 Last updated: Friday 25 November 2022
Chloe's heritage encompasses both Māori and Pacific, with her mother's side tangata whenua, and her father's side Samoan. She says she felt encouraged to continue her education to bring change to the experiences of her people and for all those experiencing mental illness.
"After finishing my degree, I took up a nursing and case manager role in a kaupapa Māori adult mental health team. I've found there are real inequalities of services in mental health care which made me want to progress to a Master of Nursing. My ultimate career goal is to become a nurse practitioner to help and support our most vulnerable, supporting and working alongside Māori and Pacific people in particular."
At 31, she says continuing her education journey among the other commitments in her life has been busy but worth it.
"I'm currently working full-time as a clinical coordinator and registered nurse within the same kaupapa Māori adult mental health team, and have two children under 10 with another on the way. I'm studying part time, usually getting a few hours of study in each night once the kids are asleep, and hope to complete my Master of Nursing this year."
"I've enjoyed building my knowledge and skills, but also sharing my experiences with others in my classes who don't necessarily know much about mental health nursing. I also get to learn from them about their different roles and how we can apply some similar practices into our own sectors."
Chloe says she decided to study with Massey because the university provided more avenues in mental health studies.
"Massey offers many study options in the mental health sector and also has a focus on increasing the number of Māori professionals in this space. I've been fortunate to be part of the Te Rau Puawai programme for most of my studies, with the bursary helping to support my study goals both financially and emotionally."
To bring balance to her busy life, Chloe says she finds time for the things that improve her wellbeing.
"I've always loved sports and fitness, so the gym is where I go when it all becomes a bit overwhelming. But my family really help – I have a great support system who check up on me, feed me, and look after the kids when needed."
This year's theme for Mental Health Awareness Week is 'Reconnect – with the people and places that lift you up'. Chloe says for her, this means spending quality time with her whānau.
"My children and husband are my world and I love going on little adventures with them either around Aotearoa New Zealand or overseas. Our favourite place is at our whānau bach where we spend our time eating, swimming, sleeping, fishing, diving, and spending time with other whānau. It's so important for us to be with our whānau and to have our tamariki grow up knowing who they are, who their whānau are, and where they come from."