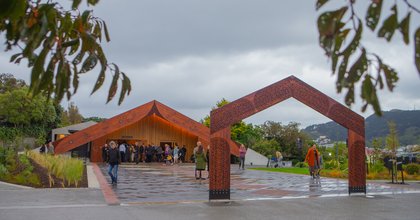 At Te Kunenga ki Pūrehuroa, we're committed to providing a culturally rich environment for our students and staff.
Wellington
Te Rau Karamu Marae provides stunning art-filled learning and teaching spaces and sits at the heart of the campus.
Te Rau Karamu Marae
For marae bookings please email our staff at marae.bookings@massey.ac.nz
Manawatū (Palmerston North)
Te Pūtahi-a-Toi, on our Manawatū campus, has a rūnanga room and a wharekai – Toi Te Ora – where we can manaaki visitors, students and staff. 
Tina Blake-Ponga
Email: T.Blake-Ponga@massey.ac.nz
Phone: +64 6 951 7366 extension 84366

Address
Te Pūtahi-a-Toi, School of Māori Knowledge
He Pūmanawa Hauora Building 
Bourke Road
Massey University 
Private Bag 11-222
Palmerston North
Auckland
Our Auckland campus has a Māori space – Te Whare Taupua – that's home to Te Rau Tauawhi, the Māori student support centre. While it's mostly a student space, it's also used for Māori events.
Cambell Te Paa, Student Coordinator
Email: C.TePaa@massey.ac.nz
Phone: 0800 627 739 extension 43026
Address
Te Whare Taupua
Atrium Level 1
Auckland Campus