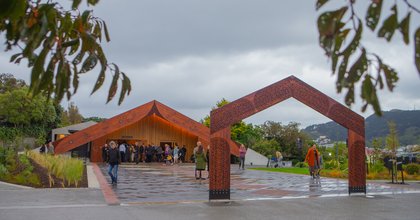 At Te Kunenga ki Pūrehuroa, we're committed to providing a culturally rich environment for our students and staff.
Wellington
Te Rau Karamu Marae
Te Rau Karamu Marae provides stunning art-filled learning and teaching spaces and sits at the heart of the campus.
Bookings
To initiate the booking process please email marae.bookings@massey.ac.nz
Please include:
preferred date(s)
estimated number of attendees.
Our team will promptly respond to your inquiry and provide information on the availability for your proposed date(s). If the date(s) are available, you will be asked to complete a booking form. Please note filling out the form does not guarantee your booking. We will arrange a consultation hui with our team to discuss and finalise logistics.
Logistics: Te Whaioranga o Te Whaiao – Wharenui
The wharenui can comfortably host 60 people for wānanga/hui. There is space for a maximum of 40 people to stay overnight.
Te Whaioranga o Te Taiao – Wharekai
The wharekai can only host 60 people as per the health and safety regulations. There is a fully equipped kitchen available during your booking. Staff will give an induction if you choose to host a 'self-catered' kaupapa.
Wharepaku (Ablutions)
These are located at the back of the wharekai and include an accessible toilet, baby change table and showers. There is also an additional accessible toilet and baby change table in the wharenui.
Car parking
There are two parks directly outside the marae that will be allocated to your kaupapa. If you require additional parking, please contact the Estates Service Desk and ask for the availability of reserved parks close to the marae: estatesservicedesk-wellington@massey.ac.nz
Pricing
Half/full day hire: $200
Overnight fee: $200 additional per night
Cleaning fee: $100 (waived if you choose to clean)
Audio-visual equipment
We can provide the following:
TV with HDMI/Bluetooth connectivity
Projector
Please note if you require the projector, you will need to provide your own dongle for Apple/Mac compatibility.
Wi-Fi
The MasseyWiFi network for staff and students is available at the marae. Guests can scan the QR code on the TV to connect.
Catering
Self-catering fee for use of the kāuta is $100 (GST exclusive). The marae can provide catering for 20+ people. Please note the marae will cater for food allergies and intolerances due to health reasons and religious beliefs, however, we cannot cater for personal likes and dislikes.
Cultural protocols
The protocol of our marae follows Te Kawa o Te Ātiawa. Details regarding the pōwhiri/whakatau proceedings will be provided once your kaupapa is confirmed but it is important that you begin the process of learning about marae encounters and marae life, particularly if your group may not be familiar with various tikanga (cultural practices).
Access
For day bookings, access to the marae will be granted before your scheduled start time. For overnight bookings, swipe cards will be issued. Lost cards will incur a replacement fee.
Cancellations
Kaupapa such as Tangihanga are of utmost importance, and therefore your kaupapa may be subject to cancellation either before or during in the event that the Marae and or Marae staff, are required for the purposes of supporting local tangihanga. We strongly recommend having a contingency plan in place. There may also, from time to time, be urgent University events that may need to be transferred to Te Rau Karamū. Although cancellations are rare, it is nonetheless something that all marae users must have flexibility for.
Confirmation
Your booking will be confirmed following a consultation hui with the marae kaimahi.
Te Rau Karamū contact and enquiries
For further information and enquiries, please email marae.booking@massey.ac.nz
Manawatū (Palmerston North)
Te Pūtahi-a-Toi, on our Manawatū campus, has a rūnanga room and a wharekai – Toi Te Ora – where we can manaaki visitors, students and staff. 
Tina Blake-Ponga
Email: T.Blake-Ponga@massey.ac.nz
Phone: +64 6 951 7366 extension 84366

Address
Te Pūtahi-a-Toi, School of Māori Knowledge
He Pūmanawa Hauora Building 
Bourke Road
Massey University 
Private Bag 11-222
Palmerston North
Auckland
Our Auckland campus has a Māori space – Te Whare Taupua – that's home to Te Rau Tauawhi, the Māori student support centre. While it's mostly a student space, it's also used for Māori events.
Cambell Te Paa, Student Coordinator
Email: C.TePaa@massey.ac.nz
Phone: 0800 627 739 extension 43026
Address
Te Whare Taupua
Atrium Level 1
Auckland Campus