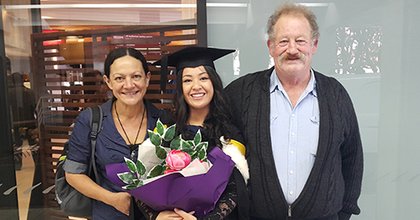 Lily Ng, of Tokelau descent, was the first person in her immediate biological and whāngai family to attend university and graduate with a degree.
Lily Ng was employed full-time as a Communications Advisor with The Royal New Zealand College of General Practitioners when she became interested in learning more about public health and the health care sector.
Having completed her Bachelor of Communication degree at Massey in 2016, she did not come from a medical background and couldn't afford to take time off work to study, but says her role helped her gain a deeper understanding of our health care sector.
"From previous study, I knew Massey had a fantastic distance study programme that would allow me to continue working while making my way through the course content in my own time. I had a lot of support in my decision to start studying: my employers were very flexible around exam and contact course dates, they let me stay in the office after hours to do my readings or assignments, and the Ministry of Health part-funded my studies."
Lily's studies have contributed to her career, providing new perspectives and a greater confidence in the work she produces.
"It helped me grow my research skills and analytical thinking. Through that, I felt that I was able to gain a better insight into the wider goals of public health in our country."
Lily's passion and desire for her studies have not only been influenced by her career, but family as well, who she says highlighted the importance of education and supported her studies from the beginning. She became the first person in her immediate biological and whāngai family to attend university and graduate with a degree.
"I think my parents in particular see further study as a way of obtaining different, and more, opportunities than they had access to as young people. As a young immigrant to New Zealand in the 1950s, my father had to begin working very early so never finished school or learned to read. My whāngai parents also weren't able to finish their schooling; my dad was encouraged to take up technical training at an early age because he wasn't perceived to be very scholarly (he had an undiagnosed eyesight problem), and my mum had to leave school early to care for her own mother, who was very ill."
Lily says her family's experiences with schooling have really influenced the value they place on education. Obtaining a Certificate in Public Health is not only for her, but for her family too.