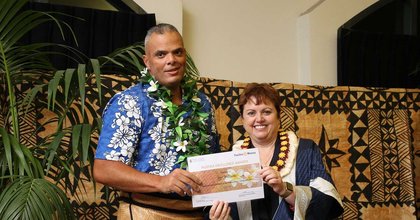 Ian Militoni's Integrated Human Health major provided him with the necessary tools and knowledge to continue his passion in health science research.
"I started tertiary education many moons ago. Like many other Pasifika students, due to being young, having high expectations and pressure from the family, in addition to financial and unforeseen family circumstances, I dropped out of university with poor grades and minus a degree."
As a result, Ian says his health suffered tremendously, both mentally and physically, and over the next 15 to 20 years Ian experienced a whole range of health disorders.
Ian came to the realisation that he needed to do something about his poor health and wellbeing. This sent him down a "rabbit hole of health science and population health, including my own health research journey in general". After reading health blogs and watching YouTube videos, he improved his health "quite dramatically" through basic lifestyle changes.
Ian knew that good health was more than just diet and exercise changes, and so set about getting to know about accurate and inaccurate information in the context of the health science realm, "as there remains a lot of misinformation out there".
"So many other factors play a role in which many are out of one's control. Therefore, I decided I needed to finish my university degree and tertiary education.

Massey provided me with that lifeline to finish my university degree, and for that, I'll always be in gratitude."
Not only does Massey provide an opportunity for those like Ian, who did not do so well in their last study programme, but they also offer distance programmes for people who were employed full-time, as Ian was, and wanted the opportunity to study while working.
One of the services that helped Ian significantly as a distance student was Massey's online learning platform. The Stream site provided him with the opportunity to connect with peers and teaching staff, watch online lectures, lessons and presentations, submit assessments, and much more.
Specialisation and majors within the health science programme itself provide students with an opportunity to diversify into their own areas of interest or research topics, Ian adds.
"My Integrated Human Health major has provided me with the necessary tools and acquired knowledge to continue my passion into health science research. And hopefully, I'll make a contribution in my field of interest (Pacific Island health) one day.

I would thoroughly recommend Massey as a study institution. Not only for those in full-time employment or tied-up in life in general, but also for those with future ambitions or aspirations in providing essential knowledge in specific research areas within the health science field."