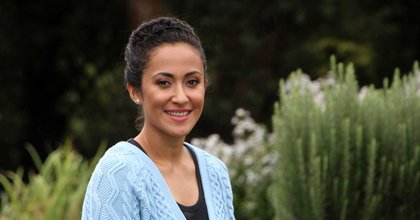 When Lily Wheatley moved from Honiara to Palmerston North to study at the Massey Business School, she faced a range of challenges. Besides adjusting to the climate and culture, Lily also had to develop the strong organisational skills needed to cope with academic workloads and expectations.
Lily overcame these and excelled, with her passion and talent for economics seeing her receive the New Zealand Pacific Highest Achiever Award from the Ministry of Foreign Affairs and Trade in 2014. That was after she completed her Bachelor of Applied Economics and also made it onto the 2012 College of Business Dean's List.
Lily says the Highest Achiever Award allowed her to continue studying in her chosen field in New Zealand, but also increased her opportunities to contribute to economic development in her home country. When we last spoke, she was planning to seek work in the Solomon Islands fisheries sector in natural resource management, at the interface between the environment and economics.
As well as studying in New Zealand, Lily enjoyed and learned from a wealth of extra-curricular activities at Massey – including as a mentor with the Manatoa (a mentoring and leadership programme run by Pacific @ Massey, matching senior Pasifika students with first year students), as treasurer for the PI (Pacific Island) Club, and volunteering with the Green Shirt Massey Guides during Orientation at the start of each semester.
The A-grade student says the chance to get involved in team, club and social events is a significant part of the learning experience at university, allowing her to develop useful interpersonal skills, confidence and lifelong friendships.
"It's about being able to meet many people from different backgrounds. Palmerston North is a great environment and a fantastic student city."