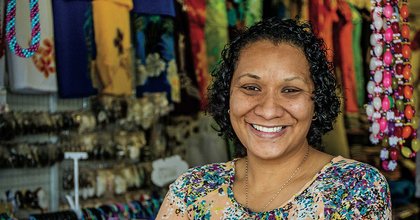 Emeline Afeaki-Mafile'o was only 25 when she set up her company, Affirming Works, a non-profit organisation that runs programmes in South Auckland schools to develop leadership skills.
Through the organisation, the Massey social work graduate has helped thousands of young people. Emeline has a social policy consultancy, a community café in Otāhuhu, and with her family owns a coffee factory in Tonga to teach skills and give jobs to local people. The coffee is sold in New Zealand to support her programmes.
Emeline has a Bachelor of Social Work with honours, a Diploma of Social Sciences and a Master of Philosophy majoring in social policy from Massey, and says she is a "proud alumna".
She says Massey offered "holistic learning with a really broad approach including the Treaty of Waitangi, the law, management and leadership".
"Today I'm really fortunate, working in my own community and embracing my own culture."
Emeline's initiative and huge contribution to the Pacific community saw her win one of the most prestigious New Zealand prizes for women – the Women of Influence Award (for community service and social enterprise) in 2013.
She was recognised in the award for her "innovative and extraordinary leadership" of her communities in South Auckland and Tonga.
In winning the award, she thanked God for his faithfulness, acknowledged her late mother Edith Afeaki who was a great woman of influence to her, and her father Pat and other family members and friends who helped set up and support setting up Affirming Works.
"My parents told me and my brother and sister that we were expected to go as far as we could with education and make a contribution to life. Massey made a huge contribution to my success."