Research data management (RDM) involves making decisions about how you will collect and look after your digital and physical research data, and putting those decisions into action.
Watch a video that gives an overview of research data management:
What is research data?
Research data is anything that forms the basis of your research output. The types and forms of research data vary between disciplines. This is a helpful general definition from Queensland University of Technology:
Research data means data in the form of facts, observations, images, computer program results, recordings, measurements or experiences on which an argument, theory, test or hypothesis, or another research output is based. Data may be numerical, descriptive, visual or tactile. It may be raw, cleaned or processed, and may be held in any format or media.
Research data also includes information about context, so the data can be understood and reused. For example:
how, when and where it was collected
instruments used
software code used to generate, annotate or analyse the data.
Research data lifecycle
Some universities use a research data lifecycle. The University of Sydney's research data lifecycle looks like this: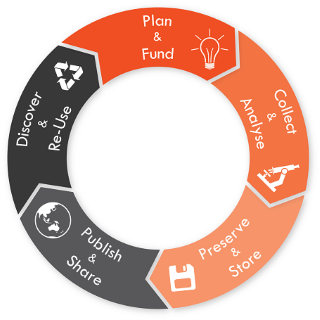 Research data management benefits
Good research data management has a number of benefits.
Increased research efficiency: you can find, understand and use data when you need it.
Quality: good research data management helps to verify research findings over time.
Reputation: shared data enhances research visibility and increases citations.
Compliance support: good research data management allows you to comply with ethical codes, data protection laws, journal requirements and funder policies.
Poor management can lead to catastrophes like the loss of data, or the violation of people's privacy.
Research data management (UK Data Archive)
Watch a video about some of the problems that can arise without good data management practices:
FAIR and CARE data principles
FAIR principles are guidelines to support the discovery and reuse of research data, and metadata. The principles state that research data should be Findable, Accessible, Interoperable and Reusable (FAIR) for machines and for people. In practice, FAIR principles enable higher visibility and reuse potential for data.
Find out more about FAIR data principles
CARE principles for indigenous data governance complement and extend FAIR principles. CARE principles stand for Collective Benefit, Authority to Control, Responsibility, and Ethics. The principles are focused on people and purpose, and on appropriate use and re-use of indigenous data.
Find out more about CARE data principles
Ethical data collection, management and use
Your research data management plan
It's good to create a data management plan early on in the research process. Not only will it benefit you, but funders and publishers increasingly require the completion of data management plans.
A data management plan describes:
what data will be created
what policies will apply to the data
who will own and have access to the data
what data management practices will be used, for example storage, security or access controls
who is responsible for data management activities if you are collaborating with others.
Watch a video that gives an overview of data management planning:
Watch a video about writing a data management plan:
The earlier you start thinking about how you will manage your data the easier it will be. You can put good systems in place before you're swamped with data.
The beginning of a project is the ideal time to think about this, but it's never too late to assess your existing data management practices:
Could you improve them?
How might your research project develop?
Will you want to reuse your data in later projects?
Store copies of your plan in at least two places and keep them up to date.
Checklists, templates and plan exemplars
Use a checklist to help you develop your plan, or to carry out an audit of your existing data management practices. From the following list, select those resources that best reflect your research discipline or situation. If your funder or publisher has templates of their own, use those in the first instance.
Planning tools
Massey University
Digital Curation Centre (DCC)
Checklist for a Data Management Plan
This checklist helps you identify your priorities and is a good place to start your planning journey.
How FAIR are your data?
This checklist helps you understand whether your RDM plan complies with FAIR principles and how you can improve it.
Data management plan examples
Digital Curation Centre (DCC)
Data plan guidance and examples from different disciplines
DMPTool
This table includes plans created using DMPTool and shared publicly by their owners. It's a searchable list of un-vetted plans.
Contact a subject or Māori services librarian
We're here to help you with your research or teaching. Contact a subject or Māori services librarian by email or book an appointment.
Subject librarians
Māori services librarians