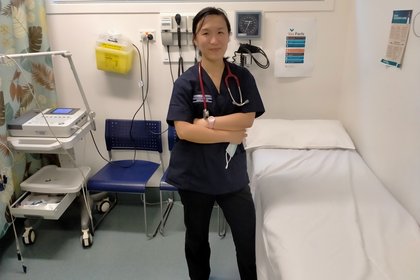 Last updated: Friday 25 November 2022
Kelly is part of the first cohort of students to graduate from Massey's Master of Clinical Practice (Nursing).
The Master of Clinical Practice is an alternative route to becoming a registered nurse for people who already have a degree, with the course taking two years rather than the three years of a Bachelor of Nursing.
Kelly, who was born and raised in Tahiti, already had a Bachelor's degree in English and American civilizations and literature from Université Paul Valéry in Montpellier, France and a Master of English from the University of Auckland.
The 42-year-old had never considered working in the healthcare sector until the arrival of her daughters, Kohaya who is now 13 and Kaelani who is nine.
"I guess the idea gradually occurred to me when I was raising my children. As a parent, you're always anxious about your children and doing the right thing. I wanted to know how to recognise the signs of distress and what to do if anything bad happened," Kelly says.
"Ever since my little one started going to school, I felt like doing something more meaningful and rewarding. I applied for a nursing degree and I discovered that I actually enjoyed studying bioscience."
Clinical placements make up a large portion of the course, with additional learning taking place online and at block courses on the Manawatū campus.
"Being on placements was a big test to see if nursing was really what I wanted to do. Sure enough, it was!"
While her children were her reason for retuning to study, Kelly found there was a huge difference returning to university as a mature student with a family, especially when the 1100 placement hours would often fall outside of school hours.
"This time around it wasn't just about me," she explains.
"There was a lot of organisation required, but I have a fantastic and very patient husband, Bevan, who has been very supportive during my years of training as a student nurse. My girls have been great too by being so understanding and patient.
"It was hard at times to juggle family, childcare, studies and clinical placements but we made it as team and I'm forever grateful for their physical and mental support. We also had the support of Bevan's parents and friends who were always happy to help with school pick-ups."
Although Kelly did most of her placements at Wellington Hospital, she decided to work in primary healthcare upon graduation. She is now working as a practice nurse in a disadvantaged area of Porirua. The clinic serves the refugee, migrant, Pacific and Māori communities and with seven nurses and 10 doctors for 6000 enrolled patients, it is a very busy clinic.
"It can be challenging at times but I'm really enjoying my job. I am lucky to be part of a team that is so caring and passionate about the population they serve," Kelly says. 
"I'm not going to say that it is perfect every day because we all have bad days and I am also aware of the stress that comes with nursing. Nevertheless, being a practice nurse is a real privilege as I get to know not only the patients but their whole whānau. I feel like I've succeeded in building a rapport with them when I see them coming back because they trust us."
Considering a career change? We can help with that.