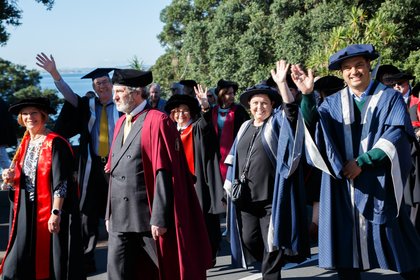 More than 1000 Te Kunenga ki Pūrehuroa Massey University students walked across the stage at the Bruce Mason Centre to have their degrees conferred, including 39 with doctorates and 327 receiving their master's degrees. Amongst this cohort, nine Massey staff joined the alumni whānau, made up of four bachelor's, one master's and four doctorates.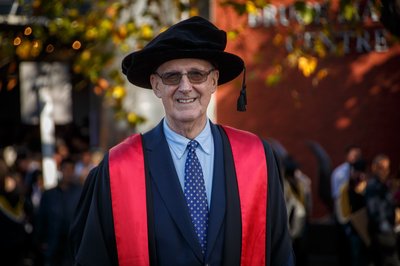 Dr Mal Green
Dr Mal Green began his journey with Massey as a relief tutor in 2016 before being appointed a senior tutor in the School of Communication, Journalism and Marketing in 2017. His tertiary journey prior saw him complete a Bachelor of Arts in English and History in 1972, followed by a Master of Arts in History in 1974 and a Bachelor of Divinity in Theology in 1986.
Since 2017, Dr Green has been an assistant lecturer, a PhD student and more recently, a Kaiārahi Tiriti (Tiriti Mentor). He delivers communication courses at undergraduate and postgraduate levels, while supporting colleagues in honouring the university's commitment to being Tiriti-led.
Dr Green says starting a PhD at retirement age helped prevent boredom and answered his quest of trying something new in his later years.
"I have been a lifelong learner and explorer of ideas but thought my Head of School was joking when he suggested I do a PhD in communication in 2017. But here I am, finally completing one on my third attempt. My lifelong involvement in intercultural community work started as a teenager and has given me a love of researching, teaching and making a difference in the lives of people, communities and society."
Dr Green's thesis explored what cultural inclusivity might look like and how it might cultivate and nurture authentic and effective experiences of inclusion for cultural minorities.
"It was frustration that led me to this research after 45 years of observing unsatisfactory experiences of cultural inclusion. My findings identified four factors that all need to be present for cultural inclusivity to be perceived – including, accepting, caring and respecting culture."
The findings from Dr Green's research will be used to help organisations cultivate cultural inclusivity through applying various approaches to increase the possibility that cultural minority members might experience authentic inclusion.
With his PhD studies now complete, Dr Green still has plenty to keep him busy.
"Outside of focusing on my health after receiving a cancer diagnosis in January, I am working on making the learning experiences I deliver more engaging and relevant for students so they achieve their study goals. I am also developing three papers for publication while preparing to give two presentations on my thesis at an international conference in July."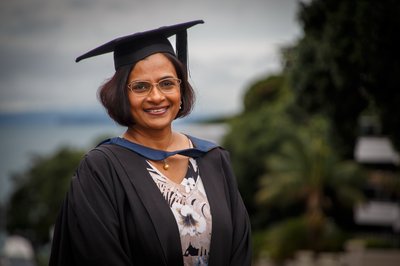 Farhana Nalar
Completing a Master of Business Administration has been on Associate Director of Global Engagement Farhana Nalar's bucket list for over 25 years. After graduating with a marketing degree, she planned to make a start but life happened as she met her husband, got married, started a family and moved to Aotearoa New Zealand.
She says it was the disruption of COVID-19 that provided an opportunity to pursue study again.
"I love the pursuit of knowledge; it empowers and motivates me. With grown-up boys and more free time, it made sense. After comparing a range of universities, I chose Massey because it felt like the best fit and the Executive Master of Business Administration (EMBA) programme resonated well with me."
Three months into her studies, Ms Nalar saw her current role advertised. She says her experience studying with Massey made her realise the potential she had for working in an international market.
"In my role, I'm responsible for leading the university's strategic approach to recruiting international students. It's awesome to see the cultural diversity we bring into Massey through our recruitment efforts, and the energy and vibrancy our international students bring to our campuses as they enrich learning experiences for themselves as well as their domestic counterparts."
Ms Nalar says it was a fantastic experience to get back into studies.
"I had to re-learn what it was like to be a student, but it was great working with other like-minded people. We learnt from each other as much as with each other. The practical approach to study and the content of the EMBA itself was very valuable. So much of what I learned was immediately transferable into my work. I am very grateful to my husband and kids for their support, encouragement and patience. I couldn't have done it without them."
Ms Nalar says bringing her entire skillset to the forefront has made a difference to the performance of her team and positively impacted the wider contribution made to Massey's globalisation objectives.
"I'm really enjoying my time with Massey. I work with a great team of people and have seen the passion and dedication of staff. One thing I really enjoyed in my EMBA was consulting and coaching, and seeing the difference it can make in someone's life. I'm looking forward to exploring that interest in the future and seeing where it will take me."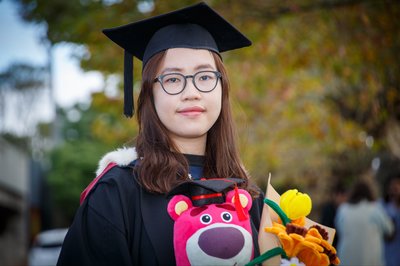 Joyce Leung
Originally from Hong Kong, School of Food and Advanced Technology Research Assistant Joyce Leung moved to New Zealand to pursue a Bachelor of Food Technology with Honours with Massey. Ms Leung had the university recommended to her by a friend in the food and beverage industry, citing the high employability rate and reputation for providing students with valuable hands-on experience.
Ms Leung says her degree taught her everything she needed to know to make a difference in the field.
"My degree provided me with a wealth of knowledge on food processing and product development, along with a well-rounded understanding of the food industry. The practical, hands-on approach of the degree helped me solidify concepts and develop a range of valuable skills. The final year projects and summer practicums were beneficial opportunities to work with external stakeholders and to take ownership and lead projects."
Earlier this year, Ms Leung joined Massey's Food Experience and Sensory Testing (FEAST) lab where she assists with research into consumer response to consumption of food and beverages to enhance the experience.
"One aspect of my work I find satisfying is collaborating with academic groups and industry partners, as well as using FEAST's state-of-the-art facilities to carry out studies."
Ms Leung says she's looking forward to continuing her work in the field and plans to develop her skills to take on more significant responsibilities in her role at FEAST and beyond. She says her time at Massey as both staff and student has taught her fundamental skills in teamwork, communication and professionalism.
"My experiences at Massey have been instrumental to my personal and professional growth. The university's commitment to upholding Te Tiriti o Waitangi principles through its practice has taught me how to effectively communicate and work collaboratively with people from diverse backgrounds and cultures and to understand different perspectives to achieve common goals."
Other graduate staff include:
Dr Ravindu Kahandawa – Doctor of Philosophy
Dr Generosa Leach – Doctor of Philosophy
Yvonne Letton – Bachelor of Arts – Education
Xinran Liu – Bachelor of Communications – Expressive Arts and Media Studies
Rebecca Paul – Bachelor of Science – Human Nutrition
Dr Indu Sudarsan – Doctor of Philosophy
Wednesday 24 May 2023
Black Fern Tyla Nathan-Wong graduated with a Bachelor of Sport and Exercise after navigating her way through study and competing on a global stage.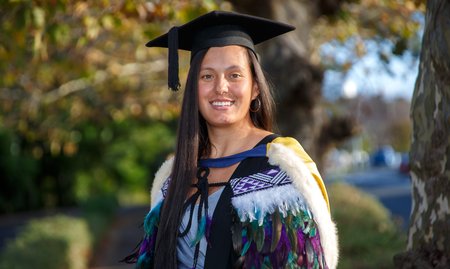 Wednesday 3 May 2023
Amongst the 961 who graduated at ceremonies in Palmerston North this week were 17 members of the university's staff whānau.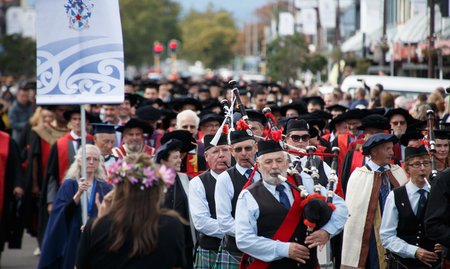 Wednesday 19 April 2023
Massey staff members celebrated their success at Wellington graduation ceremonies.